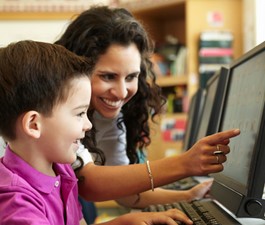 Optimise Technology in Early Childhood Education
Free Early Childhood Professional Development :
How to successfully integrate Technology in Preschool Activities?
You will learn my top 5 strategies to get you started in this process today PLUS walk away with teacher downloads to implement and apply now!
>>>CLICK HERE TO LEARN MORE NOW <<<
In an ICT-dominated society, the ubiquitous nature of ICT or technology has led every child, woman and man "taking it-for-granted". Our complacency with technology in society is in danger of spilling over into early childhood education and care with children already entering learning environments in preschool and kindergarten with a degree of ICT skills.
"I really enjoyed this course! It was very informative and well researched.  It gave detailed descriptions regarding all areas outlined in the objectives.  The videos made the learning seem more interactive! The tasks were very beneficial and applicable to my future teaching practices!"
The consequence of our ability to take technology for granted has resulted in the misconception that simple exposure will develop ICT capability and ICT literacy within children. Learning progression will not occur.
Recent NAP-ICT Literacy results (2017) have emphasised that there is opportunity for improvement in student ICT literacy. With children entering preschool and kindergarten with some experience of ICT use, it is possible for children to develop ICT literacy and ICT capability as part of their early childhood education experiences.
Key Issues this course addresses:
Access to technological resources;
Use of scaffolding to support technology in early childhood education and care;
Early childhood teacher focus on just ICT skills and techniques;
Intellectually challenging children with technology and;
Learning progression in ICT literacy and ICT capability.
Who enrols in this course?
Pre-service teachers in Early Childhood and Primary.
Early Childhood Education and Care principals.
Early Childhood teachers which include preschool teachers, kindergarten teachers and Primary early years teachers Foundation to Year 2.
Early Childhood Education and Care centres which choose to follow the road to the integration of ICT in its programs and activities.
Early Childhood Education and care centres which decides to continue in this process – doing it more thoroughly and intensely as it has been done until now,
maybe engaging new ideas, new partnerships or broadening its goals and ICT tools.
What are the key learning outcomes of the course?
At the end of this course, you will be able to:
Understand the role of ICT in Early Childhood Education;
Maximimise formative assessments strategies in ICT activities, tasks and projects;
Select developmentally appropriate ICT tools and resources for learning;
Employ evidence based ICT teaching strategies in Early Childhood that develop ICT capability;
Facilitate the progression of capabilities in ICT in the learning environment;
Integrate ICT effectively in STEM projects;
Embed safe and healthy practices;
Reflect on your teaching and learning with ICT;
Boost your competence and confidence in the integration of ICT in Early Childhood Education.
BONUS MATERIALS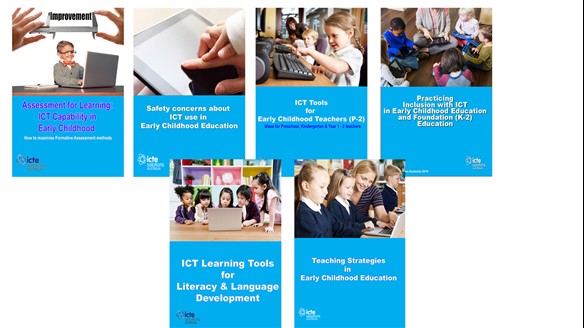 Receive a Certificate of Completion.
30 day money back guarantee
Completing this course will contribute to 10 hours PD addressing 2.6.2, 4.5.2 and 5.1.2 of Australian Professional Standards for Teachers towards maintaining Proficient teacher accreditation in NSW, Vic, Qld and ACT.
Early childhood professional development online courses.
Learn more now