At a time when the use of technology in the classroom is encouraged throughout all sectors of education in the hope of giving all students opportunities to learn and apply 21st century skills, there are many concerns to do with the issues of ICT in education.
The challenges of using technology in the classroom that I will present to you in this article are to do with your role as a teacher in ensuring the transparency of technology in the learning outcomes you create for your students. This is ultimately the best time to develop ICT capability.
In terms of the context of ICT capability in schools research has indicated that the key issues of ICT education are to do with:
The variation of approaches as a result to the confusion of ICT as a learning tool, key skill and subject.
A school's ethos and ICT culture having an impact on resources and skills.
Success in developing ICT capability is seen in the products, practices and attitudes of staff and students.
When developing ICT capability, studies conducted on the challenges teachers face with technology in the classroom have found that it is essential that you:
Understand and identify the key components of ICT capability.
Make holistic judgements against broad criteria when assessing ICT capability.
Promote learning progression in the development of concepts, knowledge, skills and confidence applied to tasks, and finally, in the range and type of problems tackled.
As one of the many challenges of using ICT in education, planning ICT activities that can develop their ICT capabilities is by far the greatest. This is sometimes associated with a teacher's lack of confidence, competence, and skill. Alternatively, you may be confident in the use of ICT but be uncertain as to how to structure ICT activities for progression across a series of applications.
So if you are looking for the best solutions to ICT problems in education, you will be able to find them here as I will go through what research has been saying for years about key issues in education and highlight what you can do to overcome the challenges of using technology in the classroom.
Training for Teachers
ICT Professional development for teachers or lack of is an important factor in recognising that it plays a key role in many of the ICT problems in schools. Studies have shown strong links between a teacher's skill level, confidence and competence. As a result of failing to undertake professional development training for teachers other issues in ICT in education come forward such as the reluctance to try new ICT tools and teaching approaches.
The lack of effective training ranks in one of the top 3 of ICT issues in education. In Australia, you can be assured of effective quality training with two distinct certification organisations that ensure that teachers learn teacher quality training.
It is through the attendance of ICT professional development that you as a teacher will develop new skills. Studies have shown that many teachers either choose not to use technology in the classroom due to their lack of ICT skills/techniques or will just inevitably haphazardly develop ICT techniques with students. The superficial use of ICT in subject teaching would therefore, lack educational value and would unlikely stand the test of time.
To help you understand further of what I am discussing here, examine this example. If you got your students in an English lesson to draft and redraft their work, and then to ask them to type it up on the computer to produce a neat copy, the value of this particular activity to the development of the students' abilities would be marginal. There would be little value gained in the development of ICT capability. No educational value in the activity at all.
Time
Another challenge of using ICT in education for some teachers is the lack of time. You may very agree with this statement for many factors such as the fact new technology takes time to learn of, know about, practice, implement, evaluate and reflect on. Where are you going to find the time do this? The increasing pressure on all teachers to integrate technology in the classroom against the strain of time makes it very difficult. Yet solutions to ICT problems in education like this exist.
Above all else, the integration of technology in the classroom is about the here and the now of the available technology. It is NOT about waiting for the next big technological development to come around. This solution to this particular problem of ICT in education is good for other reasons too. For example, I may have mentioned that the reluctance to use new technology is also an issue. By focusing on what you have got and know you are already eliminating this from your equation. Thus also making the issue of cost redundant.
Teacher Beliefs
As teachers or adults, we hear so many times that education is the key to solving many issues and overcoming many challenges in society. Yet, while this is commonly known and understand by many teachers they themselves fall victim to the lack of education. There are some teachers who don't believe in using technology in the classroom and this is a significant key issue to address by leaders in education. It comes down to once again attending ICT professional development because this is the only way that beliefs will be changed.
Throughout this article, it has been highlighted the value of attending ICT professional development for teachers in overcoming and in providing solutions to ICT problems in education such as the ones mentioned. Our teacher quality professional development for teachers using technology in the classroom can also offer you solutions to your challenges of using ICT in education. Pedagogical training for teachers is also an important issue and it is an aspect that over several years now that we have been covering in our online workshops.
By joining our online classes, you will learn teaching strategies with technology that enable you jump another key issue in the development of ICT capability – the changes in teaching strategies when using technology in the classroom to help achieve learning outcomes.
It is by embedding our instructional strategies for using technology in the classroom that you will be able to ensure progression and continuity in ICT capability.
Learn more about:
ICT Teaching Strategies for Primary School teachers
Formative Assessment in Primary Schools
Literacy with ICT in Primary education and;
Harness the potential of Technology in Early Childhood Education 
The above challenges and solutions when using technologies in the classroom enable you to develop an appreciation of developing ICT capability when your students are using technology to achieve the learning outcomes that you have set for them. It is by and through education that many challenges of using ICT in education are overcome as teachers learn key teaching strategies with technology in the classroom that will not only enhance learning but promote the development of 21st century skills and create proficient users of ICT in our society. 
I have highlighted the two main issues of ICT in education as they are intrinsically linked and that by solving one you solve the rest.
FREE ONLINE PROFESSIONAL DEVELOPMENT FOR TEACHERS - ICT IN EDUCATION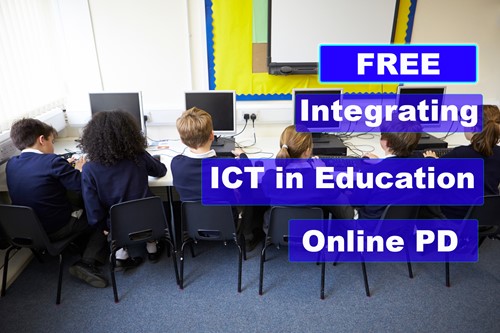 You will learn my top 5 strategies to successfully integrating ICT in Education today.
PLUS ONE ADDED BONUS STRATEGY!!!