By Michael Hilkemeijer
The use of ICT in Primary maths provides great support for the teaching and learning in mathematics. However, it can only really provide effective support where its use is 'transparent'. This is the ultimate aim of developing student ICT capability and in this course, we will investigate and examine how to use ICT in the math classroom where it helps teachers demonstrate and explain mathematical ideas along with helping students develop their mathematical knowledge, skills and understanding.
ICT provides teachers with opportunities to capitalise on the idea that it can help students visualise mathematical ideas and concepts. It can provide teachers and students with resources to help them concentrate on the learning objectives within the National Curriculum and not get bogged down with other issues. Finally, even though there are technology in maths education that enables students to review and consolidate mathematical skills such as 'drill and practice' programs, these are not the focus of this course as they do not fully develop ICT capability.
Free Online Professional Development for Teachers:
How to successfully integrate ICT in Education?
You will learn how to begin this process using my top 5 strategies Plus several free teacher downloads that you can implement today.
>>>>CLICK HERE TO LEARN MORE NOW <<<<
The Relationship between Numeracy and ICT Capability
What is the connection between ICT capability and numeracy? To answer this question we need to examine it from two points of interest. The Australian Curriculum as an example encourages the use of ICT in the mathematics learning area and states that ICT capability is developed when students "investigate, create and communicate mathematical ideas and concepts using fast, automated, interactive and multimodal technologies" (Australian Curriculum, 2021). It highlights specific software such as spreadsheets where ICT capability can be used for calculations, collecting data, drawing graphs, analysing, and interpreting data.
We must also understand that ICT capability in the field of numbers involves much more than merely using ICT techniques and skills that students need to perform number operations and produce graphs. Developing student ICT capability in primary maths involves the higher order thinking skills needed to when ICT is the most effective way of achieving a goal and which ICT tools are appropriate to the task.
It would be significant for you to remember that this decision involves more than just ICT knowledge. What it does involve is the knowledge of mathematical concepts and processes, and metacognitive knowledge (knowing that you know) of one's own speed and accuracy with numeric techniques and routines.
For example, "if we ask children to find the total cost of 68 pens at 20 cents each they have to decide on the type of calculation to do, and choose whether to estimate the answer, to calculate it exactly using mental methods, to calculate it exactly using pen and paper, to use a simple calculator, or to use a spreadsheet. Their choice will depend on their level of ICT capability and numeracy" (Kennewell, Parkinson, & Tanner, 2000, p. 109). It would also depend on the affordances of the setting such as the ICT tools available, the help that they get from others and of course, your aims and learning objectives of the activity itself.
In emphasising this, it is easy to see how higher order thinking skills and concepts are used to combine knowledge of and techniques in number and in ICT in order in order to solve even quite simple problems.
The Qualities of Mathematics teacher with TPACK
This course aims at giving you the expertise you need in order to develop a strong background in TPACK. A strong background will allow you to offer students a considerable advantage in the learning of mathematics. It will provide you with the ability to imagine the potential for mathematics/numeracy learning with technology.
As someone who successfully integrates ICT in Primary Maths, it would mean that:
You would have a relative openness to experimentation with the ever-evolving technological tools available to you.
You would strive to be consistently 'on-task' for the mathematical topic or content being taught.
You would approach your mathematics instruction with clear and systematic pedagogical strategies in mind.
You would try to make periodic connections for your students as to "why" a particular technology is useful for instructing a particular mathematics topic.
You would characteristically embrace the administrative capabilities of technology to help guide your mathematics instruction using student assessment data such as criterion referenced tests.
You would also do your best to be a caring teacher who is comfortable and optimistic for change.
(Grandgenett, 2008)
How to develop an integrated approach to teaching with ICT in the Maths Curriculum?
If you are to develop an integrated approach to teaching with ICT effectively in the mathematics key learning area rather than add it on as an extra activity, then it is important that you have a good understanding of the ICT concepts and their relation to the maths curriculum.
For each classroom activity, clear objectives need to be present and if you plan to develop student ICT capability prior to using ICT in maths learning, then the students can focus on the specific maths objectives. It would be difficult for you to introduce spreadsheets without involving number activity.
You also need to keep in mind that there is a close relationship between ICT capability and the knowledge, skills and understanding in the maths subject area in addition to others in the curriculum. So it would not be helpful to develop ICT capability and maths learning in isolation.
Studies have indicated in the past that the learning of and with ICT involved a shift of focus between the ICT objectives and the learning objectives. Additionally, there may be a conflict between these two objectives when assessing, but will touch on this later on. However, this is effected through planned teacher interventions.
With the strategies and approaches that you will learn in this course, you will be able to build on your own ICT capability as a primary teacher and foster these strategies that emphasise higher order thinking skills and provide an effective foundation for the challenge of a sometimes disjointed secondary curriculum.
FREE online professional development courses for teachers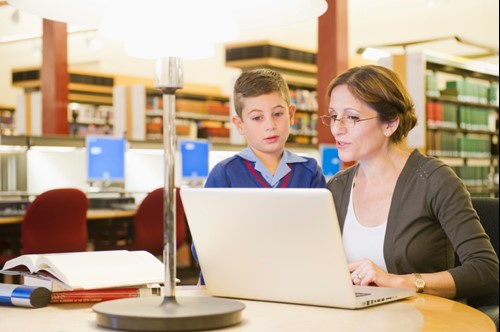 How to Successfully Integrate ICT in Education today?