Looking for TQI accredited online courses for yourself or your colleagues this year?
We are happy to announce that 2020 will bring you our NEW accredited online courses for Primary Teachers! This is in addition to our most popular course already TQI accredited.
Stop being bored in lockdown and self-isolation and try these TQI accredited online courses for under $100!
Primary Teaching Strategies: Assess Student ICT Capability Today
You will learn how to assess ICT capability as a requirement of the National Curriculum by applying current instructional principles, research and appropriate assessment practices to the uses of ICT in your classroom. In addition, I will give you the expertise you need to make informed decisions to help you unlock barriers to establishing a meaningful learning environment.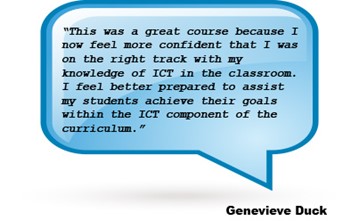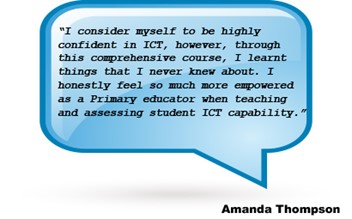 By enrolling in this course, you will be able to:
Learn about integrating ICT and ICT capability development in the National Curriculum;
Plan and identify opportunities for assessment;
Determine progression in the National Curriculum Learning Continuum;
Establish a meaningful learning environment in the Early Years;
Gather strong empirical evidence of attainment;
Share learning outcomes with parents and colleagues and;
Make informed decisions on assessment strategies for your school.
Cost: $95
Teach Literacy-ICT Integration Effectively Today
You will learn how to enhance literacy in your curriculum with ICT by implementing sound literacy-ICT teaching strategies boosted by teacher competence, clear goals and the development of purposeful and meaningful Literacy-ICT activities. In addition, you will gain the expertise you need in order to develop 21st century skills in your classroom practices as you collaborate and reflect on your learning experiences.
By enrolling in this course, you will be able to:
Boost your confidence and competence in Literacy-ICT integration;
Assess literacy and ICT capability concurrently;
Employ sound literacy-ICT teaching strategies;
Provide an inclusive literacy learning environment;
Develop meaningful literacy-ICT activities;
Implement strategies to ensure that every child learns from the literacy curriculum;
Improve teaching and learning with ICT;
Enhance the learning of literacy throughout the curriculum and;
Facilitate 21st century skills in the classroom.
Cost: $95
The Primary ICT Coordinator's Guide to Leadership
You will learn how to achieve and sustain student ICT capability by generating a strategic plan and empowering colleagues with pedagogies that will improve the school's performance and perceived culture in classroom practices.
By enrolling in this course, you will be able to:
Define your own leadership in ICT;
Understand your role as an educational leader and how to improve it;
Determine change points in your school;
Strategically plan to achieve your schools vision in ICT implementation;
Empower your colleagues to be change agents;
Generate a plan of action for the integration of ICT across the school;
Promote pedagogies in ICT;
Measure whole-school performance in ICT integration and student ICT capability and;
Enable a safe, online learning environment
Cost: $95
Other Teacher testimonials:
Join our online professional learning community for teachers in these TQI accredited courses online today and receive free teaching resources with them.