By Michael Hilkemeijer
One of the many challenges that primary teachers face in particularly is the planning of ICT activities that develop ICT capability for students. Another term for ICT capability is ICT integration and here is why.
Understanding ICT integration in Education
To understand what is ICT integration in education you need to also understand ICT capability. Its ultimate aim is to make technology 'transparent' in its use. This means that the children become so focused on using ICT as a tool to achieve other outcomes that they hardly notice that they are using ICT at all.
The transparent use of ICT in subject learning, therefore, ultimately defines what ICT integration in education is as ICT capability is best developed in meaningful, subject-related contexts.
Additionally, integrating ICT in education goes beyond this for a good reason. With the increasing pressure on you as a teacher to effectively integrate ICT in your teaching practices you most likely have been searching or have been bombarded with a range ICT tools and resources from your government and educational suppliers.
Here is what you need to know though.
>>>START HERE <<<< FREE ONLINE COURSE!!!
Do you need the latest technology to successfully integrate?
ICT integration in education is not about waiting for the next big technological development to solve your ICT integration problems. Don't get me wrong here, I believe that we need to keep progressing as educators with the new and emerging technologies. What is ICT integration in teaching and learning to me is imagining the potential of the available technology for learning within the context that it will be taught.
Effective ICT integration in education does not need a high budget to get started. What it does need is for you to have a strong will and a critical approach to your own pedagogical experience, perception of modern knowledge about the role of ECE, your courage and need to innovate. Furthermore, it requires your own curiosity to explore the potential of ICT to support learning.
You can begin the productive process of ICT integration in education and the development of ICT capability if you are a strong-minded principal or teacher even if your school or classroom has one single programmable toy or one digital camera or one computer.
What is considered a high level of ICT integration?
Several years ago, studies were conducted in the UK on schools and students that were considered to be highly capable in ICT. If you are effectively integrating ICT in education your students should be developing their ICT capability and achieving the following:
Use ICT to support their learning in all subjects – a significant way to develop ICT capability.
Use common ICT tools.
Take responsibility for their own learning, developing strategies to help them learn how to use unfamiliar ICT tools and work collaboratively.
Use current hardware and software and understand its potential and limitations.
Understand that using ICT can affect social processes.
(Crawford, 2011)
What is your biggest hurdle as a teacher?
Teacher education in ICT integration in education has been proven to be one of the biggest barriers today. This is something that I solely agree on. While there are many other challenges integrating ICT in school education that can contribute to its lack of user education is the answer to all of them.
It is important that you receive appropriate support and training in high impact teaching strategies in ICT integration in education. Teacher competence in ICT is a key element in the effective integration of ICT in education and successful online professional development for teachers using technology in the classroom will focus on:
Understanding ICT in education;
Curriculum and assessment;
Pedagogy;
Application of digital skills;
Organisation and administration;
Teacher professional learning.
This is a lifelong process for you as a teacher – to continue to build your capacity as a teacher, as an ICT integrator in education. In the pedagogical knowledge that you will acquire in our online workshops, you will build your ability to effectively integrate in ICT in education.
Through our online professional development for teachers using technology in the classroom the key takeaways that you will learn in relation to ICT integration in education include:
Establishing a starting point for their ICT capability learning journey;
Planning for effective ICT integration in education;
Strategies for overcoming challenges integrating ICT in education;
Facilitating learning progression through ICT integration in education;
Making sound instructional decisions to do with evidence based ICT teaching strategies.
Start with my five top strategies to integrate ICT in education today.
FREE ONLNE WORKSHOP FOR TEACHERS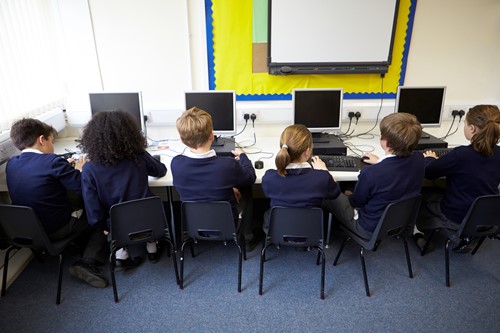 How to effectively use ICT in Education?