There is a plethora of technology in early years education that early years practitioners can use. Yet, no matter how motivating it can be, teachers can often underestimate children's confidence and experience with ICT in the youngest children.
The use of technology in early childhood education can cover many grounds in the learning environment. It will be important for you to ensure that the focus is on the child's learning experience, not the early childhood education technology so that your guidance will never be out of date as learning can be applied to any situation or ICT tool and resources.
LEARN ABOUT:
Why is technology important in early childhood education?
It will be your knowledge that will be crucial to the imaginative application of the curriculum to the learning situation.
Therefore, if you plan for integration you will be able to ensure that technology use in early childhood is viewed as an ICT tool to support and enhance teaching and learning, and not just to teach ICT skills instead of ICT capabilities.
The following will provide you with examples of technology use and will outline some of the benefits of technology in early childhood education.
Technology in ECE Trends Today
Technology in ECE has a lot to do with how you planned the integration of technology in the curriculum. It is essential that any use of technology in early childhood education is well thought out with your colleagues and that they align with the EYLF goals.
Technology Trends for Literacy and Language Development in Early Childhood
Child development is an example of a smart goal for early childhood teachers these days and there is nothing as important in early learning as the learning of literacy and language.
Computers, of course, offer a great 'print rich' learning environment for children, however, there are other ICT tools for teachers as well. They also provide a powerful focus in role play activities. Using the computer in these situations can engage children in the collection or receiving of information.
Word Processors have the biggest impact on classroom learning in this area as word processing is closely associated with literacy and language work at all levels, and as a consequence has a contribution to make across the early years curriculum.
Talking books combine speech and words, and these can reinforce the link between written and spoken text. Although they are designed to encourage reading they should be approached with a certain bit of caution.
Other ICT tools, real or pretend, can have a major impact on a child's imaginative role playing experiences in preschool or kindergarten.
Multimedia programs can also play a role as an ICT tool for teachers. Software such as 2Create a Story takes a fresh and innovative approach to early writing, bringing the multimedia possibilities of new technology to children's story making.
Word banks and grids can also aid in literacy and language development in early childhood as many early childhood teachers are find out. In fact, its success is based on the continuous feedback teachers are providing its makers and which is improving its performance.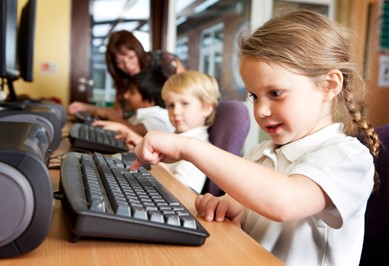 Technology trends for Creativity
Creative development is in its own area of learning in the Early Years Learning Framework and like in its counterpart in the UK (EYFS), it is employed to capture children's development in:
Responding to experiences, expressing and communicating ideas
Exploring media and materials
Creating music and dance
Developing imagination.
Despite this, it is difficult to define as in this stage of learning it is often linked to painting and drawing. In fact, if you Google creativity in early years you will find references to art. So here are some ways in which early childhood teachers and children can be creative with technology in early childhood.
Technology for Teachers
Documenting is very important in early childhood education as it can make learning visible and ensure that you engage children in the learning process. In early childhood technology for teachers which enables documentation include:
A full range of digital cameras including webcams, wireless cameras, digital still cameras, smart phone cameras and tablet computer cameras.
Interactive whiteboards to quickly display children's experiences.
Audio recorders,
Computer software such as MS PowerPoint to share learning journeys
Digital projectors.
Software programs to make books
Talking cards and photo albums to quickly capture children's comments on their learning.
ICT tools for Children
Children will need time, freedom, support, choices and inspiration to develop their creativity with technology in early childhood. The following you can adapt for your own context:
Digital cameras – can be used to take photos of their creative play and to exchange ideas. By supporting them in their use you will also be able to encourage them to reflect on the photos they have taken.
Video cameras – show them how to use it in a creative way such as for a movie making activity.
Webcams – encourage them to record the process of an activity as they progress.
Art software – this you can model for them by doing something like making a repeat pattern and printing it out.
Programmable toys – there is so much value in bee bots and others like Pixie. Create a path on the ground and ask children to program the toy to follow it.
Smartboards – use these in conjunction with good quality art software and as the children make marks, show them what the range of ICT tools can do. Model using these tools and then stand back and watch the children do with them.
Other Preschool technology trending in Early Childhood Education:
Interactive websites: examples include Starfall, ABC Ya, Cookie and Fuel the Brain.
DAP Apps: tablet computers like iPads and even those with Android technologies come with a range of educational and enhancing apps. You can find a list of the best apps for preschool and kindergarten here.
Educational video sites like BrainPop Jr. and Discovery Education.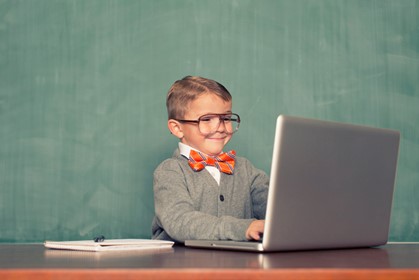 Using Tech in ECE
The use of technology in early childhood classrooms is beginning to become more significant these days as young children continue to embrace its presence. Technology in early childhood plays an important role in their learning and development.
How can technology be integrated?
There are many roles of technology in early childhood classrooms that can involve both teacher and child. For example, young children can use ICT in their role play and learning, children and teachers can use ICT to scaffold learning such as by using the Internet to search for particular things of interest, as well as using ICT to communicate and share their ideas when they use programs such as PowerPoint. However, these are just merely examples of technology in early childhood education.
Learning the basics of integrating technology in the preschool classroom is more to do with supporting young children's ICT capability and technological literacy by making sound instructional decisions when you are planning on using technology in the early childhood classroom.
To harness the full potential of technology in early childhood education also involves educating teachers and adult helpers so that they have well-developed understandings of the role and potential of ICT for supporting young children's learning, as well as practical skills in knowing how to make the best use of the technology.
The benefits of using technology
The most noticeable benefit of technology in early childhood education is that it promotes a high level of engagement with children when being used in lessons. Teachers can also design unique learning environments for children.
More recently, the need for increased technological literacy and ICT capability amongst young children has meant that teachers now are required to support and scaffold the use of technology in early childhood education to ensure that they understand the notion of using ICT as a tool for learning and so that they come ready for a primary curriculum set to promote the learning progression in their schooling.
Developing technological literacy on a broader scale and children's ICT capability is vital to ensuring that become proficient users of ICT in their society.
Further benefits of technology in preschool, kindergarten, and early primary classrooms would include the ability of teachers to use online PD workshops to improve their own professional development and strengthen a particular skill set through self-paced modules or reading exercises.
Further support for Early Childhood teachers
It was acknowledged by UNESCO (2010) that the ICT competencies of early childhood teachers depends on the professional development of which they attend. There are several paths that they can take which include Discovering ICT, Learning with ICT and Integrating ICT.
Accredited through NESA and TQI, our online workshop for preschool teachers, kindergarten teachers and early primary teachers focusing on providing you with practical and immediately actionable advice on integrating technology in the preschool classroom for example.
We investigate the best examples of using technology in the early childhood classrooms and encourage you to practice our evidence based teaching strategies that are high impact and structured in a way to help you achieve your goals.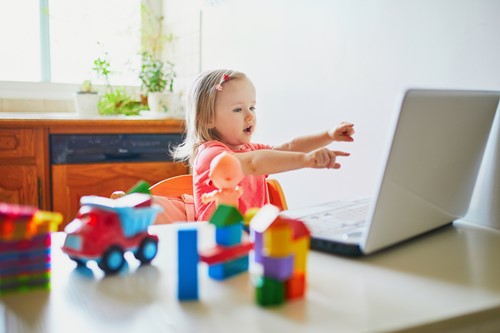 FREE
Online Workshop for Preschool Teachers
The above examples of technology use in early childhood education represent various ways of integrating technology in the preschool classroom. They are symbolic examples of the best practices to develop a child's technology literacy in early childhood education learning activities. Yet it is important to understand that integrating technology in the preschool classroom is NOT just about providing exposure to technology can observing if a child can click a mouse or swipe an iPad. 
Supporting children's ICT capability with the use of technology in early childhood education and care is about doing early learning activities such as developing skills in the use of sounds and images to convey information, feelings, and ideas. In this online workshop for preschool teachers, we will discuss and show you the best practices of integrating technology in the preschool classroom that will not only help you accomplish this with supporting evidence based teaching strategies in early childhood education, thus supporting your ICT capability as a preschool teacher, but that will develop a young child's ICT capability or technology literacy.
Here is an example of how we encourage the use of technology in early childhood education in this workshop:
Drawing and painting programs are one of the best examples of technology in early childhood education. It is generic and commonly available meaning that most of us already know something about it. This is good because it is low cost and you don't have the time to go learning about the latest new developments in technology use in early childhood education.
Images manipulation and creation programs like these can be combined with other technology in early childhood classrooms such as digital cameras like that from a smartphone or standalone camera.
They are also fantastic for the development of ICT capability as this entails more than just the teaching of ICT techniques. Using technology in the early childhood classroom is accompanied by evidence based teaching strategies or instructional decision making that is informed by the best formative assessment strategies in early childhood education today.
So jump on in and learn more about Harnessing the potential of Technology in Early Childhood Education today.
FREE STARTER COURSE