In the Australian Curriculum, the general capability – ICT – is a 21st century skill embedded throughout all Key Learning Areas. For example, the integration and teaching of ICT capability commences in the Foundation Year at Level 1 and then continues through to Year 10 at Level 6. However, the majority of ICT capability development lies within the realm of Primary Education extending to Level 4.
As a primary teacher, you will have the opportunity to capitalise on the use of ICT throughout many subjects, but it is literacy and numeracy development where you will be able to develop student ICT capability the most. The wide range of contexts means that you will be able to help students progress in their capabilities in ICT as progression depends to a large extent on the range of contexts in which knowledge and skills are applied together with tackling more complex and unfamiliar situations with ICT. You will be able to help your students gain ICT capability also from a variety of sources such as:
ICT lessons;
Extra-curricular activities;
Home;
Subject lessons.
It will also be very important to you build on students' experiences of ICT outside of school. A child's confidence in ICT will only be boosted when the activities are interesting to them and are structured in such a way "as to engender understanding that may be difficult for them to achieve unaided". It is for this reason that while you are planning these activities that you develop an appreciation for the extent and the nature of the work students do with ICT at home.
5 Easy Steps to Creating Purposeful ICT Activities in Meaning Contexts
The best way to develop student ICT capability is through purposeful activities in meaningful contexts (ie. Literacy and Numeracy). In this instance, we will look at structuring and developing an ICT activity in the context of literacy development in the Foundation Year English Curriculum (Australian Curriculum, 2018).
STEP 1. Identify Opportunities
As it can be see in the diagram, ICT capability is linked to both the Language and Literacy strands. Despite this, you may find other opportunities that are not linked to the curriculum context itself. In other words, make opportunities.
STEP 2. Identify your own Knowledge of the Software
In the example given, word processing programs are an excellent example of the type of ICT tools and resources to develop ICT capability. It is important to remember that the level of effectiveness that ICT can be used in a literacy lesson, depends to a large extent on the teacher's own personal capabilities in ICT and literacy teaching.
Therefore, it is more important to be knowledgeable about one program that your students will use than to have an acquaintance with many. This won't limit their development as it is better for students to work with a small number of versatile programs and to progress their capabilities and confidence in their skills within structured activities.

STEP 3. Establish a starting point for their ICT capability development journey
Within the curriculum contexts, there are various ICT skills for teachers to use. However, students today are more tech-savvy than you think. The skills indicated may have already been learnt by the students. One of the many problems today particularly when using ICT is classroom management. Problems begin to occur when the activities are not interesting to students as a result of boredom on the account of repetition of ICT skills. Therefore, you need to challenge students intellectually by first establishing a starting point for their journey towards ICT capability.
A good way to do this is to conduct a number of trial lessons where you will be able to assess their current capabilities in ICT. By doing this, you can note down what they already know and then set higher challenges by adding ICT skills that will help them progress.
STEP 4. Create an Activity Planning Sheet
Now that you know what they know and this means just not knowing about a technique but also understanding where it can best be used for a solution (that is what is meant by an ICT capable student), you can then begin to design the activity.
Firstly, you need to demonstrate what you intend to teach and this can be achieved by creating an Activity Planning Sheet (see example below).
Foundation Year (Prep)

 

Subject: English/ICT/literacy

 

Topic: My favourite character

ICT Capability Learning Continuum

Investigating with ICT

Communicating with ICT

Communicating with ICT

Managing and operating with ICT

Activity: Students will use MS Word as a word processor to retype the story of their favourite character. They will learn how to turn the computer on (if necessary), log on and off their portal using their username and passwords, to locate and open a software application, use the keyboard to locate keys and use the Shift key or Caps Lock key to create capital letters. Also, they will learn how to use the Enter key to start a new line and to save their work into their folders.

Advanced students will have the time to learn how to find and locate the Insert tab in order to select Shapes and format them appropriately using colour, effects and outlines.

 

Grouping: For students who are EAL or SEN that may work better as a pairs otherwise students can work individually.

 

Assessment: Independent management of work. Appropriate use of Caps Lock and Shift keys. Appropriate use of font/style/colour of text. Use of Shape formats like effects, colour and outline. Overall use of the keyboard.
Higher order skills

ICT Techniques

Create and design a story on our favourite character.

Insert text

Scrolling

Selecting icons
The other example provided by Kennewell (2004, p. 111) uses a similar process of illustrating how to produce a work sheet for students. It sets out in steps as followed.
Planning the task – Higher order skills
Process of producing the heading
Process of entering the text
Process of adding images
Monitoring the progress of the task – Higher order skills
Process of producing student response boxes
Evaluating the outcome in relation to its purpose – Higher order skills
Foundation Year English – Literacy and Language
Using the Above Satisfactory portfolio example from the Australian Curriculum (see below) I will demonstrate how to apply this to your work program (Australian Curriculum, 2018).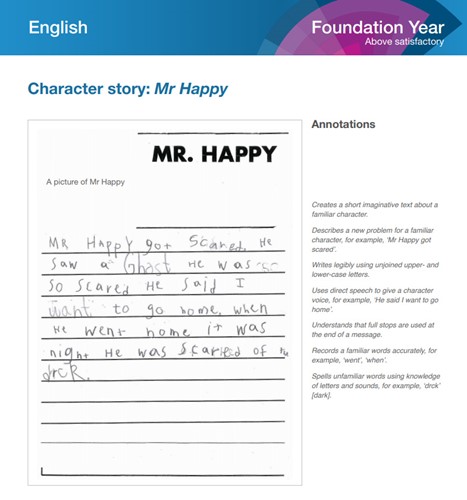 Example from the Above Satisfactory portfolio - Australian Curriculum (2018)
In this example, the student was asked to choose a favourite character from a story they had just listened to and then to create a new story about the character. After writing it on paper, literacy development can then be boosted by the addition of an ICT activity where students will need to type this story up using a word processor as stated in the curriculum context.
Using the same principles and practices that Kennewell (2004) points out the process would be as follows.
ICT Activity: Students are to type their new story about their favourite character using a word processor.
Step 1. Planning the task (HOS)
Students will need to consider what the outcome is intended to achieve. In this example, it would be to create a story in a formatted method. They would then need to break it down into smaller steps (processes) which they can carry out in turn. They will need to decide what program they are going to use. So here you can discuss with them what programs are available and what they are used for. Depending on the year level and understanding at the time, you may want to increase detail and include where and when it is commonly used for and highlighting its features and functions that enable various tasks to be carried out.
Step 2. Process of producing a heading
Every story needs a heading and so for students in this particular Foundation example it may be as simple as helping them identify where a heading may go and then simply formatting the text in either bold, italic or underline. They may even be shown for older students how to change its colour or even use WordArt as a heading.
Step 3. Process of entering text
At this stage it is a matter of typing their story into the word processor and this process will involve giving students time to identify and learn how to use the keyboard.
Step 4. Process of adding images
If students are more advanced in their ICT techniques, then it may be possible for them to be demonstrated how to insert images. Judge what they can do and then even help them format the images by putting borders around them and even text wrapping them.
Step 5. Monitoring the progress of the task (HOS)
As students continue throughout the activity they will need to be encouraged to think about how effectively they are carrying out the activity and whether they are on course for achieving a good result.
Step 6. Process of saving their work
Saving work using a word processor is essential for keeping track of progress and recording student achievements. Work saved can be used in portfolios later on. It is an idea to keep several copies of the same work in order to be able to do this so you can compare where they started and how they finished. Students will therefore need to be able to identify what icon to select and be able to use the mouse to click it. They will also need to know where it is saved to be able to refer to it later on in their work. When getting students to save their work ensure that they save it as a different name every time. For example, story draft 1, story draft 2 and Story Final copy.
Step 7. Evaluating the outcome in relation to its purpose (HOS)
After every ICT activity, there must be time given for students to reflect and evaluate the outcome. What can be improved? What might they do next time? How can they produce it differently?
By applying the above practices and principles, you should now be able to design and develop ICT activities that are in purposeful in meaningful contexts such as in literacy and numeracy.

REFERENCES
Australian Curriculum. (2018, March 29). Australian Curriculum. Retrieved from English - Foundation: https://www.australiancurriculum.edu.au/f-10-curriculum/general-capabilities/
Kennewell, S. (2004). Developing ICT Capability. In S. Kennewell, Meeting the standards in Using ICT for secondary teaching (pp. 111-114). New York: Routledge Falmer.
Lewis, P. (2008). PowerPoint Magic. Washington DC: ISTE.
Potter, F., & Darbyshire, C. (2005). The Nature of ICT capability. In F. Potter, & C. Darbyshire, 
Understanding and Teaching the ICT National Curriculum (pp. 17-24). New York: Routledge.