By Michael Hilkemeijer
As a teacher in the Philippines, it can be difficult to stay on top of your professional development and keep up with the latest trends. Fortunately, we have plenty of quality Continuous Professional Development (CPD) online resources available specifically for Philippine educators. In this guide, we'll provide an overview of our continuing professional development for teachers in the Philippines.
There are many benefits that technology integration can bring to students and yes, to you as a teacher too. However, learning to integrate technology in the classroom goes beyond the many ideas this is out there and simply exposing children to technology.
You will learn how our CPD for teachers can make the most impact on student learning by applying sound instructional strategies based on educational research.
Why is CPD necessary for professional teachers?
CPD for teachers is imperative as schools keep up-to-date with the latest technological trends in society. No matter where you are employed – whether it may be early childhood education, primary education or secondary education – it is important for you to invest in continuing professional development.
There are also benefits of CPD for students such as:
Facilitating a direct relationship on student learning outcomes.
Enabling teachers to become lifelong learners also ensures that student attainment levels increase.
Why teachers in the Philippines should enrol in our Technology integration professional development
No matter how long you have been teaching or your competence and confidence in technology integration in the classroom, you should regularly enrol in our online pd courses for teachers.
Research continues to demonstrate how the key to successfully integrating technology in the classroom is through effective continuing professional development for teachers.
How do our online workshops provide cpd for teachers in the Philippines?
All online workshops are flexible and online making them easily accessible anytime, anywhere and anyplace.
All online pd courses for teachers give teachers in the Philippines LIFETIME access meaning that for as long as they are enrolled they will continue to get access to any new content added to the course as well as any up-to-date information.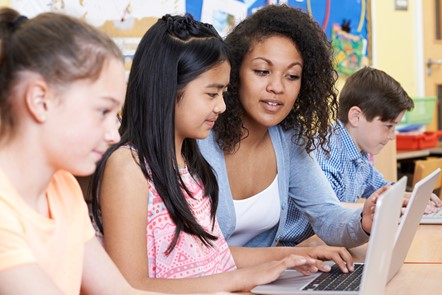 Other ways that we provide cpd for teachers in the Philippines include:
Offering a subscription to our Early Childhood Education newsletter or Primary Education newsletter. Teachers who subscribe enjoy many benefits such as weekly practical advice at their fingertips and are the first to know of any new courses and information that is relevant to their needs.
Becoming a member of the ICT in Education Teacher Academy gives teachers year-round access to ALL online PD courses for teachers and this includes teaching resources, technology integration lesson plans, and professional learning resources such as our collection of books.
The complexities of the 21st century requires teachers in the Philippines to receive continuing professional development to avoid being outdated and alienated. Through the wide range of online PD courses that we provide you and your colleagues can embed evidence-based technology teaching strategies that will lead to an increase in student attainment levels throughout the curriculum.
CPD for teachers is a personal responsibility as it is essential to account for shortcomings, failings and limitations when teaching in the 21st century classroom. If you wish to give your best and not lag behind more prepared colleagues, then become a member of our Academy to gain instant access to all online PD today and learn them at your own pace, time, and place.
60 + Online PD courses on technology integration in the classroom for Early Childhood and Primary Education teachers – all for just $50 Aud per month (cancel anytime).