What is pedagogy in Early Childhood?
In the Early Years Learning Framework pedagogy in early childhood is defined as the early childhood teacher's professional practice, curriculum decision-making and teaching and learning. For this to be effective, you need to establish a "caring and respectful relationship with children and families" (EYLF).
The four aspects of an early childhood teacher's professional judgement which help constitute their pedagogy include:
Professional knowledge and skills;
Knowledge of children, families and communities;
Awareness of how their believes and values impact on children's learning and;
Personal styles and past experiences.
Pedagogy will look different under different contexts when ICT is involved, it becomes more complex.
What is ICT Pedagogy in Early Childhood?
ICT pedagogy in early childhood is about ensuring that children develop ICT capability and ICT literacy through the effective integration of ICT in teaching and learning. At times, it is offered referred to as 'technology' pedagogy.
It forms a key role in your Technological Pedagogy Content Knowledge (TPACK) and can be permeated through key learning areas such as in literacy and language development and numeracy.
Technology can add totally new elements to a learning environment. Examples include a child taking a video of a friend's role play. This can lead to ways of reflecting on the play together at a later stage.
The use of technology in early childhood education is guided by 8 key principles (DATEC) which influences ICT pedagogical practices in early childhood education and care.
As an early childhood teacher, like with other key learning areas such as literacy and language development knowledge of a child's use of ICT at home is vital to establish a starting point for learning progression in ICT capability.
Further connections to the foundations of pedagogy in early childhood is a teacher's awareness of how their beliefs and values in the use of ICT in early childhood education and care impact children's learning. The modelling of ICT use in learning environments plays a considerable role in this respect.
Digital Pedagogy is included in the Early Childhood Australia – Statement on Young Children and Digital Technologies.
"Digital pedagogy involves educator decision making about using digital technologies with, by and for young children. This can include the decision to not use digital technologies with children in certain situations."
When using technology in early childhood education it is important that you are aware of your role in guiding and facilitating learning for the children in your care.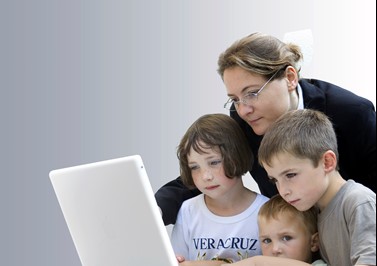 Examples of ICT Pedagogy in Early Childhood
Some examples of pedagogy in ICT include that in play (O'Hara, 2004):
An imaginative role-play about being "in the office", in which a child used a functional PC, photocopier, and printer;
A spontaneous indoor/outdoor game which evolved when an adult introduced six children to a pair of walkie-talkies;
A whole-class "karaoke concert" using a CD player, microphone, amplifier, video camera, and television monitor.
Planning for the integration of technology is an essential part of early childhood pedagogy. Another important aspect is assessment or the use of formative assessment strategies.
PD for Early Childhood teachers in ICT
The key to the production integration of ICT into the learning processes of children is complex and continuous professional development.
ICT competency of early childhood teachers is vital and there are educational paths which you can take. However, to stick to the topic of this blog we are going to look at the third path which is Integrating ICT.
Integrating ICT is about "Utilizing one's emergent digital literacy to integrate new technologies and new pedagogies into everyday life of the ECE centre, into the learning processes of children in the most efficient, attractive, safe and productive way" (UNESCO, 2010).
Early Childhood Pedagogy in ICT is one of the 6 units associated with this path.
In accordance with these guidelines and our own beliefs in the importance of effective early childhood pedagogy in ICT to develop child ICT capability and ICT literacy, our accredited online teacher workshop for early childhood teachers aligns with the following criteria and includes content that:
Pedagogy of the programmable digital toys;
Pedagogy of the educational software applications;
Analysis and evaluation of the appropriateness of various ICTs for ECE;
Development of personality and competencies of an ECE child with the support of ICT;
How to project, implement, observe, assess and evaluate the progress of children in exploiting ICT for their learning and play.
The content of the online workshop will cover the following recommended objectives by UNESCO (2010).
To help early childhood teachers to:
Understand and master didactics of integrating digital toys (most of those from the unit Digital toys) and educational software applications for children (most of those from the unit Educational software for children);
Plan and monitor the development of children in using ICT to express themselves, for learning and play;
Exploit ICT in support of most or all of teaching and developmental goals;
Understand the role of ICT in modern early childhood education;
Know their potential for the personal development of ECE children and for the professional lifelong development of ECE teachers.