The use of technology in Early Childhood Education has sparked many conversations in the past since it first came onto the early learning scene. Since then, society itself has integrated a lot more technology into almost every aspect of its existence.
However, the problem with this is that we tend to think that simple exposure to technology in early childhood will develop our children's capabilities in ICT.
It is a common misconception among educators and it is one that we have made in the past with other mediums such as the television.
Television has become such a common feature in children's lives that today it has really ceased to exist as a serious learning medium.
This is a trend that can also happen with ICT and technology in early childhood education.
So in this article, I will give you the best strategies to ensure meaningful technology integration in Early Learning environments for young children in your workplace today.
By the end of this article, you will be able to:
Understand why you need to integrate technology in early learning.
Learn effective curriculum planning in relation to technology.
Examine the example of a lesson plan that uses technology.
Discover what meaningful ICT tools there are to use.
Develop capabilities in ICT.
These are all the key stages of what is meaningful technology integration in early learning environments. The use of technology in early childhood education must be about more than just exposing young children to technology. 
As Harriet Price once stated the term ICT has a broad term in early childhood and it is often referred to as 'technology'. This is not entirely accurate, but it is a more user-friendly term. So I will use these terms interchangeably throughout.
Why integrate technology in early childhood?
Many believe that the integration of technology in the learning environment when it comes to classroom content can improve student achievement.
Given thoughtful planning, lessons that use technology can certainly increase engagement in students. I, myself, am a firm believer of this and it should be something that you should be an advocate for too.
In the early childhood setting, it essential that you believe the need for children to find out and identify the uses of technology in their everyday lives.
You should be ensuring that children are using computers and programmed toys to support their learning. Encourage children to observe and talk about the use of ICT in the environment on local walks.
If you match the technology to each child's unique special needs, the impact of technology in early childhood education would not only be that of improved awareness which will lead to further progress as computers become more widely used by children, but their understanding and notion that ICT products are tools.
And tools are designed to be applied for particular purposes when required.
Children need to learn both about and through technology. They have to investigate what it can do. How it works and what it can be used for.
And they learn through technology when they use it as a tool such as using a digital camera to take photographs of something they made.
Curriculum Planning in Early Childhood Education
If you are thinking about improving the usage of ICT in your learning environments, you might want to start by going through the 11 aspects of planning for tech integration which I wrote about earlier.
However, to summarise here is a list for you to get started.
Plan for the progression of ICT capability;
Plan for continuity in ICT capabilities;
Plan for Outcomes;
Plan for Personalised learning;
Plan for ICT resources;
Plan for the next session;
Plan appropriate ICT activities;
Plan the learning environment;
Plan for the assessment of ICT capability;
Plan to challenge children's capabilities in ICT;
Plan for the short term - day-by-day!
The way in which you carry out this list is up to you.
However, it is vital that the early learning goals from the Early Years Learning Framework are met.
Effective short term planning helps to achieve this and this is what you are going to learn next.
Lesson Planning in Early Childhood
Here is an example of a lesson plan that uses technology for literacy and language development in early childhood.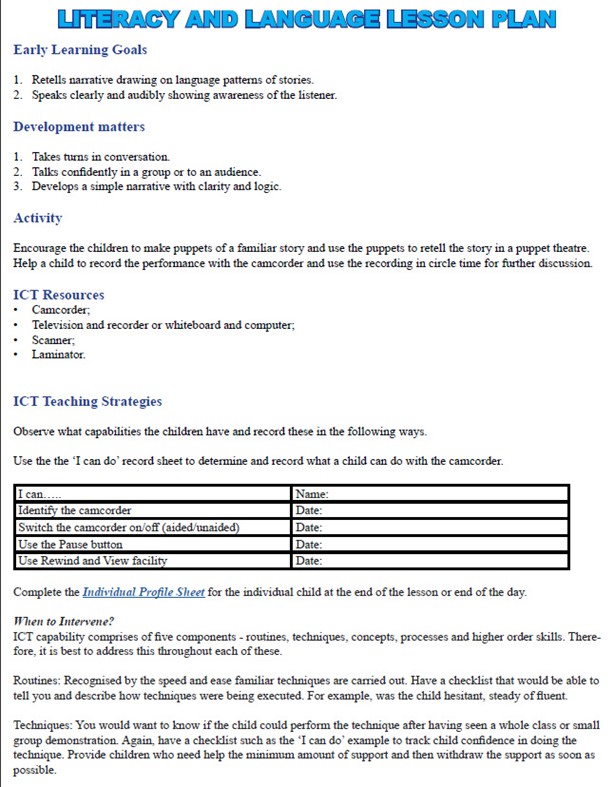 What are meaningful ICT tools and resources?
Watch my video to determine to choose meaningful ICT tools in ECE.
Now that you know what this means, here is my list of ICT tools in Early Childhood.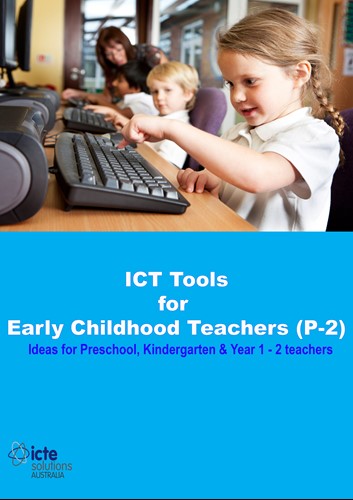 Develop capabilities in ICT
The aim of using any technology tools in early childhood learning settings should always be to be transparent in the background while learning the subject content.
You need to at the same time enable children to begin to develop their capabilities in ICT.
To do this, your use of ICT should involve the following steps.
Plan and seek opportunities to develop every component of ICT capability.
This means the routines, techniques, process and higher order skills. There are certain methods that you need to be aware of and that will boost the ICT literacy skills of children in your care.
Focus on the concepts behind the skills.
Conceptual understanding is very important and you need to ensure that you challenge naïve ideas about handling ICT tools in early childhood learning settings.
Use a range of ways to support children.
This could be monitored instruction or demonstrating with descriptive commentary for example.
Guiding to principles to the use of Tech in Early Childhood
Last but not least, it is important that read each of these principles and ensure that you adhere to them.
According to the Office of Education Technology (2020), "guidance needs to reflect the reality that families and early educators have access to apps, digital books, games, video chatting software, and a multitude of other interactive technologies that can be used with young children."
Conclusion
If you want technology integration at your early childhood education and care centre to mean something, then it is imperative that you stick to the above principles.
Your belief should be that meaningful integration should involve the development of ICT capability whilst learning subject content.
This is the only way that ICT capability can be developed – in meaningful and purposeful context. So meaningful technology integration in early learning environments is then about exactly that. Ensuring that young children build on their ICT capability from home experiences of ICT and this is achieved through embedding high impact teaching strategies in early childhood.