Today, so many young children are beginning their kindergarten education with a degree of ICT capability amongst them. This is due to the fact that technology has become such an overwhelming presence in children's lives and will no doubt continue like this into the future.
There are many reasons and benefits of technology in the kindergarten classroom, however, there are three that stick out.
So that kindergarten teachers can build on home experiences of technology in their planning and develop ICT capability and ICT literacy;
That young children can become proficient users of ICT in society and;
That is no disconnect between the early years' curriculum in the EYLF and the Australian Curriculum as an example.
For this to occur, kindergarten teachers need "guidance, and opportunities to become capable, competent, and informed about the educational role and potential of ICT, and support to make the most of the opportunities that ICT presents for strengthening all aspects of early childhood education practice" (Bolstad, 2004, p. 7).
This was enough reason for myself to develop an accredited online professional development for kindergarten teachers.
Integrating technology in the kindergarten classroom should be about:
Providing young children with the opportunity to find out about and identify the uses of technology in their lives and;
Developing the notion of ICT products as tools designed for particular purposes within young children.
The integration of technology across the curriculum is, therefore, vital for the early childhood education of children kindergarten. Children need to see the technology used in a meaningful context and are exactly how ICT capability is developed.
Unlocking the Benefits of Technology in the Kindergarten Classroom
Before I go on to discuss with you the technology used in kindergarten classrooms, it is important that you understand how you can help children see the use of technology used in kindergarten classrooms in a meaningful context.
It is by employing sound technology teaching strategies in kindergarten such as the following:
Analyse the situation – if you want to plan towards integrating technology in the kindergarten classroom then you need to conduct a thorough analysis of things. This would involve learning about key aspects in our online professional development for kindergarten teachers such as:
Determining your professional learning needs;
Understanding the need for professional development in ICT in ECE;
Make correlations between how children learn with ICT and integrating technology in the kindergarten classroom;
Define ICT pedagogy in kindergarten;
Unlock barriers to integrating technology in the kindergarten classroom;
Conduct a self-assessment in terms of competence in ICT;
Set goals towards the desired outcome of young children's ICT capability.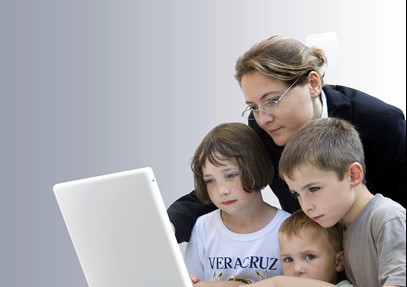 Embed formative assessment in kindergarten – observation in early childhood is at the forefront of your practice. You need to build on your capacity in this area with expertise in technology integration in order so that you can:
Plan for the integration of technology in kindergarten – by doing this you ensure that ICT is viewed as a tool to support and enhance teaching and learning in kindergarten, and not simply as a skill to be learned and an 'add on' to the curriculum.
Monitor children's ICT learning –find out about the individual child and the community that is created through their play.
Understand what to look for and why – ICT capability is more than just the teaching of ICT skills.
Document ICT learning – you will need to keep track of children's ICT learning in your records.
Write focused transition statements – your assessment of a child's ICT capability will aid you in being able to pass on accurate information to future teachers.
Enable the learning environment – the learning environment plays a key role in enabling assessment.
Involve parents and carers in the planning – integrating technology in the kindergarten classroom can be assisted through the collaboration of parents and teachers in planning.
Provide feedback on ICT learning – a crucial method as it provides immediate information to the child as they are learning.
Design well-structured ICT learning activities – effective assessment is only possible if you have in place well-structured ICT learning activities that allow for the development of ICT capability.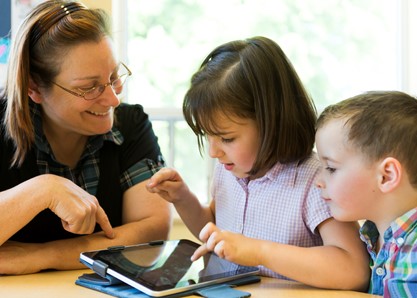 Practice sound Instructional Decisions – these technology teaching methods in kindergarten are derived from the most ICT capable classrooms today. I included them in this online professional development for kindergarten teachers for the reason that experts such as John Siraj-Blatchford have stated the need for technology literacy to be developed as part of their early childhood education experiences. They include:
Build on home experiences of ICT – I should have really placed this in the previous section, but it stands as a firm foundation for our planning.
Use assessment to develop your teaching strategies;
Understand what you are aiming for – what is the desired outcome?
Facilitate capabilities in ICT – this is about understanding the best teaching strategies in kindergarten to develop each component of ICT capability.
Provide effective support - ensuring that you are using the right affordances and scaffolding. Affordances is all about the potential for action and capacity of the environment or object to enable students to achieve their goals within a particular problem situation.
Stimulate and structure ICT learning activities - ensure that you have set clear objectives, involved structured activities and have high expectations of all your students. As a teacher, appreciate the problems that students may face during their experiences and have planned strategies in place to deal with them.
Develop autonomy – how is autonomy developed in ICT learning?
Support digital play - Digital pedagogy captures both the children's perspective and the teacher's perspective as a relational whole.
Differentiated Instruction – learn how to be accountable for all learners using technology teaching methods in kindergarten.
Other technology teaching methods in kindergarten you will learn in our accredited online kindergarten teacher workshops include:
Embedding technology in STEM kindergarten projects;
Practice inclusion with technology in early childhood education;
Language and literacy development with technology in early childhood education;
Utilise available tech for numeracy teaching;
Protect the digital child.
In every module of our online kindergarten teacher professional development, we deliver in-depth knowledge and expertise in these teaching strategies for kindergarten. Every participant walks away with the following FREE resources.
AT LEAST 6 BONUS TEACHER TAKEAWAYS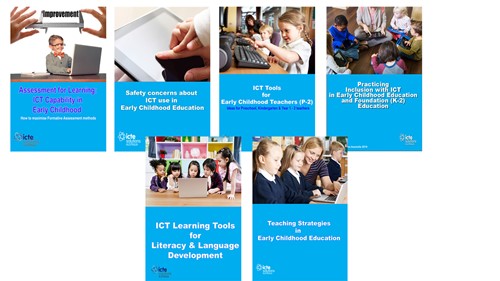 Completing this kindergarten teacher professional development will contribute to 5 hours of NESA and TQI PD addressing 2.6.2, 4.5.2, and 5.1.2 of Australian Professional Standards for Teachers towards maintaining Proficient Teacher Accreditation in NSW, QLD, Vic, and ACT.