One of the many concerns relating to technology in kindergarten is the lack of financial resources. Yet, there are many ways to overcome this hurdle and you will learn some of them in the following paragraphs.
Hi! My name is Michael and I am your Technology in Kindergarten consultant. Welcome to an inside look at our accredited online course for kindergarten teacher where I will give you the expertise you need when integrating technology in the kindergarten classroom.
HARNESS THE POTENTIAL OF TECHNOLOGY IN ECE TODAY (Click to learn more now)
Completing this online course for kindergarten teacher contributes to 5 hours of NESA and TQI PD addressing 2.6.2, 4.5.2 and 5.1.2 of APST towards maintaining Proficient teacher accreditation.
Course Joining fee - $150
Today, there is a lot of ICT/technology in kindergarten research that covers not just kindergarten but preschool, childcare and early primary teaching. This has become part of my past time after teaching technology for 10 years.
One thing that has become particularly clear is that if early childhood teachers want to provide productive and authentic experiences when integrating technology in the kindergarten classroom, then professional development that promotes and supports teachers to become conscious of the kinds of learning interactions they would like to occur within the context of ICT is essential.
Our online PD for early childhood educators follows the recommendations made by this research and delivers early childhood pedagogy that supports these technology learning interactions. It focuses on the educational path that will provide you
Integrating technology in the kindergarten classroom today should follow these guidelines laid out in the research and support the development of ICT capability for both children and early childhood practitioners.
Key issues addressed
Teaching methods for kindergarten
Learning how to teach technology to kindergarten children is not about teaching ICT skills. Not all of us are tech-savvy teachers and let's face it, we will never be able to keep up with technological developments. It is about making instructional decisions based on evidence based strategies for teaching with technology. Teaching strategies for kindergarten that develop ICT capability in the learning and play activities given. We recommend kindergarten pedagogy such as the following:
Strategies to support digital play;
Stimulating and structuring ICT learning;
Developing autonomous users of technology;
Scaffolding in early childhood education;
Using assessment to develop teaching strategies.
Finding the appropriate technology to use
As I mentioned at the beginning, financial resources or lack of is one of the many issues when using technology in kindergarten. Here it is important to understand that integrating technology in learning environments is not about waiting for the next big technological development to come around and solve our problems. This also creates many more issues such as time for practice, reflection and evaluation. We encourage using technology in kindergarten that comes from alternative sources such as the community and that also develop ICT capability.
Establishing a baseline for child ICT learning
When using technology tools for kindergarten learning and play activities, it is important that you first learn of what a child's home experiences of technology are. Building on home experiences is significant as most children will enter your learning environment with varying degrees of technology literacy. So understanding where they are in their ICT learning journey will help you to plan for learning progression from the beginning. We recommend technology teaching strategies such as the following:
Observing children play with a range of technology.
Talking with parents on a regular basis.
Listen to parents' stories about their children's experiences of technology at home.
Developing child Technology Literacy
There are many different types of technology used in kindergarten and while we do encourage the integration of all appropriate technology, throughout our online PD for early childhood educators we promote using technology in kindergarten that develops and supports child ICT capability. This is to help you prepare young children for their transition into the primary sector thereby ensuring that learning progression continues. Such technology tools for kindergarten encompass the following attributes:
Content-free and generic;
Affordable and widely used;
Promotes the development of higher order thinking skills as children are able to decide on ICT skills to use;
Challenges children intellectually and importantly;
Keeps the children in full control of the technology.
For us, integrating technology in the kindergarten classroom is about developing ICT capability throughout learning and play activities. It is about making the technology tools for kindergarten students transparent in their use during early childhood education activities by using teaching strategies for kindergarten that promotes the notion of technology in the kindergarten classroom as a tool designed for specific purposes.
Learn how to teach technology in kindergarten today for just $150 and join this online course for kindergarten teachers now.
AT LEAST 6 BONUS TEACHER TAKEAWAYS
Start learning how to teach technology in kindergarten now and receive a load of free content and continual support for your CPD.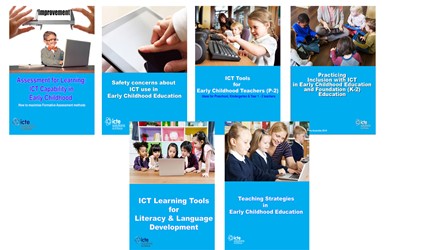 Completing this kindergarten teacher professional development will contribute to 5 hours of NESA and TQI PD addressing 2.6.2, 4.5.2, and 5.1.2 of Australian Professional Standards for Teachers towards maintaining Proficient Teacher Accreditation in NSW, QLD, Vic, and ACT. Start embedding these teaching strategies for kindergarten now


View our range of online professional development courses for teachers in Early Childhood and Primary Education now.