Have you ever wondered how ICT supports children's learning? There are many ways in which ICT can enrich and support learning and development in Early Childhood.
These include:
Literacy and language development in Early Childhood.
Supporting numeracy development.
Supporting play.
Supporting special learning needs.
The use of ICT in preschool, kindergarten, and early primary up to grade 2 can enhance the learning and development of all key learning areas including communication and collaboration.
Literacy and Language Development in Early Childhood
As an early childhood teacher, understanding what is language development in early childhood is significant to your teaching strategies. Literacy and language development in early childhood is of utmost importance. Just imagine, for a moment what it would be like to look at the words on a page and not be able to understand the meaning of the words collectively. Language development is one of the key milestones of early childhood. It allows them to identify and communicate feelings, needs, and emotions.
For this reason, it is important to engage young children with language from birth as it is the best way to develop strong literacy skills. Language development in early childhood is a complex and multifaceted developmental milestone. It is connected with culture, identity, and belonging. 
Language can be demonstrated in the learning environment when children:
Use their home language to construct meaning.
Develop strong foundations in both culture and language/s of their family and of the broader community.
Experience and share personal successes in learning and initiate opportunities for new learning in their home languages.
Begin to understand key literacy and numeracy processes.
Actively use, engage with and share the enjoyment of language and text in a range of ways.
                                                                                                                      (EYLF, 2019)
Therefore, supporting language development early childhood educators should:
Build on the knowledge, languages, and understandings that the children bring.
Actively support the maintenance of home language and culture.
Model languages that children can use to express ideas, negotiate roles, and collaborate to achieve goals.
Expose children to a wide variety of different languages using ICT and non-ICT resources.
Encourage children to use language to describe and explain their ideas.
Model language and encourage children to express themselves.
Encourage the use of and acquisition of home languages.
How to Successfully Integrate Technology in Preschool Activities?
You will learn my top 5 strategies to get you started today PLUS loads of teacher downloadables that you can use now.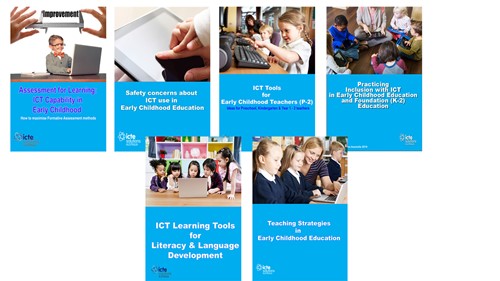 >>> FREE online professional development for teachers START HERE!! Learn how ICT can support children's learning today.
Yet, how can ICT be used on the development of language of a child in early childhood if the teacher is not knowledgeable?
Effective learning and development for young children require high-quality care and education by practitioners. Effective use of ICT in early childhood and the foundation stages requires a particular type of knowledge in the teacher. The extent to which ICT is used effectively in literacy and language development depends to a large extent on the teacher's own personal capabilities in ICT and in literacy and language teaching. If ICT can be used so effectively in literacy and language development, then ICT capability should also be taught.
Yet to be an ICT capable teacher, is not to know everything about ICT, but developing an understanding and judgement about how to use ICT skills appropriately. Integrating ICT in preschool is not just about learning about new technologies. It is also about utilising your digital literacy to integrate new pedagogies into every life of your Early Childhood Education centre. And into the learning processes of children in the most efficient, attractive, safe, and productive way.
Read other articles about early childhood education and technology.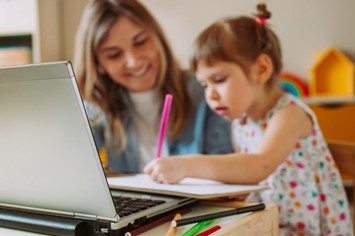 ICT and Literacy and Language Development in Early Childhood
One such way in which ICT can support learning and development in early childhood is through its rich contributions to children's literacy and language development in either speaking, listening, reading or writing. All of these are interrelated and can make an enormous impact on learning. The value of these ICT tools in learning and development in early childhood is that it naturally brings young children together to collaborate and discuss what is happening.
Literacy and language development in early childhood is one area where ICT can be used potentially to support effective teaching and learning throughout the curriculum. The growing rate of development with ICT has now changed the very nature of print-based literacy. Today, we recognise these as the 'new literacies'. 
One of the most important contributions that ICT can make to early literacy and language development is that of helping early childhood teachers provide children with resources that allow to focus on the specific learning objectives and avoid getting bogged down with the issues. Some teaching strategies in early childhood which you can use include:
There are many ICT activities for Early Childhood that can promote language development. Word processors that talk is one of the most effective activities which you can use in child development as it allows them to play with language. This is because word processing is closely associated with literacy and language work at all levels and as a consequence has a contribution to make across the curriculum. Computers in the classroom can offer a print-rich environment enabling young children to make banners, signs, and other props for role playing.
If used effectively, ICT tools can offer a variety of ways for children to weave together words and pictures. Putting captions onto photos offers opportunities to develop children's written language skills while leaving captions off can promote children's oral language skills.
These are just some ways in which ICT can support children's learning and development.
However, new technologies require new literacy competencies and new pedagogy. The successful integration of ICT into the early childhood learning environment will depend on your ability to structure the learning environment in non-traditional ways, to merge new technology with new pedagogy, and to develop socially active classrooms that encourage cooperative interaction, collaborative learning, and group work.
Using ICT for whole class teaching in Early Literacy
If you have the right equipment, using ICT in the whole class teaching can be very powerful. Such teaching strategies and methods which it can allow you to implement provide fantastic opportunities to develop literacy and language skills. Digital projectors are starting to become common in many learning environments and their use can be coupled with good software such as MS Word or PowerPoint. 
However, the real power of ICT here lies in its ability to allow children to interact with the text in different ways. I explore more into what ICT tools can be used for literacy and language development in early childhood in another article.
New Technology and Play in Early Childhood Education
ICT has the potential to not only enhance learning but also to promote engagement in new ways. For example, ICT can enable 'print rich' environments when children use fully functional ICT devices to support 'emergent literacy' in offices, travel agents, and yes, even cafes! We are increasingly seeing children's early literacy and play experiences being shaped by digital technologies and electronic media.
And while there is still discussion about how computer games can help in the development of children, I also support the view that they do support learning and development. Technology in early childhood education and the activities that children engage with have the potential to extend learning in new and exciting ways.
Teaching Strategies for ICT in Early Childhood Education
Our early childhood learning module focuses on ICT teaching methods in early childhood education that are age-appropriate for teaching the EYLF and the Australian Curriculum. They draw from an early childhood teacher's experience in embedding formative assessment strategies to plan for effective researched-based instructional decisions that will build upon a young child's technology experiences and sets them up so that they not only have a better understanding of the technology that surrounds their lives but also make it possible to ensure progression and continuity in ICT capability from the EYLF outcomes to the Australian Curriculum goals in early Primary Education.
Early Childhood learning environments should be rich in technology for young children to learn and play with. Your role as a teacher changes but the learning environment should be designed so that it is easier for you to maximise your expertise in observation in early childhood education and care, and for instructional purpose so that technology use supports the learning in achieving the goals of the instruction.
The ICT teaching strategies in early childhood education that are included in this module (mini-course) are:
Building on young children's technology home experiences –
Using assessment to develop teaching strategies for kindergarten, preschool and early Primary teaching –
Facilitating capabilities in ICT –
Teaching strategies in ECE for fine motor skills –
Providing effective support in technology use –
Stimulating and structuring ICT learning –
Developing autonomy in early childhood –
Supporting digital play –
Scaffolding in Early Childhood –
Differentiated instruction with technology in early childhood education and care –
Early childhood development with technology is about:
Enabling young children to develop the notion that ICT products are tools designed for a specific purpose.
Helping them gain an understanding and identifying the use of technology in their everyday lives.
Using computers to support learning and early childhood development.
By improving their awareness, I hope that you are able to help them to see ICT used in a meaningful context and for real purposes that in the end will prevent the human tendency to take technology for granted.
Technology can support early childhood language development when employing these teaching strategies for preschool, kindergarten and early primary education. "To ignore technology is to miss opportunities for delivering new content and better teaching to the children who need it the most, inadvertently allowing digital divides to grow wider" (Guernsey & Levine, 2015, p. 107).
Below is one such training resources – early childhood that outlines how technology can aid language development in children. You can purchase it from Teachers Pay Teachers Australia or receive it FREE along with other early childhood teaching resources in this early childhood learning module about early childhood teaching strategies with technology.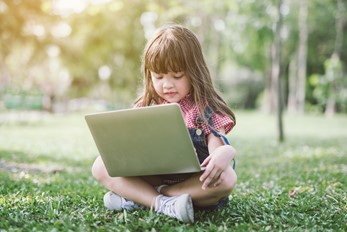 Planning for the best environment
The best learning environments in early childhood education that promote the integration of Information and Communication Technologies (ICT) are the ones that you can create yourself.
To expand on this, you need to understand that along with computers in early childhood learning environments are typically in an allocated space. However, mobile technologies has allowed you to provide a welcoming space anywhere for children to experiment with and play with ICT.
The early childhood learning environment can also be a space that encourages the use of ICT such as in role play areas. Here you can assemble a collection of defunct technologies, technologies that work, technologies that the children have made themselves and toy technologies. As a teacher, it is wise to ask the children to help set up the play area.
Information and Communication Technology in early childhood education can also be used outdoors as it can be very easily integrated in activities and with the playground equipment too.
So the early childhood learning environment that best suits the use of ICT is only limited to your imagination as a teacher. As with learning activities, you just need to imagine the potential for learning within the context that it is taught. As long as it is welcoming and help enrich the lives and identities of young children in your care.
ICT Learning Tools for Literacy and Language Development in Early Childhood (Preschool Teacher Resources)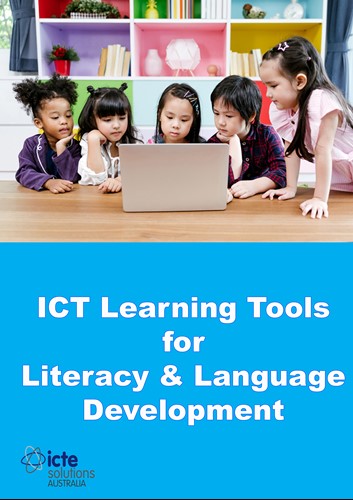 Online PD for Early Childhood Educators: Harness Technology in Early Childhood Education Today
Harness the potential of technology in your early childhood learning environment today and subscribe to this course for just $10 for the first month and $25 afterward.