By Michael Hilkemeijer
There are many ways in which you can improve the usage of ICT in your early childhood centre today.
ICT knowledge for children in early childhood education is vital in a technological dominated world as they are continually being exposed to new and emerging technologies even before they start at your centre.

Here are some ways in which ICT can enrich learning experiences.
It can enrich the learning environment for literacy and language development;
It can support the mathematical thinking and problem solving skills;
It can develop controlling and planning skills;
ICT supports children from diverse cultural and language backgrounds;
And it can support children with special education needs.
Literacy Development with ICT
These days, traditional methods can be complimented with a wide variety of experiences. The emerging technology that pervades our lives has also had an impact on literacy itself in a strict sense as it dissolves with coming in of the new literacies that embraces media and communications.
Why use ICT for literacy in early childhood?
ICT is a tool that many children are familiar with;
ICT provides motivation for children to learn to read and write;
ICT can aid in teaching and learning as the research evidence suggests;
It is no longer enough to teach children traditional text. They need to become familiar with a range of text that adults use today.
Mathematical thinking and problem solving
Computers and other forms of ICT have the capacity to support young children develop their mathematical and numeracy thinking.
ICT activities for early childhood would involve:
Open-ended mathematical problems;
Projects involving mathematical skills;
Arranging pictures according to size;
Colours and shapes;
Placing pictures in the right sequence on the screen and;
Repeating the left picture in the middle using the right pictures.
Developing controlling and planning skills
ICT supports children's learning by enormously extending the scope of games which they use including one-handed side games that symbolically represent reality.
The most important thing for a human is to plan their own life and to control it.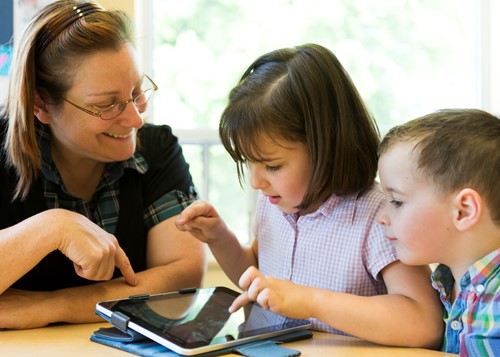 Supporting children with a diverse cultural and language background
ICTs can develop a rich environment for those with this type of background as it is a means of bringing children's home culture and experience into the early childhood education centre.
Studies have found that the computer can provide a shared focus and experience for children, who didn't share the same spoken language, and this undoubtedly contributed toward the development of the very positive, collaborative, and language enriched multicultural learning environment.
ICT can support children with Special Education Needs
ICT can be a valuable tool for supporting children with a range of individual learning needs. For example, it can assist children who are experiencing literacy difficulties. Interactive features of talking books can allow them to predict what words on the screen might rhyme and then to check their predictions by clicking on the mouse.
14 Other ways that ICT can enhance childhood learning in your Early Childhood Education centre
Personal, social and emotional development
ICT can help children learn how to share ICT equipment and establish constructive relationships with each other;
ICT encourage collaboration between children in problem-solving;
ICT can help children to explore worlds outside of Early Years;
ICT can encourage children to collaborate between children experiencing difficulties;
Communication, language and literacy
ICT can help children write messages, label pictures with their name;
ICT can help children experience computers and Interactive Whiteboards communicating words and pictures from books;
ICT can children communicate with friends, relatives and peers;
Problem Solving
ICT allows children to experience situations of counting and sharing and identifying numbers.
Knowledge and understanding
ICT can help children in role-playing as libraries, doctors' surgeries any kind of office;
  10. ICT can help children record in writing, orally and visually their learning experiences;
ICT can help special education children have access to activities;
Physical development
ICT can help promote and develop children's motor skills;
Creative development
ICT can help children use graphic software to verbalise their thoughts with the support of an adult or working friend;
ICT has the potential to help children create with and sound and video.
The enhancement of student learning experiences in Early Childhood Education with ICT is achieved in many ways.
However, unless you are trained in how best to optimise the use of ICT in the early years setting the only benefit achieved is motivation.
Accredited Online Course for Early Childhood Teachers in ICT Integration
Completing this course will contribute to 5 hours of PD addressing 2.6.2, 3.2.2 and 5.1.2 of APST towards maintaining Proficient teacher accreditation in NSW, Vic, Qld and ACT.