By Michael Hilkemeijer
Early childhood is a wonderful time to engage and motivate learning with robotics and coding. Young children are naturally curious and as they like everyone else are surrounded by technology like smart phones and tablet computers, however, they don't learn much about them in the early years.
10 Key Benefits of using Robots in the Early Learning Environment today
With the promotion of STEM in early childhood education, robotics for preschoolers brings coding into the early learning environment. A number of benefits of robotics in education associated with this include:
1. Coding teaches the literacy of the 21st century
Coding with robots shows children that they can create with technology.
2. Coding develops computational thinking
Children use code to create algorithms and develop their sequencing ability: a foundational skill for reading and mathematics.
3. Technology becomes the playground
Children can move and explore in addition to inventing games and stories.
4. Robotics makes coding tangible 
With robotics, children's code affects the physical world.
5. Using technology breaks down engineering stereotypes
By engaging young children in coding and robotics activities before these stereotypes begin to take root, you can help them build positive associations with technology and engineering and a self-image as a creator with technology.
6. The engineering design process develops grit and perseverance
This process encourages children to identify a problem, imagine and plan a solution, build and test their creation, and share their work with peers.
Further benefits that come with integrating robotics in early childhood education is that it helps close the gender and SES-based gaps in STEM fields.
Research has also indicated that social robots such as NAO significant role in teaching children social and emotional skills (Griffith University).
Incorporating technology in preschool such as robotics can enhance learning as young children are motivated and engaged in problem solving. It also facilitates group and collaborative work.
Young children learn by doing and programming in early childhood education through robotics education enables them to make and test things out as they go. There are many benefits of robotics in education today.
How to use robots in Education?
As a teaching tool, robots are very valuable but only if they are used in the proper way. The following guidelines will help you when planning the use of robotics in early childhood education. Each one emphasises the way as to how to use robots in education today.
Have clear objectives – as with any planning to do with technology in preschool, you do need to identify the specific learning objectives that you want the robot to help you achieve and then only use the robot for that purpose.
Use the robots to help with repetitive tasks – repetitive tasks can often become boring for young children so while today's robots are becoming very good at this why not take advantage of them to do all the repetitive tasks required. This will help you to focus more of your time and attention as an early childhood teacher or practitioner such as educating the children in your care.
Make sure children don't become too attached to the robot – young children need a lot of human social interaction so it is important to make sure that they understand that like any other technology in preschool, a robot is a tool for learning and not a friend or social companion.
Follow ethical guidelines – any use of technology in preschool needs to stress the ethical use of it and robots are no different. You need to ensure that you follow the ethical guidelines and adhere to the eight guiding principles outlined by DATEC. Children will continue to be exposed to technology in their lives so it important that they do understand the ethical considerations associated with the use of a robot.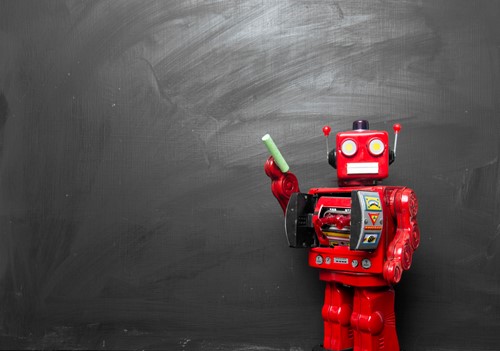 How to Choose the right robot for you?
There is over 59 million Google search results for the term "educational robots" so how do you choose classroom robots that are right for your learning environment?
Four categories of robots for classrooms are available and include:
Physically coded robots;
Introductory programmable robots;
Computer programmable robots and;
Kit-based robots.
Physically coded robots
These robots use a physical means of coding instead of screens and therefore are perfect for robotics in early childhood education as they are toy-like in appearance which makes it good for introducing coding basics such as sequence through play-based learning.
This type of robot is, therefore, ideal as part of your technology in preschool and kindergarten learning environments.
Examples of developmentally appropriate robots include ones that have push buttons such as Bee Bot or Pixie where children can press the buttons to code in directions. There are other types of physically coded robots too, such as robots that are coded using physical 'coding blocks'. Cubetto is such an example of this type of technology in preschool.
The benefit of physically coded robots is that they require children to understand and do less. This is because the robots have their own coding method and do not need a secondary device. They also encourage young children to get down and play with them. Such robots are easier for young children to grasp.
Introductory programmable robots
These robots introduce children to the idea of software and foundational coding concepts in age-appropriate ways. They have toy-like exteriors, coding applications that feel like games and educational approaches that mix play-based learning with progressive pathways.
Examples of this type of robot include Dash robots.
Such robots are a mix of play-based and activity-based learning yet still fun to use. Children can transition towards more structured tasks and activities. In order for this to occur, the apps used may contain some form of learning pathway with progressive activities to build a child's familiarity with the devices plus build up their coding skills.
It will be important that you explicitly teach the coding concepts and point them out as children encounter them.