Early childhood teachers in kindergarten and preschool make judgements about a young child's learning progress throughout the day.
Observation is the best method to assess a young child's ICT capability and ICT literacy in both early childhood and primary education, as most technology activities are practical.
So improving your capacity in this type of method should boost your TPACK as an early childhood teacher.
Similarly, the formative assessment techniques applied here also have a wider and greater significance in primary education. This makes it imperative for the two areas of education to share and combine key data in reports and transition statements.
Read on to uncover any uncertainty in relation to making assessments of children's learning with technology.
Let us first understand 'what is observation in early childhood education'. As an early childhood teacher, you are an interested observer and collaborate with young children in their play. During this time, you monitor individual children in their interests with technology. The EYLF learning outcomes can be recognised through monitoring and then documented.
Your observations in early childhood that relate to technology are about determining children's ICT capability which they will demonstrate as they interact with their peers, their environment, and the adults in the setting.
Observing children in your care will help you to better understand their strengths and weaknesses in technology use and understanding.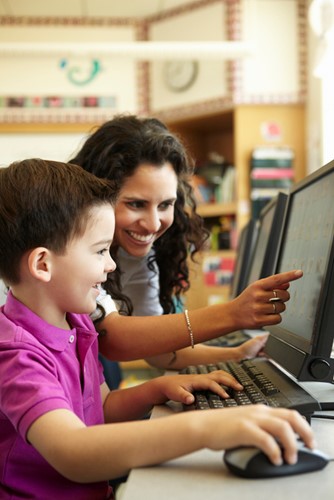 How to do observation in early childhood education?
When applying formative assessment strategies in early childhood education and care to assess a child's ICT capability, the following methods of observation in early childhood education can be applied.
Observing how the child goes about tackling a piece of work;
Diagnosing difficulties which become apparent over a series of lessons;
Observing which planning strategies appear to work and allow the child to succeed in a given area;
Collecting significant pieces of work in a portfolio of development;
Documenting the context of the work and any factors which were significant: the grouping, the time taken, the level of concentration etc.;
Documenting the views of the child about the piece of work and asking them what made the activity so successful/significant;
Feeding the information back into the planning process;
When appropriate, making a judgement about the child's level of attainment in terms of the level descriptions in the attainment targets for ICT capability in the EYLF and Australian Curriculum;
At all times keeping a clear focus on the learning objective; this is very important as well as having a general awareness of other learning taking place.
(Allen, Potter, Sharpe, & Turvey, 2012, p. 70)
You do not have to assess discrete ICT skills as this will show through observation of the whole class.
For example, if a young child can use a paint program then we know that they are able to use a mouse competently, make choices, select colours, use certain tools and even print or save their work.
Technology Methods of Observation in Early Childhood Education PDF
What do you assess?
Developing ICT capability in the early years is about building on home experiences of ICT/technology through planning.
ICT capability in early childhood education and care is the ability to utilise ICT independently, appropriately and creatively and to understand ICT in its social context.
ICT capability consists of the following (Morgan & Siraj-Blatchford, 2009, p. 16):
Routines: how to use a graphics tablet or a touch screen can be learned. It is impossible to achieve a high level of ICT capability without this content knowledge and most young children master these skills very quickly. Such skills are of no use unless the child has a purpose in mind.
ICT techniques: inserting a photo into a document.
Processes: where ICT techniques are combined e.g. to produce a greeting card etc.
Conceptual understanding: including the basic terminology/shared vocabulary that enables children to communicate and understand what is required of them.
Higher order thinking skills: where children can clearly exhibit an understanding of what they are doing. They select appropriate ICT tools, routines, ICT techniques and processes to obtain the desired outcome.
This is demonstrated when they:
Decide when it is appropriate to use a particular ICT tool or resource for a particular purpose.
Plan what routines, ICT techniques and processes to use.
Work independently to solve a problem.
Evaluate their use of ICT and the outcome of the activity.
Explain and justify their choices and approaches to a problem.
Reflect on their ICT learning.
In your observations, it is important that you remember that:
It is NOT just about computer use;
It is NOT just about achieving ICT skills;
It IS about children's growing technological awareness;
It IS about their understanding that there are ICT tools that they can experiment with and find out about, that they can begin to control and can use for their own purposes.
The following questions might help you to in your observations of children using ICT/technology:
Are they interested in and curious about technology? Do they enter into discussions and make comments?
Do they experiment with ICT applications, finding things out for themselves?
Do they show enjoyment and concentration?
Are they able to use ICT for their own purposes?
Do they talk about ICT tools and applications and show an understanding of their purposes?
Are they able to find and start a program?
Are they able to navigate a program?
Are they beginning to experiment with tapping out letters using the keyboard?
Are they showing an awareness of electronic forms of communication, email, Internet, mobile texts?
Do they know, are they able to find out, what buttons and icons do?
Do they print or save their pictures?
Are they able to insert a tape and press the "Play" and "Eject" buttons?
Are they able to control a toy and make it move where they want?
Questions that might prompt discussion with children in the context of their play
What happened?
What can it do?
How do we make it work?
What do people use this for?
I wonder what this button will do?
What else do you like to use a computer/tape recorder/camera for?
What will happen if…?
Have you had a go on the computer/tape recorder/camera? What did you do?
(Price, 2006, p158)
Sharing observations in early childhood education with parents
Research has indicated (Morgan & Siraj-Blatchford, 2009) that the best practices use the technology available that they use to support children's learning and report to parents to provide documentation of ICT learning and formative assessment.
Tracking Learning Progress
While young children are engaged in technology-based activities, informal observations can be used to monitor the ways in which different children respond to an activity.
You make observations about the responses of your children continuously in relation to:
The changing mood and relationships between different children or groups of children.
How they respond to your explanations.
How they answer your questions.
Whether they are applying themselves to the task.
Much of this information is used to adjust your teaching to cater for the changing needs of the children, unanticipated responses or opportunities to intervene with apposite instructions, explanations, or an increase in the level of challenge provided by a task.
Individual Profile Sheets
You can use an individual profile sheet to help you track the learning progression of a child. They are a means of mapping their progress through the various work samples and observations made.
It makes link to the child's own view of their developing capabilities and a link back to planning, thus completing the planning and assessment cycle.
This way of tracking is intended to be completed two or three times a term.
It is hoped that the above technology methods of observation in early childhood education enables you to build on young children's technology experiences at home by allowing you to establish a starting point for their ICT capability learning journey and to facilitate effective assessment for learning throughout the year. If you would like to learn more about these methods of observation in early years learning environment, click the button below now.