In a world that is becoming more technology dominated, early childhood education and care centres and schools can't ignore the ever growing need for children in their care to learn about the use of technology in their lives.
Technology in early childhood education can categorised into various segments or purposes such as literacy and language ICT tools, creativity tools, and so on. In previous articles, these have all been listed.
I have gathered them all in this list below. Many of the ICT tools can be used for many purposes. Don't forget that the term ICT tools also incorporate the use of software and programs as well.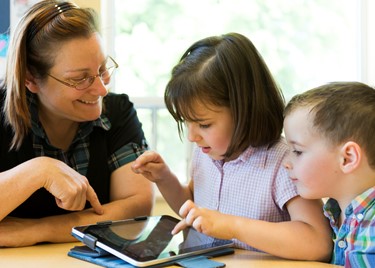 The Complete List of Examples of Technology in Early Childhood Education
This is a complete list of child care technology that I recommend as they allow for the development of technological literacy in early childhood education and care.
Digital cameras.
Digital video cameras.
Scanners.
Programmable toys such as bee bots.
Smartboards.
Old overhead projectors.
Role-play toys such as defunct mobile phones or laptops or keyboards.
Computers/laptops and tablet computers like iPads.
Sound recorders and listening devices.
Walkie talkies.
Webcams
Metal detectors.
Internet.
Cassette recorders
Photocopiers
Art programs such as MS Paint or Paint 3D.
Digital movie maker.
Telephones.
Literacy and language software such as MS Word for the development of ICT capability.
Spreadsheets such as MS Excel for numeracy learning and development.
The most important example of all……
Children's hand-made technology devices!
The list above demonstrates that you don't have to have the most up-to-date technology or program there is for the children in your care to learn in a technology-rich learning environment.
Remember, technology integration in the classroom is not about this, it is about imagining the potential of the 'here and now' technology for learning.