In a world that is becoming more technology dominated, early childhood education and care centres and schools can't ignore the ever growing need for children in their care to learn about the use of technology in their lives.
Technology in early childhood education can categorised into various segments or purposes such as literacy and language ICT tools, creativity tools, and so on. In previous articles, these have all been listed.
I have gathered them all in this list below. Many of the ICT tools can be used for many purposes. Don't forget that the term ICT tools also incorporate the use of software and programs as well.
List of Technology for the ECE Learning Environment
Below is a good list of examples of technology in early childhood education that will get you started in successfully integrating the early years curriculum and learning environment.
Digital cameras.
Digital video cameras.
Scanners.
Programmable toys such as bee bots.
Smartboards.
Old overhead projectors.
Role-play toys such as defunct mobile phones or laptops or keyboards.
Computers/laptops and tablet computers like iPads.
Sound recorders and listening devices.
Walkie talkies.
Webcams
Metal detectors.
Internet.
Cassette recorders
Photocopiers
Art programs such as MS Paint or Paint 3D.
Digital movie maker.
Telephones.
Literacy and language software such as MS Word for the development of ICT capability.
Spreadsheets such as MS Excel for numeracy learning and development.
The most important example of all……Children's hand-made technology devices!
The list above demonstrates that you don't have to have the most up-to-date technology or program there is for the children in your care to learn in a technology-rich learning environment.
Remember, technology integration in the classroom is not about this, it is about imagining the potential of the 'here and now' technology for learning.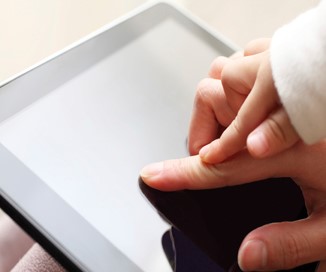 5 Ways Tech can be used in Child Care Today
Information and Communication Technology is fast becoming embedded in children's lives. As ICT continues to do so, it is important that you support children in their ICT learning so that they will become proficient users of ICT in society.
Child care technology can give early childhood teachers and carers the opportunity to build upon technological literacy and ICT capability. It is also a great opportunity to share and learn together with children. Amongst the upmost importance is the chance to help form the notion within children that child care technology is a tool for learning.
Here are 5 ways child care technology can be used within the early learning setting as a learning, playing and communication tool.
Connect with others
One of the best things about technology in early childhood education is its ability to connect people and close great distances. There are many great ways that this can be achieved. Creating and sharing videos, video chatting with families or at times sharing classes can be fun for children when using child care technology.
Researching and Exploring
Either by tablet computers or using a desktop, you can help young children research on the Internet particular topics that may be of interest to them and encourage exploring into more knowledge for them. This is a good way to facilitate capabilities in ICT such as modelling and demonstrating the best practices to search online.
Creative apps
It is important that you use apps that promote higher order thinking skills and give children full control over in order to further their ICT capability when using child care technology. Apps need to help children solve problems, build and create. Examples of this type of child care technology would be drawing and painting apps, apps that allow the creation of short videos.
Tinkering with Technology
Have you thought about the amount of e-waste out there? E-waste is unused technology such as old keyboards and computers. An idea could be to dismantle defunct technology to see what is inside them. It would be important first to ensure that any batteries and power packs are removed before any such activity.
Robotics
Such child care technology like this is great in order to promote coding skills in young children. Robotics is also fun for learning and play! It promotes problem solving along with thinking about the directionality of the toys like bee bots.
With any use of child care technology, it is important that you just don't use for the sake of using the technology. There is ample research and evidence today that with informed planning and evidence based teaching strategies the development of ICT capability can occur child care technology activities.