Hi! I'm Michael Hilkemeijer and I help educators successfully integrate digital technology in their learning environment. 
And in this video, I am going to show you how ICT supports children's learning. 
Before I begin, there two things that you need to know. 
Firstly, there was once a strong focus on Information and Communication Technology (ICT). 
However, as technologies involving new innovative resources have emerged, the use of ICT is slowly being replaced with the distinction between digital and non-digital. 
We are seeing an increased discussion of 'smart resources' and programmable artefacts which could be technologies in their own right or could appear broadly under the 'digital' banner. 
Secondly, it is not what supports children's learning, but how it can achieve this. 
This is to do with supporting and scaffolding the use of digital resources to ensure that young children view the use of digital technology in early childhood education as a tool designed for a specific purpose. 
That being said, the following is an outline of my new online PD for early childhood teachers that provides practical and immediately actionable advice on what research states are the best early childhood pedagogies for supporting digital technology in children's learning.
You can find it in the member's area as part of my Academy today.
The first way that research shows how ICT can support learning is through literacy and language development. 
Development is the most general education goal for earlier ages.
Literacy is an area of learning that the use of ICT could greatly enhance. 
The benefits can be realised within the literacy curriculum and in most of the children's learning activities.
ICT can help children observe, fix, memorise, describe and share their impressions.
One example that I provide in my online pd for preschool teachers is the use of digital storytelling in early childhood education.
In the course, I discuss how to implement digital storytelling in the classroom in addition to assessment considerations and teaching strategies to support children's learning.
Creative play is about children discovering new connections and making new connections.
Promoting creativity can:
Foster creativity

Build your child's confidence

Help your child express feelings and learn communication skills

Help your child develop, practise and improve coordination and motor skills

Give your child a chance to practice decision-making, problem-solving and critical thinking

Help your child find new ways of looking at things.
You can encourage creative play with ICT by:
Provide ICT in ways that will support your early childhood pedagogy and your understanding of the nature of young children's developing creativity.
Provide children with a range of open-ended and meaningful ICT experiences with plenty of opportunities to explore and interact with others.
Model using ICT creatively to cultivate an environment where creativity can shine.
Modelling using ICT is a key strategy that I expand upon in the online workshop for preschool teachers. 
So what is an example?
One example is the use of drawing and painting programs or apps. This has implications for other key learning areas. 
However, as I said in the beginning it is not the what but the how and in my course I will show you early childhood pedagogies to do with introducing software and apps to young children, demonstrating, intervening and implementing sustained shared thinking in these situations. 
There has been much discussion about ensuring that there is a balance in the use of digital technology in early childhood education.
However, there are many benefits that ICT can bring to outdoor learning activities. 
As an adult, you should these things that you see here.
Offer a range of experiences and resources

which are regularly monitored and refreshed to keep them safe and stimulating;

Tune in to the children's interests and interact with them

to support and extend their learning and development, jointly engaging in problem-solving and sustained shared thinking;

Respond to observed interests and plan new materials and experiences

within the environment and reflect them;

Monitor materials, children's involvement and their own involvement with children

to ensure they offer relevant experiences;

Provide materials that reflect diversity

in order to avoid stereotypical images or approaches;

Evaluate their provision

to ensure that everything is provided is of the highest quality;

Support children's confidence

in themselves and their developing skills as they tackle new experiences and develop a sense of what they can do and what they will be able to do as they practise and meet the challenges in the environment
In my course, I will show how you can establish a starting point for using digital technology outdoors and give you practical information about the best practices to apply today. 
Role play in early childhood education provides learning without failure for all young children. It is a fun way for them to learn about themselves, others and their environment. Throughout this period of time, they also acquire important skills that aid their cognitive and physical development.
It should give the children the opportunity to make sense of the world in which we live.
It should help them make sense of the increasingly digital world in which we now live.
Give young children the opportunity to handle the digital tools that they see in the world about them, experiment and take control of them and learn about these objects and their place in the world. 
One strategy that you can apply is involving children in the setting up of the role play area. 
Drop in some ICT tools and resources, working and non-working, toys or hand-made to encourage their imagination. 
You could pay a visit to a local vet and have children make their own versions of the technology that they saw.
Another way in which digital technology supports children's learning is in mathematical thinking and problem-solving. 
Computers can assist even very young children to develop mathematical ideas, provided teachers are able to choose and use proper software tools to explore mathematical concepts and relationships, in a way that scaffolds and extends young children's thinking.
ICT can provide a much richer context for children's problem solving, open-ended mathematical problems, projects integrating math skills and mathematical experiments.
They also are helpful in extending school math beyond arithmetic and childish geometry to the mathematics of reasoning, communication, and mathematics used in computer science.
Graphics software is one example of technology in early childhood education that can be used to support mathematical thinking.
And spreadsheets are a great way to introduce patterns in numbers.
As I said at the beginning, the use of ICT in early childhood education is slowly being replaced with the distinction between digital and non-digital resources.
Play based learning is the preferred methodology for many early childhood educators and digital play allows you to facilitate learning beyond just the use of ICT in early childhood learning environments.
These are just some of the ways in which I go into more detail and discussion in relation to the best early childhood pedagogies within my online workshop.
So if you want to know more, I encourage you to visit my academy today and check out the range of online workshops for preschool teachers that I have that will further educate you on how ICT supports children's learning today.
There are over 40 of them for you to choose from.
Or subscribe today to get my free course that will help you start in the right direction to successfully integrating technology in preschool activities now.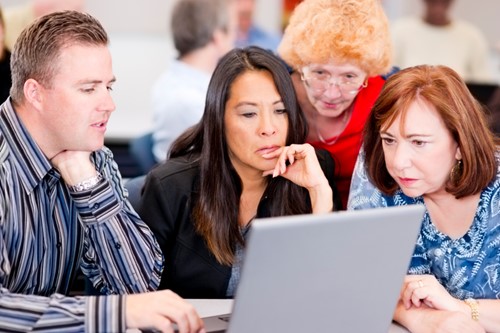 ICT in Education Teacher Academy
Over 40 online workshops for preschool teachers with evidence-based early childhood pedagogies on how you can support ICT in children's learning.
PLUS ....
Webinar replays with Experts !
You will learn about:
Using iPads in early childhood education;
Digital storytelling in early childhood education;
How to support play-based learning in early childhood education;
Planning in early childhood education;
High impact teaching strategies;
And so much more!