STEM in early childhood is a significant part of a child's education in the 21st century classroom. It is skill-based, it is relevant and it is hands-on. Yet, in the past, such activities in the early years have only focused on the science and maths part of things leaving big gaps in the technological and engineering aspects of it.
This is significant as technology and science are intertwined together. They are like how a hand fits into a glove. Science in the 21st century simply cannot thrive without technology.
The use of technology permeates throughout the entire STEM in early childhood curriculum as it supports not only science but maths and engineering. It is kind of like the silent partner to all of them enabling effective support and learning in the subjects whilst all along offering you the opportunity to develop ICT capability and ICT literacy.
This, after all, is the ultimate aim of using technology in the classroom, to remain transparent in the background supporting subject learning and giving children the opportunity to advance in their learning progression in ICT capability without them even thinking about it.
Science and Technology in Early Childhood Education
Science in Early Childhood Education
From the first day of school, young children must be actively involved in learning about the world scientifically. They need to raise questions about nature and search for answers. They need to collect, count, and measure things in addition to making qualitative observations. 
Science in early childhood about providing experiences that can stimulate young children's curiosity and motivate them to become interested in their environment and in the mechanisms of nature.
Children are naturally curious about the world around them and this involves that of the technological world. We as early childhood teachers, should, therefore, encourage exploration along with their interest in science.
The benefits of science in early childhood as discussed above can have a profound impact on a child's education throughout their schooling career. It can:
Foster a lifelong love of science.
Give basic grounding in scientific concepts and thinking.
Support the development of other skills and attributes.
These benefits of science in early childhood can all be boosted with the help of ICT/technology in preschool, kindergarten and early year primary classes up to Year 2.
Technology in Early Childhood Education
The term 'technology' is often used to replace the more appropriate term of 'ICT' in early childhood education and care. However, technology goes beyond digital technology in this type of setting. It is a though, a more user-friendly word which is often easily understood.
Young children experience many different types of technology before they enter preschool, kindergarten or other early years learning environments.
ICT resources can help young children explore science and develop crucial knowledge, skills and understanding that will enable them to make sense of their own, immediate environment as well as those of others'.
You can learn more about technology in early years here.
ICT can:
Facilitate links with other places, subjects, and other people.
Facilitate the asking of questions and forming or modification of opinions
Provide access to secondary sources of information with more breadth and depth.
Support communication, thereby raising issues of audience and viewpoint
Enable the gathering, storage, and manipulation of data and other information
Enable more effective analysis of data and information
Enable simplification, simulation, and modeling of scientific ideas
Enable more effective communication of understanding of experimental results
Support the asking of 'What if…?' questions through experimentation and testing
Support teachers' professional development alongside students' learning.
(Williams and Easingwood, 2003, p7)
Technology pedagogical practices in early childhood education is about ensuring that through the use of ICT in early childhood education, that early childhood teachers build on young children's ICT experiences at home and develop their technological literacy. Technology in preschool, kindergarten, and early year primary classes can benefit the learning of science in many ways.
Science and technology in early childhood education is what is needed in STEM skills today and it all starts here in the foundations of learning for young children.
Learn more about boosting early childhood science here.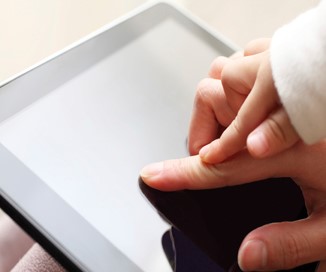 Using Technology Appropriately in Preschool
When using technology in preschool activities it is important remember key strategies to ensure that children learn to use technology appropriately in their lives. It involves fostering the notion of ICT as a tool for learning. A major strategy to always keep in mind when using technology appropriately in the preschool classroom is to provide tech that children to have full control over it.
This helps to facilitate the development of ICT capability in preschool activities.
Here are some other strategies in which you can support the use of technology in preschool.
ICT Teaching Strategies in Preschool
Model safe and appropriate use of technology – young children are very observant and learn a lot in this younger age by watching you use technology yourself. So model the best ways to keep them safe from harm and demonstrate what they need to know about appropriate use of technology in their lives.
Choose child-friendly hardware - new technological innovations are continuing to emerge that make it easier for young children to use technology in preschool activities. So choose devices that make it easier for their physical capabilities.
Select appropriate programs – software that gives them full control is a start. Ensure that you emphasise interactive, open-ended learning and avoid drill and practice programs. It is best to introduce a program to a few children at a time.
Locate the technology in the preschool classroom for social exchange – allow spaces for children and teachers to collaborate with technology.
Encourage children to verbalise their thinking and solve technology problems – you can help children reflect on their solutions. Ensure that you are nearby so that they don't get frustrated or discouraged.
Using technology appropriately in the preschool classroom is about ensuring that children understand ICT is a tool designed for learning. 
FREE ONLINE PD FOR EARLY CHILDHOOD EDUCATORS
Integrating Technology in the Preschool Classroom - Starter Course