One of the most common products of developing your school's strategic plan in ICT is its vision in ICT. This is not in terms of resources or assets, but in terms of measurable benefits over a 5-10 year period. The school's vision in ICT might be summarised in a 'vision statement' which is written out in general terms and which should be owned by all staff members.  
Vision statements for schools is a good way to begin writing your ICT policy for the school. It is a public declaration of the values of the school and is central to its ICT planning. Technology vision statements for education is what is needed to drive change in the classroom so that children can be equipped with the knowledge, skills and understanding required for an online and digital world.
Learn about:
Communicating as a Technology Visionary Leader
How to become Technology Visionary leaders
What are the benefits of a school Vision statement?
The benefits of effective school vision statement is that it will support and enhance the school's aims in terms of teaching and learning, and management and administration.
They are reliable representations of what schools stand for and requires discussions about:
School priorities;
Principles, aims, and goals related to student learning progression in ICT capability and;
Overall and specific expectations associated with any shift or change in the direction of technology integration in schools.
In some countries like the United States, the vision statement is established by the school district. Where this occurs schools are required to develop a pertinent vision statement.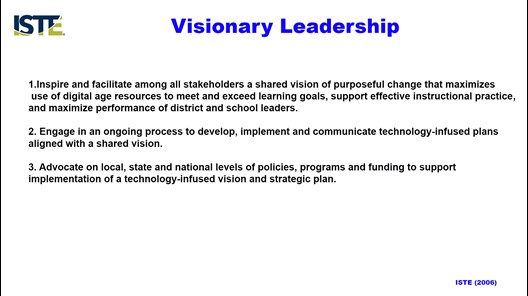 Sharing perspectives in ICT Integration
Your strategic plan may be in place, however, without a shared vision for ICT integration there will be no spark to ignite the change. Educational leaders such as yourself, whether you are a principal, ICT coordinator, or a learning technologies coordinator, are the spark that should ignite this shared vision for how technology will be integrated into the school in a comprehensive way.
As a digital leader, it is your role to guide the evolution and realisation of a vision that can support transformation at your school.
To develop a shared vision in ICT integration you could:
Show videos of students and teachers working with technology in the classroom.
Show videos of students talking about digital-age learners and how important accessing information and technology is to them.
The following example of an ICT vision statement will put this into perspective for you.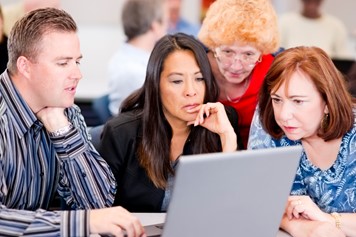 Example of a Vision Statement for Schools in ICT Capability
As part of your school ICT policy, you will need to ensure that your technology vision statement is related to how ICT will be used and ICT capability developed, in the teaching of all subjects.
Here is a school vision example:
"ICT will be used effectively to raise awareness of the benefits and uses of technology, to enhance learning and teaching in all subjects, to improve school management and administration processes, to promote home-school links, and overall, to improve the attainment of all students."
(Hall, 2010, p. 160)
This represents a school vision statement in ICT integration.
Do you know the ICT vision of your school?
Your school ICT Policy is a document that demonstrates your school's intentions. Back up your vision with an effective mission for the school and begin the school's journey to ICT greatness today.