This is the second blog about my experiences as a technology teacher at a primary school in Toowoomba. Although only for one term at this stage, I have been enjoying the challenge at putting my own theories that I have researched about developing student ICT capability into practice.
What I hope you will gain from this blog is an insight as to what you must do in order to develop student ICT capability. Particularly if you are a primary school teacher as the majority of this occurs within your realm.
Nevertheless, the development of student ICT capability is a critical process that all teachers must follow. For students to develop this capability all teachers must take note as it is best facilitated in a broad context which means throughout all Learning Areas of the Australian Curriculum.
As my experience is only a short term one (until the end of the term), it is not likely that capabilities will be developed. However, the process will have started. ICT capability is not something that students will have at the end of their school career.
As new and emerging ICTs enters our lives at a fast-growing rapid pace, it is inevitable that we will always be developing our capabilities. Hence the term becoming 'lifelong learners'.
In this blog, you will learn one of the key ingredients to fostering a culture of progression and continuity in student ICT capability – emphasising the use of higher order thinking skills.
When I first started this term, I was informed on the students' current activities. It was important for me, therefore, not to disrupt this learning process and continue using the resources.
These were bee-bots and the Lego robotics program, WeDo 2.0. Such ICT devices are becoming an important part of primary school education these days.
My plan or objectives where then to capitalise on the use of these resources and demonstrate how to promote the development of student ICT capability.
An important part of helping students to develop their capabilities is understanding the limitations and opportunities of the ICT systems available.
What this involved was setting up simple tasks for ICT tools such as the bee-bots like programming them to create simple mathematical shapes like squares or rectangles and then helping them to move onto more complex ones.
Whole class discussions involved questioning students on the capabilities of the bee-bot. An example of this would be asking the students if it could also create a triangle in which the answer would be no as they can only turn 45 degrees.
Student ICT capability development relies heavily on the decisions that students make in order to complete a finished product.
So I made sure that I took the time to discuss with the whole class what my expectations were and to demonstrate to the whole class as well as to the groups that I created the process that I wanted them to follow.
This was a very important part of their learning. With the tiniest and minimum amount of support given, I encouraged students to then show me how to do it. This was closely monitored.
Higher order thinking skills is about ensuring that students make the decisions that will facilitate the right ICT solution to the problem. For example, with the bee-bots I wanted them to make simple mathematical shapes.
It will be these decisions that will form a key part in my judgement later on when determining their attainment along with the other significant aspects of ICT capability.
For students to be ICT capable, they will need to not only be aware of various techniques that they know, but also to be able to decide if this knowledge is right in order to develop ICT solutions to future problems.
ICT in society has emerged and developed for many reasons in our lives to make our existence easier.
Today, it is vital that people exercise their metacognitive capabilities when using ICT for whatever purpose and this is why we as teachers need to emphasise the use of higher order thinking skills in our teaching and learning with ICT.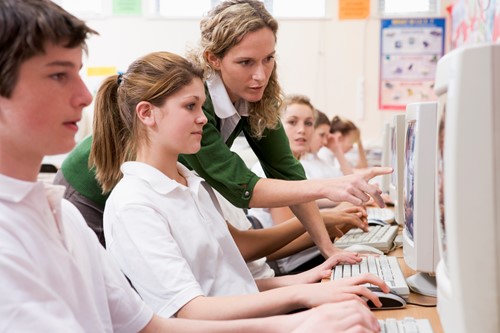 Understanding Technology Capabilities in the Curriculum
The Australian Curriculum has emphasised the importance integrating digital technology to use in the classroom throughout all key learning areas by ensuring that ICT capability is included in teaching practices.
In this article, you will learn about:
What is ICT capability?
AC ICT capability framework or Learning Continuum.
What an ICT capable student is?
ICT capability in Primary School
ICT capability in Early Childhood Education
What is ICT Capability?
The Australian Curriculum defines ICT capability as the integration of technology to use in the classroom. It states:
"….students develop Information and Communication Technology (ICT) capability as they learn to use ICT effectively and appropriately to access, create and communicate information and ideas, solve problems and work collaboratively in all learning areas at school and in their lives beyond school. ICT capability involves students learning to make the most of the digital technologies available to them, adapting to new ways of doing things as technologies evolve, and limiting the risks to themselves and others in a digital environment."
These skills are significant for students in a knowledge-based economy and will be developed through key learning areas as you integrate digital technology to use in the classroom.
The 5 components of ICT capability are:
Routines;
ICT techniques (skills);
Concepts;
Processes;
Higher order thinking skills.
LEARN ALSO ABOUT:
The difference between ICT and Digital Technology
ICT capability in Key Learning Areas 
View our range of online professional development courses for teachers now
While routines and ICT techniques may be easily understood, it is important to comprehend the significance of how conceptual understanding underpins the learning of ICT techniques.
This ultimately enables these ICT techniques to be transferrable across different learning areas.
Therefore, you should encourage students to reflect on the use of ICT techniques across contexts and situations.
Processes are a series of ICT techniques and learning processes require a substantial degree of personal autonomy on behalf of the student.
The processes described in the Australian Curriculum ICT capability represent a significant part of the knowledge, understanding, and skills for students.
Despite this, processes are not associated purely with ICT, but more with the way in which ICT interacts with problem-solving situations in other subject areas or in the real world.
Higher order thinking skills are essential in order to execute processes the student has to apply.
An ICT capable student is someone who has the disposition to construct ICT solutions to problem situations that are appropriate to the context and are based on the knowledge of the opportunities and limitations of the software and hardware involved.
In a study of schools in the UK, high levels of ICT capability in students demonstrated that they could:
Use ICT to support their learning in all subjects.
Use common ICT tools used in classroom teaching.
Take responsibility for their own learning, developing strategies to help them learn how to use unfamiliar ICT tools, and work collaboratively.
Use current hardware and software and understand its potential and limitations.
Understand that using ICT affects social processes.
(Crawford, 2011, p. 6)
What is required is an understanding of the ICT potential of situations.
Kennewell et al.(2000, p.38) states that:
"ICT capability requires not only technical knowledge and skills but an awareness of this knowledge base, so that effective choices can be made."