Welcome to my page where I will highlight the best ICT tools in education today. When integrated successfully ICT can enhance teaching and learning in the following ways:
Student motivation.
Student attainment levels.
Student engagement in subject learning.
However, it is important to distinguish between ICT tools used in classroom teaching and ICT activities. This is something that I will help you to understand before the end of this article.
By the time you have this read, you will not only learn how to maximise your own ICT resources for teaching and learning but will also know where to find early years ICT activities for students that will support their subject learning and develop 21st-century skills

What is the first thing that you need to know as a teacher?
While you will learn of many ICT tools used in classroom teaching from this article it is important to remember that given the rate of technological development in society that this list no doubt will continue to grow.
One of the first things that I always tell people involved in my technology integration professional development online workshops is that as a teacher and in any case as a person, we will never know all there is to know about ICT.
Always walk into the classroom as a learner alongside the students and you will begin to feel more comfortable and confident.
The other thing is that successful technology integration as you will find out is NOT about waiting for the next big technological development to come around to solve your problems. It is, however, about imagining the potential for learning of the available technology within the context of what is being taught.
Don't be fooled by the list of ICT tools for teaching and learning that you might see here and think that you need to have everything.
Start with what you have available in your own classroom and choose one ICT tool to focus on that both you and your students are familiar with.
How to use ICT tools in the Classroom
To unlock the potential of technologies to use in the classroom, you need to:
Establish a starting point each students' ICT learning and embed formative assessment strategies in key learning areas such as literacy and numeracy.
Plan for progression in ICT learning progression in the Learning Continuum of the Australian Curriculum.
Employ digital pedagogical practices in early childhood education that support ICT learning alongside subject learning.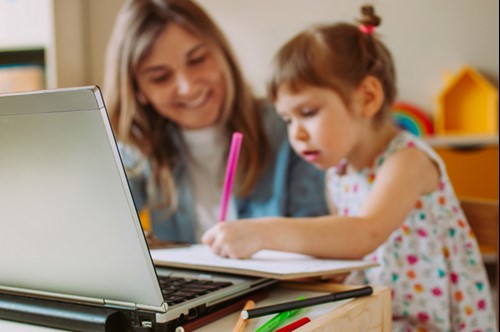 Meaningful ICT Integration in Early Years Learning
Click the images to download your copy of the early years ICT activities for your early childhood learning environment.
Each preschool lesson plan comes with:
Early learning goals
Extension activities
List of ICT early years resources
Early years ICT activities
ICT tools for early childhood education

Dancing Bee Bot

Programmable toys – the use of programmable toys such as bee bots in the early childhood learning environment is based upon the constructionist teaching approach. By learning how to input instructions into the keypad of a bee bot they will have experiences of making things happen.

Comparing digital to traditional artwork

Drawing and painting programs – a number of drawing and painting programs are available for use in the early years learning setting and this includes apps as well. You can use these to manipulate digital photographs

Keyboarding and writing our name

Word processors – this ICT tool for early childhood teachers can be very useful in many ways as they now combine other tools to allow for drawing. Word processors can be used for language development and other contexts.

Role-play recording

Digital cameras (web cams, stand-alone & cameras on mobile technologies) – images can tell a thousand words! You can integrate them into many early childhood learning activities either intentionally or during play.

Role-play a vet surgery

Defunct digital technologies – make sure that they are not outdated, familiar and relevant to the lives of young children. Cut any cords off if they are keyboards. This can include mobile phones, laptops, keyboards, monitors etc.

Making technology in lives

Hand-made crafted technologies – sometimes the best ICT early years resources to have are the ones that children make themselves. These are great because the children place a lot more value on them as a result of making them.

Number sequence activity

Spreadsheets – they have excellent teaching and learning qualities for young children to learn about numbers, sequences and patterns.

Digital storytelling activity

 

Sound recorders, music and listening ICT tools – music, sound and technology go hand in hand. There is so many devices that allow you to achieve this such as freeware like Audacity which records voices or even apps like 'Draw and Tell' that allows children to tell the story with their own voices. Digital musical devices are awesome fun for children.

Find the missing letter

Interactive whiteboards and smartboards - promote writing skills on a large scale. However, these are mostly used in collaboration with the ones I discussed earlier.

Talking friends report

Talking tins - like walkie-talkies these are great for those children who have trouble communicating in groups and are awesome for language development.

The integration of ICT tools in education must begin in the foundations of learning and that is why learning about ICT tools for early childhood education is significant. Most recently, the term 'digital play' has been discussed more widely than the other as play-based learning is the main form of pedagogical practice.
Meaningful technology integration in early childhood education is about embedding the use of ICT tools into creative activities, experimental activities and purposeful activities.
For example, drawing and painting programs are an excellent way to give young children the opportunity to express their feelings and ideas about themselves. It is just like with traditional painting methods that they also do except that there are many more tools to choose from.
A crucial part of your selection of ICT tools for early childhood education is allowing for the transfer of ICT capabilities across the curriculum. This can only be achieved if young children are taught ICT concepts that can utilised in meaningful contexts.
3 Questions to ask when choosing ICT tools
Finally, when selecting early years ICT activities that involve ICT tools in education, it is important to ask these 3 questions:
What has the child gained in terms of knowledge, skills and understanding?
Have the early years ICT activities helped the child achieve something they might not have done in any other way through the use of the iCT tool?
Will the ICT early years resources motivate the child to learn and have fun while learning?
Plus one extra question.....
Have you been a responsive educator and valued the skills, knowledge and understanding of the child in relation to ICT?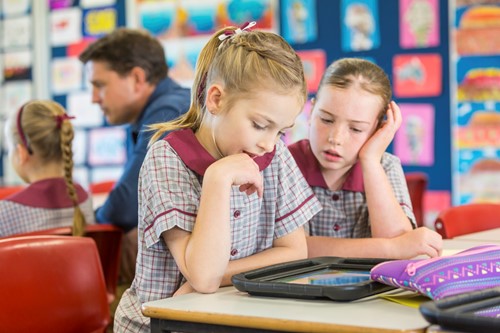 LEARN ALSO ABOUT:
How to choose meaningful ICT tools and resources.
How do students learn with ICT tools?
12 Awesome ICT tools that will empower children today.
10 Great ICT tools for Science Lessons
5 ICT tools to teach Mathematics
ICT Tools for Primary Schools
READ ABOUT:
9 of the best ICT tools for the Secondary Classroom
Primary educators are charged with the task of developing ICT capability through effective technology integration in the classroom. From Foundation to Level 4 in Year 6, students are expected to progress in their learning in ICT capability.
Here is my top list of ICT tools for primary schools.
Word processing – a basic and important skill to have for students through their formal schooling. Students are expected to progress in their skills through primary school and should be able to save documents, save them in different formats and understand what those formats mean. You should effectively help students to develop key typing skills and provide them with access to printers.
Spreadsheets – as with word processors, to be able to save documents and to have sufficient typing skills. Primary exit skills include being able to set up columns, using basic formulas, inserting and deleting rows, changing font size etc.
Information literacy skills – web searching is an essential skill in the information age. Students need to know practical skills and critical skills such as understanding domain names and what they mean; knowing which are more trustworthy; knowing which are more useful for information and research.
Animation (clay or drawing) – stop motion is the best for students to practice and they can craft a story and develop their higher-order skills as they plan, monitor and evaluate their own work.
Presentation software – you could use Prezi or PowerPoint, whichever one you prefer and are familiar with the most. Ensure that by the end of primary school, they leave with skills such as being able to create handouts and notes pages, setting up animations, designing their own slide design and inserting tables, images, and smart art graphics.
Blogging – this is a type of website or part of a website that can be updated with new content from time to time. Most are interactive and allows students to have a controlled online presence.
Web 2.0 – one of best ways to develop higher-order skills for students. It includes Twitter, Facebook where you can create a class page and Tumblr which is awesome for digital images with short titles.
Publishing programs – the most familiar of these is MS Publisher which is great for developing literacy skills which makes it extremely useful in primary education.
Making a video – yep….students can create a video, edit it, and evaluate it as most iPads contain a recording camera. Students can transfer it to a program where can continue to piece together their work.
Web design – students can do this anywhere and at any time these times. Did you know that if they have MS Word that they can create a single web page using this program? Awesome right!