By Michael Hilkemeijer
The Role of Digital Play in the Early Years
Young children today continue to be born in this digital and information age that we live in. Digital technologies are becoming more embedded and ubiquitous in the environment around children. They are having a profound effect on young children's live and they are being 'taken for granted'.
For parents and educators of the pre-digital age, you can now choose to embrace digital play options which come with a need to learn new skills. Yet, digital play has been proven to be the most effective way to integrate digital technology in early childhood education learning environments.
"The key skills of the future will include the ability to develop innovative ways of using technology to enhance the learning environment, and to encourage technology literacy, knowledge deepening and knowledge creation."
(UNESCO ICT-CST 2008a: 9)
This provides further evidence of why complex and continuous professional development for ECE teachers is a key requirement for the productive integration of ICT into the learning and development process of young children.
"This requires a different set of classroom management skills to be developed."
In relation to the roles that digital technology in early childhood education can play there is a growing recognition of the many different ways that digital play can contribute to, or transform, the activities, roles, and relationships experienced by children and adults in early childhood learning environments.
Here are some possible roles that digital play can have in early childhood education:
Roles of Digital Play

Examples may include the following

Children using digital technology such as ICT in their play or learning (alone, with peers, or with adults)

Children using computers to play games, listen to stories, or draw pictures.

Children using ICT equipment in games or role-play activities.

Children and practitioners using digital technology to scaffold children's learning

Using the Internet to locate information or resources, sparked by children's interest in a particular topic or idea.

Children and practitioners using digital technology together to document and reflect on children's learning with parents, or with other practitioners.

Taking digital photos, videos or audio recordings of activities in the early childhood education setting and reviewing these together, or sharing them with parents.

Practitioners and children using digital technology to build portfolios of children's work, to use for evaluating progress in children's learning and development.
Health and Safety Issues with Digital Play
While young children are naturally drawn to digital technologies there is a proliferation of literature that makes claims to both its advantages and disadvantages of it to them. Concerns today relate to the following:
Harmful physical effects of children's prolonged computer use;
Negative impacts on children's social development (for example, computer use will encourage anti-social behaviour);
Educational concerns that computers will interfere with children's cognitive development;
Concerns about children's exposure to unsuitable content;
Concerns that computer use may displace other important learning and play activities.
Despite this, most parents see digital technologies as largely having positive benefits. This is mostly due to seeing it as a valid form of children's entertainment and today, they can offer constructive play options which stimulate imagination and promote social development. All of which support early learning. 
Facilitating Digital play in the early years
The barriers in early childhood education and care practices that have made it difficult to integrate digital technology in early childhood education are aligned with that in other sectors such as primary and secondary. Below is a diagram from First Discoverers such highlights what they are.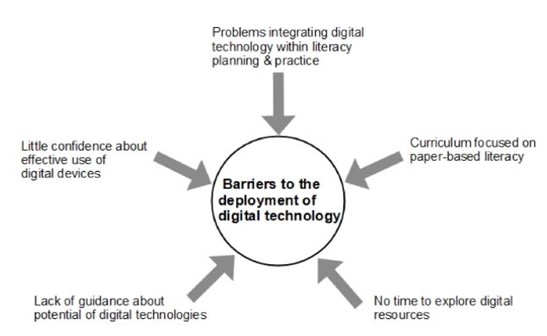 (Taken from First Discoverers - Inspired by Flewitt et al., 2015)
Despite this, it remains clear that continuous and complex professional development for ECE practitioners is the key to the successful integration of digital play in the early childhood curriculum.
"New technologies require new teacher's roles, new pedagogies, and new approaches to teachers' training. The successful integration of ICT into the classroom will depend on the ability of teachers to structure the learning environment in non-traditional ways, to merge new technology with new pedagogy, to develop socially active classrooms, encouraging cooperative interaction, collaborative learning, and group work."
(UNESCO ICT-CST 2008a: 9).
Through the online professional development that we deliver, you will go beyond understanding such statements to support the development of ICT capability through the effective facilitation of digital play.
Digital Play
Digital play is a relatively new idea in early childhood education. Initially when digital technology was introduced into the early years setting the focus was on whether it would be either beneficial or harmful for young children.
Since then, there has been much research on the benefits of digital technology in early childhood education and now the debate has shifted from whether digital technologies should be used by young children to the most effective use of digital technology with young children.
Research has indicated that the shift encompassed thinking about how to integrate digital technology in early childhood education where play is considered a key method of learning and development. In the early years settings, play is considered a means of exploration that would involve a lot of hands-on activities and collaborative socialising together. Social interaction would help young children build their knowledge about their world.
Now with the introduction of digital play being integrated into the early childhood education learning environments this is enhanced and promoted further with the natural tendency of digital technologies to bring children together in a digital world.
Additionally, digital play can also be viewed as a mode of meaning-making (Edwards, Digital Play, 2020) for young children to make sense and understand their digital world. In this way, the methodology of how young children and teachers could actively engage in problem-solving and critical thinking could gain perspective.
Play in Early Childhood education
To this day, the early childhood education sector has not yet settled on a definition of play. Here are some definitions that are cited in Edwards (2020, p.57).
"Developmental process";
"Engagment in socio-cultural contexts" (Bergen, 2014);
"Gender and power relationships amongst children" (Grieshaber & McArdle, 2010);
"Culturally relative" (Gaskins, 2014).
The Digital Divide
The 'digital divide' certainly plays a role in how young children play with digital technologies. It represents how "access to digital technologies and modes of learning for using digital technologies for cultural participation is a matter of social equity" (Edwards, Digital Play, 2020, p. 57).
As Schradie (2011, as cited in Edwards, 2020, p.57) highlights "productive digital practices, such as using technologies to create content, communicate with other people and share ideas are experienced more often by children in socially advantaged homes". On the other side of the scale so to speak, research has also indicated that children who live in less advantaged settings have a tendency to use digital technologies for the consumption of content (Judge, Puckett & Bell, 2006 as cited in Edwards, 2020, p.57).
What this indicates in terms of children's ICT capability is that as a consequence there is a divide in the capabilities of young children due to the socio-economic environment and use of digital technologies in their lives.
For you as an early childhood educator, what this means is ensuring that you provide young children with the digital opportunities that they need to further their capabilities responsively and to integrate digital technology in early childhood education as a productive example for those who do live fewer advantages homes to grasp the benefits of using digital technologies.