When it comes to ICT work in the classroom for students, this usually means some form of collaboration or group work. Collaborative ICT work is not an aspect that teachers should fear. To begin with, students should learn real-world practices and with an ever-changing ICT landscape in society at our doorstep, it is important that this occurs.  This is a method that teachers therefore should embrace in the classroom.
In primary schools, in particularly, collaborative work brings many new skills to students such as teamwork and communication skills. Research has also shown this enhances their learning experiences as they talk and discuss any issues involved. However, it also comes with some baggage issues so to speak as well. Below are my group work strategies in the classroom.
4 Group Work strategies in the classroom
How do you determine the individual achievement of students in a group?
The first strategy that you should use is something that most teachers do naturally in the classroom – they observe! Observing students in their ICT work is a great way to assess student capabilities. Any observation made should also then be supported by records kept by the teacher. These records of your own observations can be tested against what you may ask the students about their work to identify the contributions made.
Teacher intervention
Another method you can use which is important is to intervene. When doing so remember that it shouldn't be negative or critical, but supportive and formative (e.g. "That's a good start. Can you see disadvantages of doing it this way…etc). As a teacher you should be able to draw from these responses to your questions a feeling an individual student's understanding. It is also important to note here that assessment should not be a "one-off snapshot" as Richard Ager (2007) puts it. It needs to be a continual process that will gradually put together the pieces of the individual student's abilities.
For these strategies to be successful, however, it is best that you as the teacher create the groups yourself rather than letting students form their own. Research has shown (Kennewell et al., 2000) that schools that implemented this approach were effective in developing student ICT capability. When pairing students, it is best to do so by taking in to account the following factors:
Differences in ICT capability - when you decide to pair students together, it is a good group work method of teaching to put a less capable child with a mentor who is more capable and experienced so that both children will learn. The more capable child will learn to be a mentor and be able to express their ideas clearly over time;
Personalities of the students - some students may be more dominant than others so when pairing be mindful of this so that this does not lead to disagreements. Pair the dominant students together instead.
Sex - single sex pairs generally work well together, however, some boys may tend to take turns rather than work together. It is said that pairing boys with girls can have benefits.
The nature of the task - decide if both children will be collaborating on one outcome, or will they be assisting each other with their individual pieces of work?
Finally, it has been discovered in the past by successful primary teachers that by using the so-called 'student ICT experts' in the class to their advantage, students can learn from their peers. Students who are more capable can develop clearer concepts about the processes by having to analyse what they do in order to explain it to their friends. A potential problem that may arise is that it could distract these students from their own work. If this is the case, research has found that by using mixed ability pairs, particularly when there are important ICT learning objectives, can help minimise such a problem.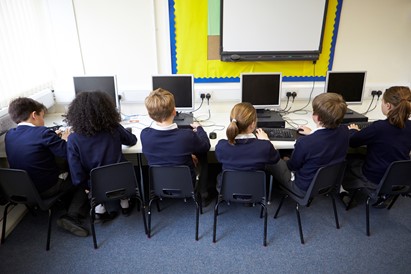 Building on your Group Work Strategies
Besides the above group work strategies in the classroom when using technology in the classroom, there are also other methods that you can apply and embed that are quite effective.
Group work in the classroom is great for 21st century skills such as collaboration and cooperation between students. It certainly not a lazy option as you to plan for it effectively and ensure that it is executed well. Yet, despite all your efforts things may not work out well for you.
According to Alex Quigley, the basis for the rules for group work in the classroom would include:
Having clearly defined tasks, with sharp timings and with the appropriate tools organised;Have clearly defined group roles;
Have clear ground rules for talk, listening and fair allocation of workload etc;
Target your support and interventions throughout the task, but make them interdependent of one another, not dependent upon you;
Always be prepared to curtail group work if students don't follow your high expectations.
Research from UNSW have indicated that the group work method of teaching has many benefits such as:
Allows students to become active participants in their learning;
Helps students develop skills valued by employers (such as problem solving, negotiation, conflict resolution, leadership, critical thinking and time management);
Exposes students to diverse ideas and approaches;
Acknowledges and utilises individual students' strengths and expertise;
Through discussion, helps students articulate their ideas, refine concepts and develop interpersonal and communication skills;
Allows students to experience situations that resemble the workplace, e.g. authentic real world projects, and;
Facilitates a deeper understanding of course content.
The other group work strategies in the classroom that will follow are said to be effective:
'Think-pair-share' and 'Think-pair-square'
Snowballing or the Jigsaw method
Debating
Project-based learning
Group presentations
'Devise the Display'
Gallery Critique
Socratic Talk
Master modelling
You can find out more about these group work method of teaching here.
How to implement
As said earlier, group work in the classroom can be effective but you need to plan for it to be so. Your group work method of teaching needs to ensure that it is motivating and that it encourages active learning.
Students need to deploy critical thinking, communication, and decision-making skills.
To prepare for the group work method of teaching you first need to:
Think carefully about how students will be seated such as what has been mentioned earlier in relation to technology use and ICT capability.
Insist on professional, civil conduct between and among students.
Talk to students about their past experiences with group work.
As a teacher, you may also face challenges of group work in the classroom such as the following:
Lacking focus – you can ask students to talk through the task they are trying to complete.
Unequal contribution – as discussed earlier, you can assign roles to students and also rotate these roles.
Personal issues – there may be conflict between students and you can overcome this by encouraging group members to respect and acknowledge ideas, consider how they can improve their communication, work through the cause of the conflict as a group and understand that working in a team may require negotiation and compromise.
Poor communication – encourage group members to clarify anything they don't understand, ask questions, make requests and speak respectfully.
You can find more about overcoming challenges with group work in the classroom here.
The use of group work strategies in the classroom such as the above can provide you with reassurance that you have planned adequately regardless of how well the outcome may be. As a teacher, you choice should then be reassess these strategies for the students you used them with and amend them in order to make further improvements on later group work in the classroom.