In a technology-dominated society, where ICT has permeated pretty much most aspects of our lives, young children begin their formal education with various degrees of capability in ICT.
Technology in early childhood education, therefore, plays a key role laying the foundations for a child's ICT literacy.
The formative assessment strategies that you use as an early childhood teacher, whether you are a preschool teacher or a kindergarten teacher in Queensland, should play a strong role in enabling young children to build on their experiences of ICT at home.
What follows are examples of assessment for learning in early childhood education.
What is formative assessment in Early Childhood?
What is formative assessment in early years?
At the forefront of effective formative assessment in early childhood is your ability to document children's learning progression over a period of time. It is your ability to determine how and when to document a young child's learning experience and review them which will be able to ensure effective planning in the learning progression.
LEARN MORE ABOUT:
Formative assessment Preschool
Effective examples of formative assessment in early years will involve you to take note of:
Interest in technology use.
Being involved with technology such as taking digital images of things.
Persisting with difficulty or uncertainties with technology.
Communicating with others using technologies such as a walkie-talkie, email or mobile or cordless phone (this could be working or non-working tech)
Taking responsibility for technology.
These are the five domains of observable activity with technology in early childhood education. The dispositions for learning in the EYLF (curiosity, cooperation, confidence, creativity, commitment, and enthusiasm) all fall within these areas.
Formative assessment in preschool and kindergarten particularly can help inform intentional teaching practices. Additionally, is does a great job of enabling the differentiated classroom.
The essence of formative assessment well stated by scholars such as William and Leahy (2015, p. 9) that "examining the relationship between "What did I do as a teacher?" and "What did my students learn?" is always the most powerful focus for reflecting on your practice."
Documenting Children's Learning Progression in ICT Capability
Documentation plays a key role in collecting meaningful evidence of children's learning progression. You need to do this to make an accurate and holistic assessment of what children can do.
In the words of Carr (2009, as cited in Raban, 2010, 22), "documenting these dispositions captures different ways of demonstrating how children are learning." According to the Early Years Learning Framework, dispositions are "enduring habits of mind and actions, to respond in characteristic ways to situations."
The disposition of ICT capability is at the heart of EYLF outcomes 4 and 5. It is the ability of the child to construct ICT solutions to problems that are appropriate to the context and are based on the knowledge of the opportunities and limitations offered by the technology available.
The use of technology in early childhood education is coupled when children learn in outcomes 4 and 5 about literacy and numeracy.
Formative Assessment in Early Childhood Education
The key formative assessment strategies for kindergarten can also be used in other early learning settings such as that for preschool and Early Years Primary teaching. They are:
Observation: documenting children taking an interest; being involved; persisting with difficulty or uncertainty; communicating with others and; taking responsibility. All of these observable activities can be associated with ICT use in the learning environment.
Monitoring ICT Learning
As an early childhood teacher, you are an interested observer and collaborator in children's play. It is your duty to find out about the individual child. 
You
So what do you monitor?
Young children's growing awareness of the technological world;
ICT capability - this includes but is not limited to their ICT skills, understanding and learning progression;
Their ability to access and use the equipment.
That's the easy part, however, it is essential you understand how to monitor individuals and groups appropriately using formative assessment strategies.
For example, a deeper level of teacher understanding is required into what actually constitutes as ICT capability and the level of capability expected for children in early childhood education and care.
Other formative assessment examples for preschool include:
Catch as you can – using post-it notes to record scribbled evidence which is then transferred to children's personal records of achievement. It is important to record the name and date.
Photographs – capturing children in action learning is great as it provides accurate evidence of learning. In relation to ICT use, it can also involve taking a photo of their screen at times.
Adult-focused or participant observations - these are more planned observations as they are recorded on a specific paper format that defines the activity and the specific learning objectives.
Parent/carer observations - this is conducted at home when the child uses ICT and is equally as important. Information can be shared with you as a teacher in early childhood. An example of this is the 'Wow Wall' as a focused display of children's achievement.
Children's self-assessment - it is imperative that you allow children to contribute to the personal assessment and about their learning.
All these examples of formative assessment in early childhood education in relation to technology use is about ensuring that you do document a child's ICT learning by focusing on the five domains and by using the methods of collection discussed. 
Online courses for preschool teachers such as our accredited workshop will enable you to focus on 5.1.2 of Australian Professional Standards for Teachers.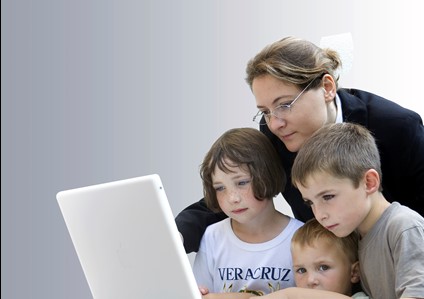 Online PD for Early Childhood Educators -
TECHNOLOGY OBSERVATION IN EARLY CHILDHOOD