When using technology in early childhood education, it is important that you invest time in knowing and understanding high impact ICT teaching strategies in early childhood.
This is what is known as teacher competence in ICT or another term is teacher ICT capability.
What are some ICT teaching strategies in early childhood that support the use of technology and develop child ICT capability and ICT literacy?
10 Effective DAP Teaching Strategies in Early Childhood
The following are all developmentally appropriate and will guide you in laying the foundation for effective 21st century skills in your centre or school today.
Acknowledge the experiences children have at home with technology. This is by far the best way to begin planning for learning progression in ICT capability and ICT literacy in the early childhood education and care learning environment.
Encourage children's independent use of ICT by praising them and making them feel comfortable and safe. Also ensure that you encourage independent use of ICT at home.
Support their learning by giving them feedback during the ICT activity and the use of technology in role playing. Ensure that it is specific so that the positive comments are linked to observable behaviour.
Model attitudes, decision-making processes and behaviour when using technology in early childhood education.
Demonstrate appropriate ICT techniques and routines to children during exercises. This usually involves going through with the children a number of processes which they must do in order to complete the task.
Create or add an ICT challenge so that it will stretch the more capable children and help them go beyond the basics.
Set up role play environments with technology so that they make advantage of what is available and you can monitor their reactions and document their learnings.
Plan to develop every component of ICT capability with children by facilitating their capabilities through constructive instructions.
Give assistance to children with using ICT in their environment by asking them the "what if…" questions. Cues and tips are also helpful.
Develop your own competence in ICT by improving your ICT capability. This is not about acquiring more ICT skills, but developing understanding and judgement about how to use those ICT skills appropriately.
These 10 effective DAP teaching strategies will get you started to integrate technology successfully in the early learning environment today.
RELATED: What is Developmentally Appropriate Technology for Early Childhood Education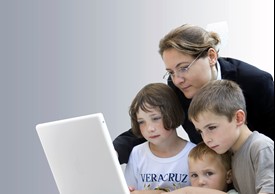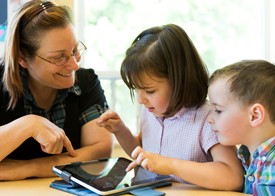 Free Online Professional Development for Preschool Teachers