As a childcare worker, preschool, or kindergarten teacher the instructional decisions you make have a profound impact on a child's learning. Teaching strategies in ECE lay the foundation for the future development of skills and knowledge. Going one further, intentional teaching strategies in childcare and education is about making a lasting impact and impression on a young child's learning and when it comes to integrating technology in childcare and education, it is no different.
What is Intentional Teaching?
According to the QCAA, "intentional teaching strategies is an active process and a way of relating to children that embrace and build on their strengths, interests, ideas and needs. It requires teachers to be purposeful in their decisions and actions. Intentional teaching extends children's thinking, builds deep understanding, and occurs in emergent and planned experiences. Teachers use a range and balance of strategies to cater to and promote all children's learning."
So what is intentional teaching in early childhood? As an early childhood teacher, this means " explicitly teach knowledge and skills to individuals or small groups that support the children learning" (Aussie Childcare Network). You can find intentional teaching strategies early childhood examples below in relation to technology integration in the preschool, kindergarten and early year primary teaching.
Within the early childhood learning settings, there are many interactions that occur between early childhood teachers, children, the context, and the content. Intentional teaching involves the teacher playing a big role in ensuring that these interactions bring about learning for children.
Especially in early childhood, you need to be thinking about what you are doing as a teacher and how you supporting children's learning and development.
This continual thinking makes it a dynamic process and promotes a range of pedagogical practices. This could involve intentionally altering the environment or altering the teaching materials. The Early Years Learning Framework (EYLF) describes 'intentional teaching' that is purposeful, thoughtful, and deliberate as opposed to describing a specific approach to teaching. Early childhood teachers who are aware of the impact of their teaching on children's learning play a significant role in readdressing education inequality in Australia and abroad.
If you are an intentional teacher you would:
Sensitively observe children and intentionally plan to deepen, extend and sustain children's interests through provocations, tools and resources, documentation, and dialogue.
Organise and maintain the physical environment to ensure access to appropriate resources and optimal support for positive experiences.
Create specific challenges and plan interactions designed to extend children's capabilities and higher-order thinking skills.
Participate in child-initiated play activities and develop complex imaginative role play narratives with children.
Model and demonstrate skills as well as providing specific direction or instruction.
LEARN ALSO ABOUT:
Early Childhood Education teaching strategies
Intentional Strategies in ECE
In an intentional, well-planned, and developmentally appropriate classroom, technology experiences are integrated into child-play. Research shows (Simon & Nemeth, 2012, p. 32) that whenever you choose to use technology as an intentional teaching tool that it should never replace any other experiences or opportunities.
It is all about balance.
Here are some intentional strategies that involve the use of technology. These teaching strategies in early childhood are evidence-based in that they help build on child home experiences of technology and develop their ICT capability and ICT literacy. All are EYLF teaching strategies for the learning outcomes 4 and 5.
The following is a list of strategies for intentional teaching in childcare, preschool and kindergarten to do with technology integration the classroom.
Examples of intentional teaching in early childhood include:
Intentional Environments
Positioning the materials: plan and think about certain technologies (either child-made, working or defunct ones) that you wish for the children use on the day. Place them into their role play boxes.
Encourage them to combine the toys in the boxes.
Collecting materials: it is a good idea to help them collect the materials they need in order to create the technology which is on their mind. Support their knowledge and skills in counting and seriation.
Documentation and display: this forms an essential part of the assessment for learning in early childhood. However, you can also display posters of the proper use of technology or even photos of them using technology in their play.
Additionally, the documentation collected relating to a child's technology use can include data that illustrates their capabilities in ICT and the levels of understanding which they have.
Scheduling: You could organise a time to support children's changing interests and levels of concentration when using technology in early childhood. Also, get involved with children and have in-depth conversations about the use of technology in their lives and in society. Talk to them about how they use technology at home and find out data to use for your future planning.
Intentional teaching interactions
Encouragement: when using technology in early childhood motivation and encouragement is a given. Children are naturally motivated to use it so it best to take advantage of this and employ effective teaching strategies for early childhood that will not only enhance the learning of the context, but also develop their ICT capabilities.
Facilitation: you can achieve this by promoting autonomy in their use of technology at your early childhood education and care centre. Through role-play that encourages the use of technology independence in ICT can be supported.
Using technology outdoors is a method in early childhood to encourage both role-play and the use of ICT together. As ICT naturally brings children together to collaborate it is also good to promote cooperation between children. If your aim is to further enhance literacy and language development in early childhood then technology is a great medium for this too.
Positioning yourself: by placing yourself in a position beside the child when they are sitting at the computer or using the iPad, you provide an atmosphere of warmth and support and care for them. Keep eye contact and smile at them when they are showing you or talking to you about using technology.
Grouping: while ICT typically brings people together to collaborate, you may want to take advantage of this and develop children's cooperative skills. There are cognitive skills developed at this time too, however, don't forget to promote the development of their metacognitive skills in the use of technology in early childhood.
It is important that you provide appropriate scaffolding between capable and less capable children. You can also group the more ICT capable children with the less ICT capable children. 
Listening: you can encourage children to share their ideas and thoughts about technology. Your listening skills will also aide you to determine when to intervene when children using ICT and this should also help promote their higher order thinking skills. By intentionally using your listening you will be able to learn more about the children in your care. 
Modelling: there are many ways in which you can model the use of ICT. ICT techniques can be modelled but also higher order thinking skills such as when you think aloud in front of them.
This will help them solve problems and to learn to play cooperatively. The way you model the use of technology in early childhood education will have a profound impact on their capabilities in ICT. 
Demonstrate: this can be used to model tasks, breaking down steps and processes when using technology in early childhood education. It is best to keep things brief and when you demonstrate a technique, withdraw the support as soon as possible, and allow the child to practice on their own.
Questioning: you can ask children questions about their use of ICT at home and where they may have seen it used in public. Questioning also helps you to challenge naïve ideas about the use of ICT techniques. This is where you may have to demonstrate to them an ICT technique.
Suggestion: at times you may find that you have to offer some advice on an ICT technique to develop children's persistence and to lower their frustration about something. When they using technology in role play, you could also provide suggestions for use as well. 
Prompting recall: ask children to recall something which you may have modelled or demonstrated to them earlier using ICT. Begin by asking them things like "What do you remember about….." or "What happened when you tried….."
By intentionally using this strategy, you will be able to help them to solve problems, reinforce ideas, concepts and knowledge in addition to supporting them to report on their experiences and observations. 
Feedback: this forms a very important part of your formative assessment strategies in early childhood. Feedback will help build their self-efficacy and confidence and will support children as learners. You will be able to positively reinforce aspects of their learning. 
Scaffolding: this helps to build their skills and capabilities in ICT. Provide support when needed and then withdraw the support as soon as possible. 
There must be a gap to bridge between the children's abilities and the requirements of the problem situation if learning is to occur. This may be in the computer-intrinsic activity or in the task-intrinsic activity.
You can further reduce this gap by providing affordances of the environment such as providing a clear demonstration on a big screen of the actions to be followed or by asking a series of structured questions. To encourage the development of higher order thinking skills, the affordances for planning, monitoring, and evaluating the activity must not be too great. The manipulation of the affordances is central to your role as an early childhood teacher.
Conclusion
You may have over 1000 interactions with children, but with well-planned intentional teaching strategies such as those above in relation to the use of technology then this will contribute to the greater learning and positive outcomes for children.
Intentional teaching strategies in childcare and education can have a tremendous impact on child learning especially when technology is added to the equation. The above example of intentional teaching in childcare and education is your first step in developing a child's technological literacy today.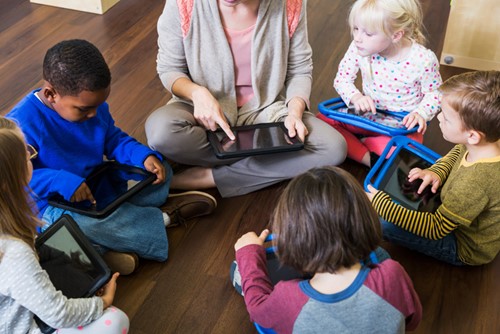 FREE Online Workshop in ECE on Teaching Strategies in ECE
We would like to invite you to learn more about intentional teaching strategies in early childhood education and care. This free online course will enable you to Harness the Potential of Technology in Early Childhood Education . 
How to Successfully Integrate Technology in Preschool Activities today?
You will be able to build your capacity as an early childhood teacher when you apply the theory learned and the examples of intentional teaching in early childhood education and care.
The best practices for intentional teaching in early childhood found within the workshop take you down the educational path in learning and applying evidence based intentional teaching strategies in childcare and early childhood education. 
In addition to the above, learn my top five intentional teaching strategies in ECE (plus bonus strategy).
FREE to join.