By Michael Hilkemeijer
Integrating preschool technology activities is more than just exposing young children to the technology available. Technology activity for pre-schoolers should involve adult helpers and early childhood teachers facilitating the development of ICT capability and more broadly, technological literacy.
However, with so many technology activities for kids that it is hard at times to determine what is developmentally appropriate technology. You should consider:
If the technology allows for the child to be in control – if the computer or technology is in control, then the children will be restricted to a restricted response. Minimal capability in ICT on the behalf of the child will be achieved. Only when the child has full control will they develop ICT capability.
Integration and play through ICT – can you fully integrate the technology?
Encourage collaboration – how is the technology provided?
These are just some of the things to consider when planning preschool technology activities.
Here are some fun ideas for preschool technology activities.
Making a stop motion – I have developed many stop motion animation project work for my students and there is ample room to enhance technological literacy and to develop a child's ICT capability. Older kids will enjoy planning, taking photos and making a movie. They can either draw their characters or create them using models they bring in like toys or plasticine.
Taking photos – tablet computers such as iPads are awesome ICT tools for this type preschool technology activity. They can learn how to transfer it onto a computer into a folder which you have helped to create. More essential skills and knowledge gained!
Manipulate images – continuing on from using digital images from those taken from iPads or even smartphone cameras, after they have been transferred into a folder you open up a new file in an image manipulation program. There are many of these to choose from and the best part is that they mostly generic and cost-effective. Take them through key ICT techniques that they need to learn by carefully planning your demonstrations and pointing out the conceptual understanding behind each one.
Practice mathematics – Have you ever thought of setting up a spreadsheet to help children understand calculations using simple formulas? Subject specific will not develop their capabilities in ICT so it is important that you understand the key ICT techniques they need to know in order for you to anticipate any issues or problems that may arise.
Creating technology – wipe your worries away about the lack of technology available. The best technology is sometimes the ones that the children make themselves. You can take them on a excursion to see different types of technology down the street and walk them back to discuss what they have seen, listing on the board and then setting them a task to create the one technology they liked the most. They will fun with it for a while.
Make a movie – technology experiences for children can be a fun way to learn how make a movie using programs such as MovieMaker. They can use webcams or the digital recorders from iPads or smartphones provided.
Programming toys – there is a lot to be said for using programmable toys as part of your technology in preschool activities. Beebots can be used to teach literacy, numeracy and most parts of the EYLF depending on your imagination.
All of these technology experiences for children enable you to develop ICT capability essentially building on what a child might already know from home experiences of Information and Communication Technology.
It is important that along with these technology in preschool activities you accompany them with high impact ICT teaching strategies to help young children understand the notion of ICT as a tool designed for specific purpose.
Integrating preschool technology activities should always be about building on a child's technology experiences and facilitating the development of ICT capability and technological literacy.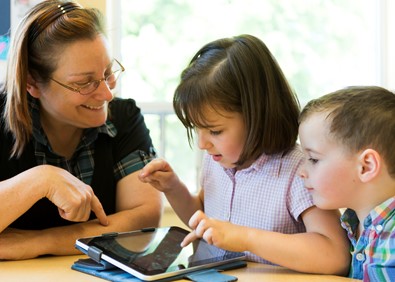 Online Workshop for Preschool Teachers - Harness Technology in Preschool Activities (Harness Technology in Early Childhood Education Today)
Joining fee: $200