One of the many early childhood education software that schools and centres use today is the 'drill and practice' programs. Such programs offer children the top-down approach to learning. Mathematical programs fit right into this category and offer the children discrete activities that help them improve their speed and accuracy in performing tasks.
Despite this, early childhood teachers who plan to teach 21st century skills such as ICT capability in their centres and schools need to be wary of its use.
Studies have found that software is likely to more educationally effective if children have full control over it. Children need to be intellectually challenged and the teacher needs to play a role in facilitating the learning experience.
The computer-generated questions that 'drill and practice' early childhood education software will provide little scope for placing control in the hands of children or teachers.
Another problem which you would face is time for training. With most of these programs, for them to be effective in their use you would need to be trained efficiently.
One of the key criteria for selecting developmentally appropriate software is that: The child must be in control.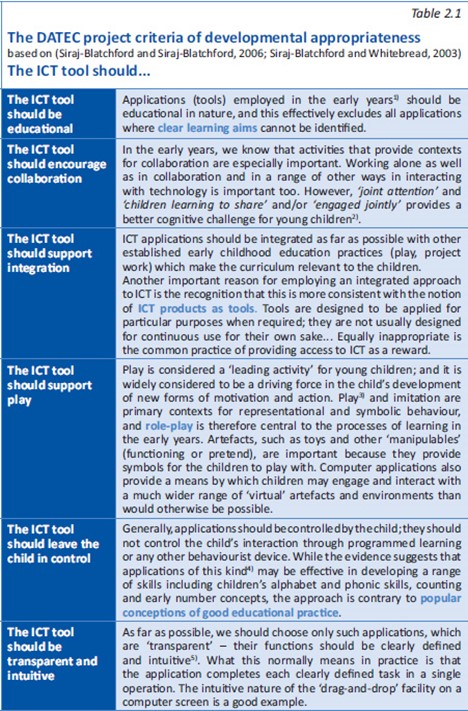 Early childhood education software that gives full control of the technology to the young child is the one that will develop their ICT capability and thus build on their home experiences of ICT. In these instances, early learning software such as this help young children develop the notion of ICT products as tools designed for a specific purpose. The main goal of early childhood teachers.
Tool software can be used in many different ways and the demands and possibilities will depend on whether the main objectives are to learn new ICT techniques - a key component of ICT capability.
Therefore, drill and practice early childhood education software is not recommended if your aim is for meaningful technology integration in early childhood.
Questions you should ask includes:
Have the children been shown how to use the equipment so that they can become independent in their choices and uses?
Are children encouraged to talk about technology so they can begin to have a critical sense of the place it holds in their lives?
What software should you look for?
Unfortunately, this debate is still current so my best advice is to use the 8 principles which contain the criteria of developmental appropriateness of ICT.
Free Online Course for Early Childhood Teachers
How to Integrate Technology in the Kindergarten Classroom Today
You will learn the foundation to effective technology integration in the early learning environment by making sound instructional decisions in learning.