By Michael Hilkemeijer
In the early childhood learning environment, learning through play is one of the most important ways for young children to learn and develop.
What is play based learning in early childhood?
It's an activity where young children can explore, imagine, and make decisions and this changes over the course of childhood from infancy to adolescence.
So how is play based learning defined in the EYLF?
Play based learning EYLF is "a context for learning through with children organise and make sense of their social worlds, as they engage actively with people, objects and representations".
Play can be:
Meaningful – children use it to make sense of their world.
A happy experience – at times there might be obstacles and differences to overcome.
Actively engaging – children interact with people, objects and ideas.
Processes orientated – it helps children to discover and practice new and abilities.
Rewarding through participation.
When these principles of play are combined with the power of digital technology in early childhood education, they look like this.
Play can be:
Meaningful – children should be finding out about and identifying the uses of digital technology in their everyday lives.
A happy experience – children may at times require teacher intervention or demonstration to help them to overcome difficulties.
Actively engaging – digital technology has a natural tendency to bring young children together to interact, collaborate and cooperate with other people, objects and ideas.
Processes – there are series of ICT techniques that young children need to discover and practice in order to build on their capabilities.
Rewarding through participation.
Digital play based learning EYLF is recognised in the Statement on Young Children and Digital Technologies. "Digital play involves children in many combinations of activities using a range of digital and non-digital resources, either by themselves or in collaboration with others".
The importance of learning through play is therefore enhanced and increased when digital technology in early childhood education is successfully added to the equation. Many of the traditional methods in which play promotes learning and development are significantly boosted and young children reach the attainment levels expected at their age.
How do children learn through digital play?
With traditional play based learning children will learn by participating in hands-on activities with digital technologies and similarly will not be thinking about what they will be going to learn through their experience. They are naturally curious, so it is all do with exploring and learning about their technological environment.
Another way in which they will learn is by what is known as vicarious learning or observational learning or modelling. This is when learning occurs when children observe, retain and are able replicate the actions of others. They will learn a great deal this way from observing adults and other children's use of digital technology. One of the most significant sources for children to learn new routines, ICT techniques and processes is in observing their use by their early childhood educators.
Digital play in the early years can also be an immersive experience for young children as they exercise their imagination and build elaborate worlds while putting their whole physically body into the role play experience.
Fostering Digital play-based programs
To facilitate digital play based programs you can apply the same principles that would typically foster traditional play. Centres in the past that have been found to have a high-quality, play based learning approach incorporate:
A daily schedule that included active indoor and outdoor physical play.
Integration of music, movement and creative expression.
Adult-centred interactions that modelled moderate to high levels of physical activity.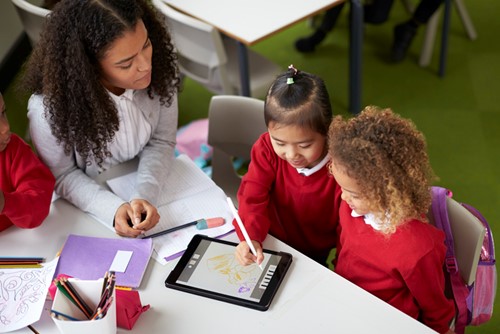 What can educators do now?
How can quality digital play based learning in early childhood education be achieved? As children continue to be surrounded by digital technology, as an educator,  you should be aware that they will enter your centre with various degrees of capabilities. So it is important for you to know the children and families in the centre. This way, you can plan carefully how to use digital play based activities to achieve the EYLF learning outcomes.
Planning the environment for the integration of digital technologies will ensure that it they will be viewed  as a tool to support and enhance teaching and learning and not simply as a skill to be learned.
You can also support digital play based learning by showing children how different functions operate.
Other ways include:
Provide opportunities for children to explore and experiment with the functions of a diverse range of digital technologies alongside adult modelling and instruction in digital technology use.
Promote play involving children in digital technology use with digital and non-digital tools and materials to build knowledge about the use of technologies for communication, collaboration and information sharing.
Seek young children's perspectives regarding the role and use of digital technologies in their own lives, play
and learning.
Model active decision-making regarding digital technology use with, by and for young children that provides a balance of digital and non-digital experiences and activities in early childhood education and care settings.
(Statement on Young Children and DT)
How can we support a child's learning through play?
At ICTE Solutions Australia we believe that if play based learning is to be achieved in early childhood education, then it is important that you as the educator is supported in your own capabilities in digital play based approaches. It is important that you have well-developed understanding of the role and potential of digital technology in early childhood education for supporting young children's learning.
We provide over 40 online workshops for preschool teachers that support digital play based learning in early childhood education in our ICT in Education Teacher Academy.
Areas of interests for educators include:
Planning and implementing play base learning.
Digital storytelling
Intentional teaching strategies in early childhood education
Observation and assessment of play base learning.
Using iPads in ECE
Inquiry based technology integration
Robotics and programmable toys
High impact teaching strategies in ECE
And much more...... there is simply too many to list here!
ALL FOR JUST $43 AUD PER MONTH!
Additionally, we have a full 10 hour course on 'How to support play based learning in early childhood education with digital technology' that you can join as a stand-alone course for just $360 AUD.
Or you can become a member of our Academy now and get instant access to all current and new online pd for early childhood teachers for just $43 AUD per month (cancel anytime).