ICT capability is considered the ability to use ICT independently, appropriately and creatively. An ICT capable child is someone who has the disposition to construct ICT solutions to problems that are appropriate to the context and are based on the knowledge of the opportunities and limitations of the systems available.
ICTs have become such a ubiquitous part of children's lives that profoundly technology is being 'taken for granted'.
This is, therefore, a guide to early childhood teachers, preschool and kindergarten alike, on what to observe and strategies to facilitate the learning progression in ICT capability in both Early Years Learning Framework Outcome 4.4 and 5.4.
LEARN ABOUT:
Observation in Early Childhood Education
Higher Order Skills in Early Childhood
This is demonstrated when children:
Decide when it is appropriate to use a particular ICT for a specific purpose.
Plan what techniques, routines and processes are to be used.
Work independently to solve problems.
Evaluate their use of ICT and the outcome of the activity.
Explain and justify their choices and approaches.
Reflect on their learning and how things could be approached differently.
EYLF Outcome 4
Children resource their own learning through connecting with people, place, technologies and natural and processed materials
This is evident when:
Use information and communication technologies (ICT) to investigate and problem solve.
EYLF outcome 4 activities here
Engaging in Sustained Shared Thinking in the Context of ICT
 Tuning in.
Showing genuine interest
Respecting the children's own decisions and choices by inviting them to elaborate.
Recapping.
Offering your own experiences.
Suggesting.
Reminding
Encouraging further thinking
Offering an alternative viewpoint
Speculating
Reciprocating
Using positive questioning.
Asking open-ended questions
Modelling thinking.
EYLF Outcome 5
Children use ICT to access information, investigate ideas and represent their thinking
This is evidence when children:
Identify the uses of technologies in everyday life and use real or imaginary technologies as props in their play.
Use information and communication technologies to access images and information, explore diverse perspectives and make sense of their world.
Use information and communication technologies as tools for designing, drawing, editing, reflecting and composing.
Engage with technology for fun and to make meaning.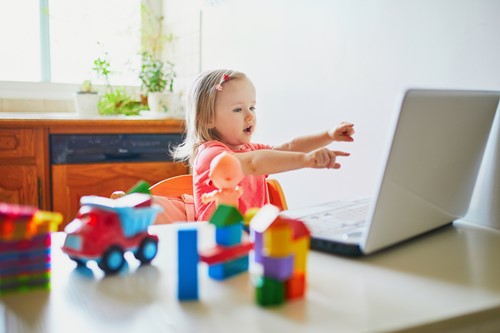 FREE ONLINE PF FOR EARLY CHILDHOOD EDUCATORS
INTEGRATING TECHNOLOGY IN THE KINDERGARTEN CLASSROOM
Learn to successfully achieve the EYLF outcome 4 goals and the learning outcome 5 in relation to technology integration today.