By Michael Hilkemeijer
Play based learning in early childhood education is a widely accepted practice in the early learning environment today. It provides opportunities for children to actively and imaginatively engage with people, objects and the environment. As an early childhood teacher, you could construct opportunities to play within your learning environments, make connections between play and the Australian Curriculum and EYLF, for example, and actively engage in and guide the play. The role of new digital technologies in this learning environment is significant.
Early Childhood Pedagogy
Digital play in the early years amplifies the need for children to work more consciously with the rules and roles designed into apps, thus creating new possibilities for complex play (Fleer, 2014).
Through the successful integration of digital play in the early years learning environment playful explorations can be supported with new media and interactions with adults/practitioners that provide context for dynamic opportunities for teaching and learning with digital technology in early childhood education.
However, while digital technology in preschool or other early learning environments may extend play experiences it is essential that you scaffold learning so that its use is articulated and represented by the children in a variety of modes (Yelland, 2011).
Additionally, it has been proven that 'sustained shared thinking' may be especially valuable to young children's early learning with digital technology in early childhood education. It has been defined as an effective pedagogic interaction and we provide key examples of this in our online training for early childhood education.
If you want to start making an impact today a study (Fleer, 2014) that focused on a number of case studies pointed the digital pedagogies that were successful. There were:
Technological intersubjectivity – do you have a shared understanding of digital technology between yourself and the young children in your care?
You need to be responsive and sensitive to what the children do with the technologies and only prompt them as needed to help build a shared understanding.
Distributed technologies – do you distribute digital technology across time and space?
For you, this means building a complex and distributed conceptual framing of interlinking activities where digital technology is embedded.
Technologically framed narratives – technologies hold together ideas and content in the form of a conceptual whole.
You use digital technology to hold together concepts and content in the form of a narrative. This way you support the collective creation of the narrative.
Prior experiences are infused in the technologies – technological activity is imbued with possibilities for connecting with and using prior experiences.
This is when you as the teacher open up possibilities for children to use digital technologies by first allowing them access to the digital devices, then moderating teacher control, and then finally choosing software designed to allow children to give them full control over the technology/software/app itself.
Virtual placeholders and digital pivots – actions and content are captured in digital form that can be used as a pivot for abstracting.
As a teacher, this means supporting children to capture everyday life through selecting appropriate apps, where imaginary situations are created, but also where apps can augment reality and give new play conditions to children.
Examples of Digital play based learning
"Learning opportunities for children are shaped by pedagogical considerations made by practitioners. These considerations include appropriate selection of resources. With the rapid evolution in technological developments, consideration of appropriate resources for use by young children is vital both in research and practice" (Arnott, 2017).
In our online pd for teachers, we introduce you to researched-based theory on key examples of technology in the preschool classroom.
As technology in early childhood education can be defined as being both digital and non-digital this would include one the best types of technology for preschool such as child-made technologies, toys that resemble real-life digital technologies that young children may be familiar with, non-working digital technologies such as laptops and keyboards, and then there is working digital technology that young children have observed the people around them use everyday.
Why join our play based learning online course?
You will learn how to support play based learning in early childhood education with digital technology that will respond to a child's capabilities and learning needs.
It will enable you to promote digital literacy in early childhood education too.
What is digital literacy in early years?
Digital literacy in early childhood education is about considering the use of digital technology in early childhood education for the early acquisition of digital skills to be part of young children's communication development.
The position statement from Early Childhood Australia, the main governing organisation in Australia for young children in education, titled "Statement on Young Children and Digital Technologies" clearly outlines how digital literacy can be achieved in the early years through four aspects of digital play – Relationships; Health and Wellbeing; Citizenship; and Play and Pedagogy.
For young children, it means developing skills in the use of images and sound to convey information, ideas and feelings about themselves, their activities, and their environment using electronic media. They will begin to develop skills to organise and analyse information.
Throughout our online pd for early childhood teachers, you will be introduced to digital literacy activities for 3-5 year olds such as being able to use digital technologies for designing, creating, drawing, reflecting and composing in meaningful play based learning in early childhood education.
Other ways to support play based learning:
Providing digital resources that are age appropriate and reflect children's technology interests, knowledge, strengths, abilities and culture to stimulate and support digital play in early childhood education;
Planning play experiences based on the assessment of children's technological capabilities, interests, developmental needs and abilities;
Observing children as they play to assess discrete ICT skills and capabilities and also so that you understand how they play with other children around technology and what ICT activities for preschoolers can strengthen their ICT skills in play;
Joining in children's digital play in early years experiences so that you can extend the child's digital learning and to model ICT skills in addition to reasoning, appropriate language, and positive behaviours.
How to learn more today?
In times when the cost of living is increasing, our ICT in Education Teacher Academy delivers online pd for teachers in early childhood education that promote a play based learning philosophy.
As a member of the Academy, you will only monthly which allows you the luxury of cancelling anytime you want.
Currently, you will pay just under $39 AUD per month.
That is at least $39 for 30 plus online courses with a value of over $5000!
Imagine the possibility of this occurring whilst learning all you need to know about ICT in early childhood education.
If you are unsure, why not start with our free online professional development for early childhood educators
Why pay $300 AUD for just 1 course when you can pay $39 AUD for over 30 online pd courses for teachers.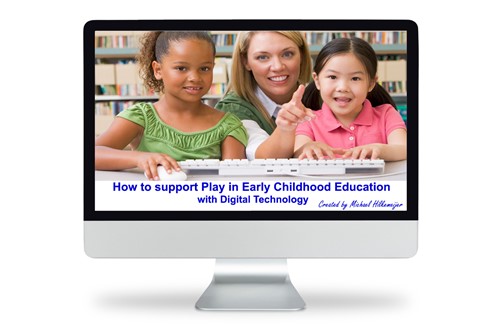 MEMBERSHIP IS $39 AUD PER MONTH (current price)