By Michael Hilkemeijer
This is an excerpt from my online pd for early childhood teachers about "How to support play based learning in early childhood education with digital technology". You can enrol as a stand-alone course for just $360 AUD or become a member of our ICT in Education Teacher Academy and get instant access to this course and 40 plus other courses and webinar replays for just $43 AUD per month.
The focus of ICT in Early Childhood Education has today shifted to distinguishing between digital and non-digital technological resources.
However, ICT is very much a part of our society and it will continue to be a significant presence in children's learning environments throughout their schooling and into their adult lives. These technologies are having a profound effect on young children and like the people in their lives, take technology for granted.
That is why it is important that young children begin to develop their ICT capability and digital literacy in early childhood learning activities.
In this video, I will show you how you can understand children's technological development and the best practices to support this in order for you to learn what research says about the role and impact of ICT use for children's learning, play and development.
Understanding Children's Technological Development
It is important that you understand as an early childhood education practitioner children's technological learning and development and can therefore, plan to support it. As a starting point, follow these steps:
Whenever you introduce new digital technology, it is imperative that you provide the children with the opportunity and time to explore it for themselves. This will enable them to determine how it works, to play with it, and to learn with it.
Secondly, you must use digital technology across the curriculum in different contexts and for different purposes. This will not only allow for the transfer of capabilities and skills in ICT but will facilitate and support the development of Digital literacy which is best developed in meaningful contexts. This needs to occur until they develop the ICT potential of things, and acquire the disposition to construct ICT solutions to problems of their own conception, which are appropriate to the context and are based on the knowledge of the opportunities and limitations offered by the digital technology.
You must also proactively encourage the exploration of new digital technologies and support this process with open-ended questioning so children can develop an understanding of not only how the digital technology works, but also how they can use it in a meaningful and purposeful way that is responsible and safe.
Finally, plan activities that use digital technology/ICT that adhere to the Developmentally Appropriate Technology in Early Childhood (DATEC) 8 principles and develop an early learning environment that will facilitate and empower young children to make decisions about when it is appropriate to select and use the digital technologies available to support and enhance their learning.
The effective use of ICT pedagogy in early childhood education will enable children to become digital creators and to use ICT as a tool for problem-solving. It will empower them to make choices about their use of digital technology and to have the confidence to articulate the reasons for those choices.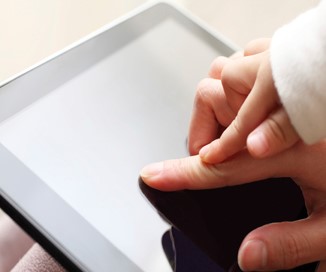 Supporting technological learning and development
The issue of supporting learning is of fundamental interest in pedagogical thinking. Research has suggested (REPEY) that 'sustained shared thinking' is the best approach for adult-child interaction. It stated that such an approach would be identified as sustained verbal interactions that moved forward in keeping with the child's interests and attention" (Siraj-Blatchford J. & I., 2006, p. 155). Though initiation of this practice commonly occurs in practical activities in the early learning environment, it can also occur in the context of children's use of ICT and digital technologies.
Today, children's ability to develop ICT capability via play based learning in early childhood education has often been ignored or suppressed in school classrooms rather than supported and respected. Yet confidence gained from playing with ICT will suport the development of Digital literacy as the child gets older.
ICT capability is more than a set of techniques. To be ICT capable is not merely to have a secure knowledge and understanding of a wide range of ICT skills.  You need an awareness of this knowledge base so that effective choices can be made.
It consists of five key components and includes routines, ICT techniques, processes, concepts and higher order thinking skills. Here is a brief example of each.
Routines – how to use a graphics tablet. It is impossible to achieve a high level of ICT capability without this content knowledge.
ICT techniques – inserting a photo into a document.
Processes – a series of ICT techniques used to produce a solution of some sort.
Concepts – conceptual understanding underpins every ICT technique and would include basic terminology/shared vocabulary that enables children to communicate effectively and understand what is required of them.
Higher order thinking skills – it is in using these HOTS in order to make choices as to how to apply the ICT techniques that they have learned, that enable them to execute the process, and in doing so the child demonstrates their ICT capability. This is where children clearly demonstrate an understanding of what they are doing and select the appropriate resources, routines, techniques and processes to obtain the desired outcome.
40 Plus Online PD for early childhood teachers - Become a member of our ICT in Education Teacher Academy. Get instant access to current and new courses, webinar replays and all of the other teaching resources for preschool teachers that I can throw in.
A standard course enrolment is $360 AUD, but you can become a member now for just $43 AUD per month.