By Michael Hilkemeijer
Educational leadership vision plays a key role in transformational change. However, change within the classroom is never easy. ICT integration is not a straightforward process and it requires educational leadership vision that will drive its implementation and make an impact on student learning.
This is what effective educational leadership in ICT is all about. The vision statement that you and the other members of the committee have set for the school should form the foundation of this visionary in education. As an educational leader in ICT, it should ground your perspectives and values in the use of ICT integration.
If you are a technology visionary in education, then this is how you can gain further expertise in order to point your colleagues towards the right strategies for technology in the classroom.
LEARN ABOUT:
Communicating effectively as a school technology visionary
3 Ways to develop your vision statements for schools
Visionary leadership in education needs to be coherent if the seeds of change are to germinate. Educational leadership and technology integration also need to ensure that student ICT capability is achieved and sustained.
In 2006, ISTE released its standards for administrators which highlighted just exactly you can achieve a shared vision. Having a shared vision of what it means to integrate ICT and be ICT capable is what also what was emphasised in Kennewell's (2000) studies on ICT capable schools. He stated that the "process of developing ICT capability can never be complete" (p. 16).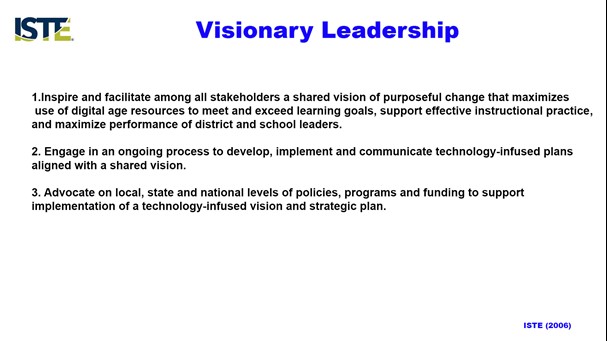 Being a true visionary is about having a definite idea of what should take place with technology solutions for the classroom. These technology solutions must be about the here and the now of the available technologies and not about the next big technological development that you hope will solve your ICT problems. For this to occur, it requires you to have a thorough understanding of the current environment. Gather the data you need to support your quest for ICT greatness at the school. 
ICT capability can only be achieved if students use ICT tools and resources in purposeful activities of meaning context. This should be included as part of your vision. 
Failing to have a shared vision in what it means to integrate ICT and be ICT capable could result in a series of "good enough" decisions that would merely just satisfy the present needs without planning successfully for the future. This is not effective educational leadership in ICT. Educational leaders that will neglect to involve staff in the vision will not achieve a coherent vision of ICT integration throughout the school.
As more schools invest in ICTs for their students and staff, this could be a fatal mistake as schools that do this become stronger in their economic competitiveness and this could leave all make them a threat to your school's success.
Your vision should include (Grady, 2011, p. 17): 
The leadership the principal exerts on ICT integration into the teaching and learning process;
The role of teachers in integration of ICT into teaching and learning activities;
The standards that will guide the ICT plan for the school;
The measures that will be applied to assess ICT use;
The resources that are necessary to enable effective use of ICT by students and teachers and;
The communication with families and community members to showcase the use of ICT to facilitate student learning and achievement.
Having not a vision but a shared vision of ICT integration and what it means to be ICT capable is tough. Even harder is being able to manage to this vision. However, it is possible. It may take years until you know whether the ICT the school invested in was the right one.
To be a good visionary in ICT in education, you need to be smart and fearless. You also need to have a strong opinion today about where the world is headed and then, make the appropriate decisions and choices to the point where you will be able to determine if they were a success or failure.
Educational Leadership Resources at Teachers Pay Teachers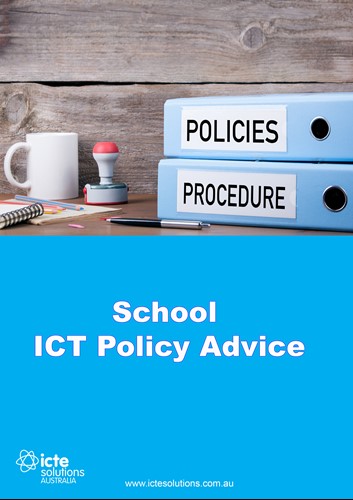 Two other qualities of visionary leadership in education would include:
Community builder – this is part of what I was discussing earlier. An educational leader who is a community builder knows that they cannot implement the school's vision in ICT alone. There is an understanding that high-functioning teams are essential, and that a healthy community will contribute to retention, stability, and investment.
Emotional intelligence – this is the ability to understand and manage other's emotions as well as your own. They are calm, grounded, and empathetic. This enables them to take care of themselves and to manage stress, health, and relationships well.
Effective educational leadership in ICT is about ensuring that the school's vision is achieved and sustained. It is about you as the educational leader promoting the use of technology in the classroom and leading by example in front of your colleagues and staff.
Join other educational leaders in our NESA and TQI registered educational leadership professional development online today. Along with gaining additional expertise in ICT leadership, you will have access to our educational resources for free. Build your capacity in educational leadership and technology integration now.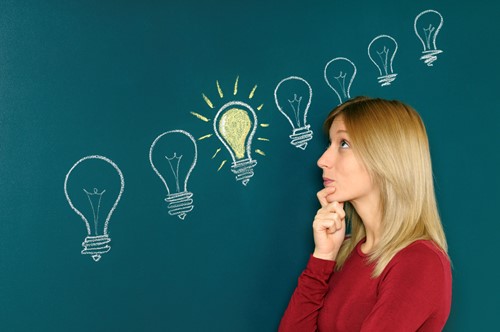 The Change Equation
Promoting a lasting change in the classroom is difficult when many teachers are reluctant to shift from their tried and tested methods. However, must occur and this why effective visionary leadership in education must prevail in even the most disadvantaged schools where technology integration in the classroom can begin with a single computer.
Visionary leadership in education plays a key role in the change equation:
Dissatisfaction with the current situation  x a shared vision of the future   x knowing the first steps  > resistance to change
As you can see, your vision of where ICT fits into the school curriculum takes part in establishing a secure place for ICT at your school.
What can you do?
You need to know where you want to go and unite the team behind your vision. It would also be beneficial for you to create in the minds of the people whom you work with the need for this change to occur. Good visionary leadership in education is about valuing teachers and their professional growth by sharing your vision with them and leading the change at your school.
It is essential that you establish a vision and implement a strategic process that promotes a lasting change in teaching and learning with ICT culture that provides students with essential capabilities in ICT. The change equation has indicated also the path to resistance, so ensure that they are all placed on the table. Any fears and misconceptions need to be aired out so that you can begin to establish your vision for ICT integration in the classroom and improve the numeracy facets of your visionary leadership in education.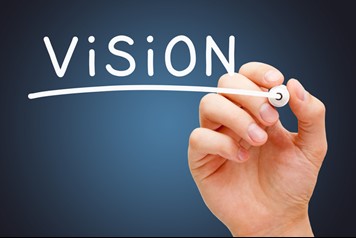 Understanding Vision
To advance in the 21st century, schools need visionary leadership that have a clear and understood ideal. Those that do set and gauge efforts by their teachers to achieve this vision. It is a way for the school to reconnect to an increasingly alienated public.
Earlier, I discussed the importance of visionary leadership in education in terms of improving the attainment levels of ICT capability and technological literacy. In this article, I will delve into this more in terms of what you need to do be more effective in your role as an educational leader at your school.
So what is a visionary leader in education? They are people who:
Able to change the character of their schools and gain reputations as outstanding leaders;
Are recognised as successful because they lead schools with a sense of purpose and dedication and;
Act to attain their ideas.
They are what I discussed earlier, they are highly motivated to be effective in their roles. Additionally, these people share their vision and support their staff to make it happen. These are the qualities of an effective visionary leader in education.
How do visions develop?
It is the belief that visions develop as a result of articulating a statement of beliefs and then implementing it. Other studies have opposed this and have suggested that vision is more of an evolutionary process (Education World). As a result, they require continuous reflection, action and re-evaluation.
For your vision to become a reality, both talk and action are necessary. There have been instances where schools have failed in their vision as a consequence of too little discussion. No matter how experienced the staff may be, without examining the vision and interpreting the same way there will be faults in the school's plan.
How Educational Leaders can become visionaries?
There are many reasons why visionary leadership in education is imperative a 21st century ICT-integrated society. Many of these I have discussed above. However, it is just as important to create connections to your staff if you are to support the vision that you have for the school.
"The most important judgement about the worth of your school will be the changes it brings about its pupils over time. These may be viewed in terms of attitudes, behaviour, respect for elders and property, but mostly by the knowledge and learning children have gained." (Harrison)
This leadership course for teachers and educational leaders guides participants through the process of vision and mission statements. Participants learn how to involve their staff in bringing meaningful change to their school by ensuring that everyone plays a key role in developing the vision and mission statement.
Your teachers are one of the key stakeholders of the ICT policy so it is important that they have a sense of ownership in its development. Therefore, all staff should clearly be involved in the discussion leading to the production of a new ICT policy.
How do you facilitate your vision?
Having a shared vision is one thing, however, you remain the key player to expedite the entire process.
"Do not assume that by arranging full staff meetings whereby an ICT policy will be produced onto a blank sheet of paper will be effective. Nor will writing and presenting a policy as a fait accompli will not have the support of many staff."
It is also essential that you institutionalise the vision because no matter how inspiring it may sound on paper, the vision or dream will die unless it takes concrete forms in your school ICT policy.
You need to remain focused also on what the vision mission means in classroom terms because it will be your staff who will be carrying out the vision in practice and they require all the support that you can muster for them.
So what are you waiting for? Build on your visionary leadership in education today and learn more about our ICT Leadership course for Teachers now.