In the 21st century, the rapid pace of the production of information has meant that those who wish to thrive and survive in their profession need to do what they can to keep up-to-date with the latest developments and research. The many changes are occurring in society place a lot of pressure on many industries including the education industry. This is because schools have always been charged with the role of preparing students for a life in society. Today, as schools continue to struggle to keep up with the demands of society, the catalyst for many changes that are occurring and the driving force for the mass production of information, Information and Communication Technology (ICT), has firmly made its mark in the education of students. For teachers of today and tomorrow, taking part in professional ICT development opportunities that will help them utilise ICT in their classrooms is vital. Professional ICT development for teachers will help teachers to continue to be the catalyst for change in schools and transform their teaching practices in such a way that will prepare students for an ICT-integrated society. Professional ICT development, therefore, needs to be effective and the people who provide it need also to be well-skilled in the integration of ICT in school curriculums. At the end of this paper, such issues will be discussed in addition to the role of professional development today and the key elements and factors in conducting active professional ICT development for teachers.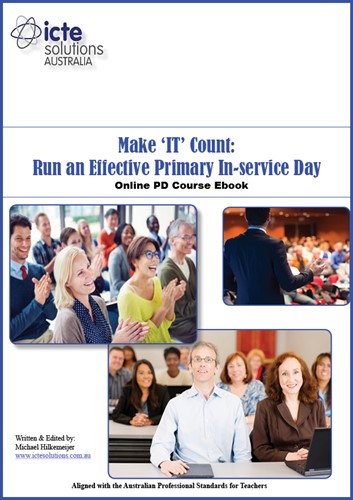 Professional Development
The advancement of a person's skills or expertise through continued education, in order to be successful in their profession, is increasingly becoming more common today (Aussie Educator, 2015). We live in a fast-changing world where a decade ago, no-one would have heard or known about any of the professions that exist at present. That is why professional development is so important. In every profession, regardless of what you do, keeping up-to-date is vital to your future success.
Professional ICT development
Information and Communication Technology (ICT) is now one of the building blocks of society (Anderson & Weert, 2002). Permeating all aspects of society including education, ICT has the potential to transform the nature of education, specifically where and how the education of students will take place. However, if the benefits of ICT are to be reaped in education then pre-service and in-service teachers need to have the skills and competencies (Resta, et al., 2002). The powerful tools that ICT provides are catalysts for change in that they transform the teacher-centred and text-bound classrooms into technology-rich learning environments that are predominantly student-centred. Schools need to embrace the new and emerging technologies and appropriately use them as tools for learning (Resta, et al., 2002).
Professional ICT Development in Primary Education
With the majority of student progression in ICT capability lying within the realms of primary education, professional ICT development for primary teachers is essential. Without the proper training, teachers are likely to teach ICT capability in a haphazard way with students receiving little benefits from their learning.
Now you have learnt what we believe makes effective PD in ICT, why not try a sample and enrol in our top PD today or click the button below.