Outdoor Classroom Day approaches again on May 21. This is a global movement to encourage and inspire outdoor play and learning. While there is a false dichotomy between ICT/technology and outdoor environmental education, there are many overriding reasons why I would suggest that technology and outdoor play work fantastically well.
Throughout this article, I will put all your qualms aside to do with the use of technology in early childhood education outdoor activities. Many of these you can use as outdoor classroom ideas for other days of the year as well.
Are you ready?
You will learn the following:
Planning
Managing technology outdoors
The role of adults.
Starting points
Choosing technology
Activity ideas for children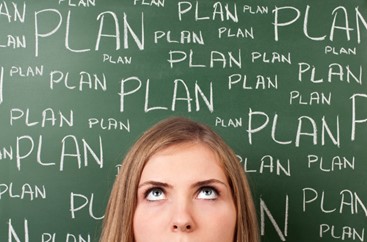 Planning – Are Technology and Outdoor learning environments compatible?
It is essential that when you begin the planning process that you consider the outdoor learning opportunities first then look for ways in which technology can enhance these learning experiences.
In terms of compatibility, consider the following:
The use of space – young children need the freedom to move around and be physically active.
The use of time – young children are very spontaneous and so it benefits them if their play is given this choice. It also means providing them with opportunities for collaboration and creativity, two key aspects of technology use in early childhood education.
The use of quiet – you mustn't forget that young children require a space where they can just sit and talk to a friend and even to reflect on things.
Challenges for young children – allow them to be intellectually challenged and become autonomous users of ICT in their outdoor learning activities.
The use of technology in early childhood education can be of much benefit to young children in outdoor activities.
However, it is important to ensure that its use is compatible with all the above points.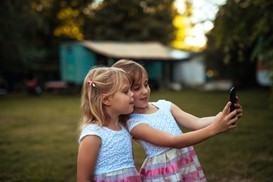 Managing Technology Outside
In addition to the above planning points, you also need to be sure that you can manage the use of technology outside.
Here are some points to consider:
Show children where to find ICT tools and resources even something like a technology toy.
Show children where to return these resources.
Model the use of ICT tools – not just of collecting ICT tools, but also how to use them as well. Encourage children to do the same as you.
Remind children in their play about the technology that that is available to them and what might be a useful tool to add to their play.
Remember that using ICT outdoors is NOT about quantity or flooding a space with technology. The use of technology in early childhood education for outdoor activities is also NOT to do with repeating the inside provision outdoors.
Using ICT outdoor IS about observing children's play with ICT tools, selecting carefully and planning for quality experiences.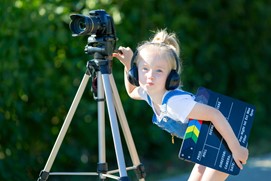 Adult Role in ICT use outside
You have a pivotal role when using technology in early childhood education. When young children use ICT outdoors, it is up to you to make sure that they are making the best use of the outdoor provision.
You need to:
Offer a range of ICT experiences and resources which you can monitor regularly and refresh at times to keep them safe and stimulating.
Listen in to the children's interests and interact with them to support and extend their learning and development.
Respond accordingly to their observed interests in anything to do with the ICT tool or resource.
Constantly evaluate their provision to ensure that everything is of highest quality.
Support their confidence with ICT as well as their developing ICT capability.
Your Starting Point
The best advice that I can give you here is to start with an ICT tool which you and the children are familiar with.
Option number 1 for instance could be a digital camera. This could either be a stand-alone camera or if your school or centre has tablet computers (iPads for example), laptops with cameras or even old smart phones with digital cameras.
Can you imagine the potential for learning with these mobile learning ICT tools?
Whichever camera you choose, it should be possible to share it with the children or for them to have their own camera.
Outdoor Activity ideas for Preschoolers
Here are some outdoor classroom day ideas for you to get started.
You could ask the children to take a photo of their most favourite place in the outdoor area or the place they like the least – a strategy could be to print them off and put them onto the snack table indoors for commenting on and opening up discussions.
Children could photograph their friends – make a photo album with the children playing outside. An idea would be to get the children to mark off on the register when they have taken a photo of a friend and then use this to count how many photos have been taken.
What about taking photos of natural objects – make a collection and watch the spontaneous playful activity unravel into a more developed experience of art.
Record their own visits with a digital video camera – children can achieve this and then you can help them to put it into a single movie using software such as Photo Story or even PowerPoint.
Choosing Developmentally Appropriate Technology in Early Childhood Education
When choosing what type of tech for outside defunct technology works really well. Place a large box, if you have one with wheels it is better, and fill it with old technology that no longer works.
It could be:
Laptops
Keyboards
Microphones
Mobile phones
Mice
Remote controls
Printers
ICT Teaching strategies in early childhood
Have a conversation about the old technology and why it is okay to it in play.
You will need to regularly check the ICT tools and resources for health and safety.
Make sure that they have plenty of space to take things out of the box.
Another tech could be 'created technology' and 'programmable toys.'
Working technology is also appropriate for supervision.
ICTs play a significant role in children's lives and the lives of their families.
Children need to learn how technology in society affects their lives through role-play and outdoor play is a great time for this to occur.
ICT can undoubtedly be integrated into outdoor activities. ICT is much a part of a child's world as literacy and numeracy.
With Outdoor Classroom Day coming soon, perhaps it is time to see what the children are capable of in terms of their use of technology in their imagination.
How to get Kids outdoor with Technology
When we all live in a world dominated with Information and Communication Technology (ICT), technology such as smartphones, tablet computers, and laptops can help young children this Outdoor Classroom Day. Exposure to nature is important in such a world and it can bring many benefits to not just the children but to environment as well.
So how can technology enhance children's direct exposure to nature? Well, the following Outdoor Classroom ideas are for year 2 children and above.
Project Noah: This website allow children to report sightings and share pictures for a variety of projects or missions that help scientists across the world.
Application: A nature walk is fun and exciting for children. You could have them take photos with the digital camera of organisms along the way.
iNaturalist: This ICT tool allows children to submit photos of plants and animals that they cannot identify. Scientist from around the world will conduct the identification for them once they submit it.
Application: You can coordinate a school wide bioblitz. It may be an attempt to record all species in an area.
Project FeederWatch: This website will supply your class with a research kit containing a bird identifier and calendar to report your findings.
Application: Observe birds throughout the year and determine which species are most common during each season.
These are just some Outdoor Classroom ideas that you might expand or alter to your needs.
What Tech works outdoors?
In previous blogs, I have mentioned that a variety technology in early childhood education. The following are some outdoor classroom ideas for preschool when it comes to deciding what to bring.
Defunct Technology – this fits really well into outdoor activities. Bring a large box filled with old technology that no longer works such as keyboards, mice, microphones, webcams, remote controls, phones, and old smartphones too.
Application: Have conversations with the children about this being old technology that does not work anymore. Ensure them that it is alright to use it for play. Check the technology for health and safety first.
The advantage of this is it doesn't matter what happens to it. It can break and be thrown away at the end of the day.
Remote controls and programmable toys – Beebots are programmable toys that can be used outdoors as they take full advantage of the space. You will need a mat as they are not wholly robust.
Application: Try making cardboard boxes beehives for the beebots to live in. Flowers in pots can be put nearby for the beebots to come out and visit.