By Michael Hilkemeijer
One of the best approaches for integrating technology in the kindergarten classroom is when early childhood teachers effectively plan to ensure that ICT is viewed by children as a tool to support and enhance teaching and learning in early childhood education learning activities.
Integrating technology in the kindergarten classroom involves the use of computers and other ICT tools and resources. Each one of these should enable children to have full control over and develop their ICT capability.
Technology in kindergarten classrooms 
Computers
Through the use of computers, children not only develop important routines and ICT techniques in ICT capability such as keyboarding skills and functions, but also have access to generic applications that further promote the development of ICT capabilities such as Word Processors, databases, spreadsheets and drawing and painting programs. They also have to access to the Internet and the WWW at their fingertips where they can look for things of interest to them such as pictures of animals or people to learn and discover.
Tablet computers
With tablet technology in kindergarten such as iPads comes benefits such as having access to digital cameras and recorders. Children can move around with them taking photos and videos of events and objects. Each one can then be uploaded onto creativity apps that allow for video and photo editing. This is good for children who may find expressing their thoughts in words difficult. A visual story can be created by them to communicate their story. There are also many apps that are educational but must be chosen carefully to ensure that they meet the requirements needed for learning and development of children in ICT capability.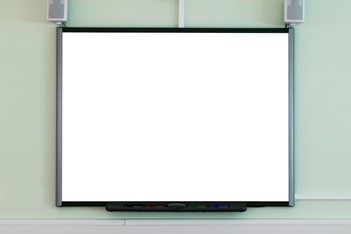 Interactive Whiteboards
While this is a form of kindergarten technology, IWB does not actually aid in the benefit in the development of ICT capability. They can be used in conjunction with applications that can, however, such as MS Word and drawing and painting programs. There are many different types out there that can transform your kindergarten technology lessons.
Programmable toys
Beebots is just one example of technology in kindergarten that allows children to learn how to code or program. If you take them outside it would be good to take the mat with you as they don't go too well on rough surfaces. Children can learn how to direct them where to go and they can create stories and other creations to go with the beebot.
Defunct technology
Having non-working technology in kindergarten classrooms can bring many benefits to your kindergarten technology lessons. They can be taken outdoors without fears of them breaking and when they are incorporated into role play it can serve to promote the learning of ICT in their lives.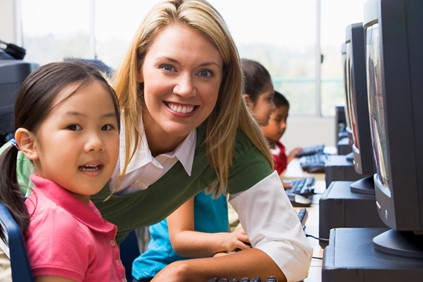 The How-To of Tech Integration
Earlier I pointed out that the best technology in kindergarten classrooms are those that develop ICT capability. However, it goes much further than this as this can only be achieved by making sound instructional decisions to employ evidence based teaching strategies in early childhood to promote the notion to children that ICT is a tool designed for a specific purpose and to withdraw from them the gesture of taking technology for granted.
ICT capability can be developed in early childhood learning activities if technology in kindergarten classrooms meets the following requirements.
Give children full control.
Promote a higher level of decision-making on behalf of the children.
Intellectually challenges them and;
Content-free.
The importance of technology to the learning of young children comes down to ensuring that they understand the role and potential of ICT in their lives and that they become proficient users of ICT.
Understanding how to use technology in kindergarten classrooms begins with your ability to ensure that this occurs.
*** Check out our Technology Lesson Plans for Kindergarten here *****
Digital Role Play with ICT
When you incorporate ICT seamlessly into role play, you can open up a whole range of opportunities for learning. It is an opportunity for children to learn without failure.
It is important that you plan challenging and stimulating role play that builds on a child's technological literacy and ICT capabilities. You need to provide them with a secure environment with effective and sensitive adult support in which they can take risks and make mistakes without fear of failure. So they need time to explore new technologies and learn to use them before being expected to use them for a common purpose.
For example, you may give them a digital camera – stand-alone, or from a mobile device like a tablet computer or mobile phone – allow them to use it for their own purpose before you actually step in. Give them the chance to take photographs of their own choosing. You could also set up a simple scenario that allows them to explore the use of the digital camera. Such teaching strategies develops and builds their confidence and competence to use it successfully.
Integrating technology in the kindergarten classroom is largely about the digital play, but you can support them by asking open-ended questions. Such prompting of questions provides children with a tool to understand how the technology works and why we use it.
"What would happen here if I pressed this button?"
"How can we make this programmable toy more here?"
"Can you find a way to record a message?"
"What could we use the walkie-talkie for?"
"How does the metal detector work?"
You need to involve yourself in children's discussions and encourage them to tell each other what they have found out or describe their experiences. Teaching strategies like this facilitates a child's reflection on their knowledge and practice on new vocabulary.
It is essential that you as the early childhood teacher provide a positive role model for them when integrating technology in the kindergarten classroom.
Using technology in the kindergarten classroom not about simple exposure to it. It is about broadening a child's technological literacy and ICT Capability with high impact teaching strategies with technology in the early learning environments that include embedding formative assessment strategies to make informed and sound instructional decisions.
Technology Integration in ECE
One of the many concerns relating to technology in kindergarten is the lack of financial resources. Yet, there are many ways to overcome this hurdle and you will learn some of them in the following paragraphs.
Hi! My name is Michael and I am your Technology in Kindergarten consultant. Welcome to an inside look at our accredited online course for kindergarten teacher where I will give you the expertise you need when integrating technology in the kindergarten classroom.
Today, there is a lot of ICT/technology in kindergarten research that covers not just kindergarten but preschool, childcare and early primary teaching. This has become part of my past time after teaching technology for 10 years.
One thing that has become particularly clear is that if early childhood teachers want to provide productive and authentic experiences when integrating technology in the kindergarten classroom, then professional development that promotes and supports teachers to become conscious of the kinds of learning interactions they would like to occur within the context of ICT is essential.
Our online PD for early childhood educators follows the recommendations made by this research and delivers early childhood pedagogy that supports these technology learning interactions. 
Integrating technology in the kindergarten classroom today should follow these guidelines laid out in the research and support the development of ICT capability for both children and early childhood practitioners.
Key issues addressed
Empower the children in your care with these ICT teaching strategies for kindergarten today.
Teaching strategies for kindergarten
Learning how to teach technology to kindergarten children is not about teaching ICT skills. Not all of us are tech-savvy teachers and let's face it, we will never be able to keep up with technological developments. It is about making instructional decisions based on evidence based strategies for teaching with technology. Teaching strategies for kindergarten that develop ICT capability in the learning and play activities given. We recommend kindergarten pedagogy such as the following:
Strategies to support digital play;
Stimulating and structuring ICT learning;
Developing autonomous users of technology;
Scaffolding in early childhood education;
Using assessment to develop teaching strategies.
Finding the appropriate technology to use
As I mentioned at the beginning, financial resources or lack of them is one of the many issues when using technology in kindergarten. Here it is important to understand that integrating technology in learning environments is not about waiting for the next big technological development to come around and solve our problems. This also creates many more issues such as time for practice, reflection and evaluation. We encourage using technology in kindergarten that comes from alternative sources such as the community and that also develop ICT capability.
Establishing a baseline for child ICT learning
When using technology tools for kindergarten learning and play activities, it is important that you first learn of what a child's home experiences of technology are. Building on home experiences is significant as most children will enter your learning environment with varying degrees of technology literacy. So understanding where they are in their ICT learning journey will help you to plan for learning progression from the beginning. We recommend technology teaching strategies such as the following:
Observing children play with a range of technology.
Talking with parents on a regular basis.
Listen to parents' stories about their children's experiences of technology at home.
Developing child Technology Literacy
There are many different types of technology used in kindergarten and while we do encourage the integration of all appropriate technology, throughout our online PD for early childhood educators we promote using technology in kindergarten that develops and supports child ICT capability. This is to help you prepare young children for their transition into the primary sector thereby ensuring that learning progression continues. Such technology tools for kindergarten encompass the following attributes:
Content-free and generic;
Affordable and widely used;
Promotes the development of higher order thinking skills as children are able to decide on ICT skills to use;
Challenges children intellectually and importantly;
Keeps the children in full control of the technology.
For us, integrating technology in the kindergarten classroom is about developing ICT capability throughout learning and play activities. It is about making the technology tools for kindergarten students transparent in their use during early childhood education activities by using teaching strategies for kindergarten that promotes the notion of technology in the kindergarten classroom as a tool designed for specific purposes.
Here are the steps that you need for when integrating technology in the kindergarten classroom:
Conduct a thorough analysis of the situation - including your own situation;
Embed formative assessment strategies in early childhood practices to establish a starting point and to make continually improvements to your teaching practices;
Select developmentally appropriate ICT tools for learning;
Make sound instructional decisions that will build on a child's technological literacy and ICT capability - teaching strategies for kindergarten and preschool;
Facilitate progression in capabilities in ICT/technology.
To learn more about effectively integrating technology in the kindergarten classroom, visit this page now.
View our range of online professional development courses for teachers in Early Childhood and Primary Education now.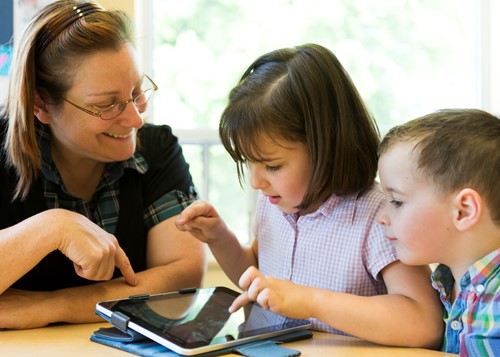 ICT Teaching Methods for Kindy Teachers
As a kindergarten teacher, you will play an integral in the development of ICT capability and technological literacy in early childhood development. To build these foundations, you must implement ICT teaching methods that challenge children to express themselves while learning.
Teaching technology in kindergarten can be made easier once you follow make the right instructional decisions as outlined in this online workshop for kindergarten teachers. Here are some ideas on effective ICT teaching methods in kindergarten that you can use today.
Cooperative Learning
The use of Information and Communication Technology (ICT) naturally brings young children together around a device. Cooperative learning works well in this situation as it is a teaching method in kindergarten that groups young children into pairs or small groups. In this situation, you can pair them in terms of different ways such as their ICT capability, sex and so on. We go into this more in our workshop for kindergarten teachers.
This ICT teaching method in kindergarten promotes peer-to-peer respect – an aspect covered by the Early Childhood Australia. It also develops understanding of other's interests, skills and needs when using technology in the kindergarten classroom.
When teaching technology in kindergarten it would be important for you to monitor the group activity and intervene when necessary to clarify instructions and demonstrate good team behaviour.
Hands-on Approach
This is a great ICT teaching method in kindergarten that encourages young children to learn by doing by example. There are many ICT techniques and skills to learn but it is important to demonstrate these appropriately so as to allow the children to understand the concepts behind them. This is what facilitate the development of their ICT capability.
The Digital Play method
Young children also learn when they play with technology so when teaching technology in kindergarten becomes appropriate there are ways to ensure that young children will learn in a safe environment that provides them with ample opportunities for digital play. Digital play is encouraged in the EYLF learning outcomes and we outline what you can do in terms of ICT teaching methods in kindergarten in the workshop.
Role play is one of the best ways for young children to learn about technology in their environments. It is learning without failure. It is important that you give young children the time that they need to explore any new piece of technology that you introduce to the setting. If it is a digital camera is may be to allow them to use the camera for their own purpose.
FREE Online Professional Development for Early Childhood Educators
How to Integrate Technology in the Kindergarten Classroom?