By Michael Hilkemeijer
What are the benefits of ICT in Early Childhood Education?
The following 10 reasons will highlight the advantages of ICT in early childhood education:
LEARN ALSO ABOUT:
ICT Teaching strategies in Early Childhood
Creativity with ICT in Early Childhood
ICT Tools in ECE for Literacy and Language Development
Importance of ICT in Education
Top benefits of ICT in early childhood education today:
Reason 1
Firstly, young children are already being exposed to ICT tools and as such it already has an effect on them and on the environment and people that surround them.
ICT tools are becoming a ubiquitous component of the physical and social world. It is an important part of the private and work-life of most people, including young children.
Reason 2
This relates to the many opportunities and potential ICT delivers to the teaching and learning of the curriculum.
In early childhood, it can:
Support and enhance learning and play experiences.
Support and strengthen your professional learning as an early childhood teacher.
Support and strengthen your relationships with parents and other people connected to your early childhood education centre.
Many curriculums are now supporting the integration of ICT across the education sector from early childhood to tertiary.
Research shows that the delayed attention to ICT in early childhood has given the sector an advantage that while in the past attention has been given towards getting ICT infrastructure into schools without pedagogical support, the reverse is now occurring.
Reason 4
ICT supports metacognition or 'learning to learn'. It means knowing that you know and it provides the foundation to what an ICT capable child is.
REASON 5
The use of ICT in early childhood education supports many opportunities for creative development with young children. Through the use of ICT in role plays, they will employ imaginative thinking.

REASON 6
Language development is greatly enhanced when ICT is employed in learning environments. ICT tools and resources such as word processors may appear to be very basic, but remember the power of word processing is in the ease in which children can easily edit and change their writing whilst developing their language and literacy skills.

REASON 7
Children can increase their world knowledge through the use of modern technology such as the Internet.

REASON 8
The many features that ICT brings with it in the learning environment will in the end improve the fine and motor gross skills of children.

REASON 9
Mathematical development is also enhanced as a result of the visual images which computers can provide.

REASON 10
One of the many benefits that will come with the use of ICT in early childhood education is that of collaboration. This alone helps to build language with children in addition to developing their social skills.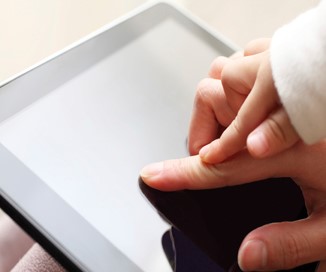 Online PD for Early Childhood Educators -
How to Integrate Technology in Early Childhood Classrooms
The above benefits of using technology in early childhood classrooms not only will enhance early childhood development but will prepare young children for the use of technology in the primary curriculum. That is after all that preschool education is all about.
However, it is through the use of certain technologies in the early childhood learning environment and the effective planning of its use that the true benefits emerge for both children and teachers.
In this online PD for early childhood educators, we will focus on ICT tools in early childhood that you as a teacher can successfully integrate into the early childhood development education.
For example, Information and Communication Technology in childcare and education such as computers, laptops, digital cameras etc.
Aligned with the Australian Professional Standards for Teachers and in close consideration with the ECA's Statement on Young Children and Digital Technologies, this online PD for early childhood educators offers you the following teacher takeaways:
Attend live lessons:
Analyse the situation – understand your own capabilities and needs;
Apply intentional teaching strategies in early childhood education;
Embed new methods of observation and assessment;
Build and maintain relationships in ECEC with technology;
Understand technology's role in STEM and inquiry based learning;
Enhance literacy and numeracy with ICT tools in early childhood education;
Apply the theories learned using EYLF aligned activities.
The role of technology in childcare and education is crucial in developing child ICT capability and ICT literacy. Research has indicated that typical roles may include the following:
Children using ICT in their play or learning (alone, with peers or with adults);
Children and teachers using ICT together to scaffold children's learning;
Children and teachers using ICT together to document and reflect on children's learning, or to share children's learning with parents or teachers;
Practitioners using ICT for planning, administration, and information management;
Teachers or preservice teachers learning to use ICT, or learning through ICT;
Children and practitioners using ICT to communicate or exchange ideas or information with other practitioners, parents or researchers.
(Bolstad, 2004)
The use of technology in early childhood education can extend beyond the above roles when you begin to imagine the potential for learning when thinking about integrating technology such as the following course participants have in the past:
"I really enjoyed this course! It was very informative and well researched.  It gave detailed descriptions regarding all areas outlined in the objectives.  The videos made the learning seem more interactive! The tasks were very beneficial and applicable to my future teaching practices!" – Dominique
"This course was extremely informative and enjoyable. Through engaging with the course material and additional resources, it has given me the skills to become a more informed, better skilled Early Childhood Educator. I will highly recommend this course to any person who wishes to update his or her skills and knowledge as an Educational Professional." – Yvonne
Integrating the right ICT tools in early childhood education by applying our theories as you go and at your own pace. Information and Communication Technology in childcare and education will help engage and motivate young children as you do.
Subscribe now to this online workshop for preschool teachers and kindergarten teachers to understand today how to optimise the use of technology in early childhood education.
First month subscription $10 afterward $25 a month.