By Michael Hilkemeijer
As an Early Childhood in ICT consultant, one of the most common questions which I keep getting asked is...
"Why does ICT matter in Early Childhood Education?"
Watch this video to learn my answer.
For myself, there are three main reasons:
 1. The obvious that we live in ICT-integrated society.
Children at a very young age are already exposed to technology. So it makes sense to help facilitate strong capabilities in ICT right from the start.
Why wait until they are in primary? Technology is as much part of their lives now, than any other thing that surrounds them and influences their lives.
My belief and hope is that early childhood teachers should set as one of their goals to achieve this. To lay solid foundations for ICT capability in an ICT-integrated world!
2. Globally, governments are recognising this fact and are incorporating ICT more into their curriculums.
Take for example the Australian National Curriculum. In the Early Years Learning Framework, two Outcomes encourages strong use of ICT in learning. 
Once the child leaves preschool, its primary curriculum continues with the majority of progression work being conducted within its realm. It is the responsibility of these teachers to ensure that progression and continuity occurs. 
3. ICT Promotes Creativity and Collaboration
These are two aspects of education proven to be beneficial in learning.
It is the responsibility of early childhood teachers to ensure that 1) strong foundations are laid and 2) that primary teachers are given the necessary information to ensure that progression and continuity of child learning occurs.
4.ICT supports Metacognition
Another term for this would be 'learning to learn' which in the long run enables them to be lifelong learners. It's that same word used in the previous section and it means 'knowing that you know' or 'being aware of one's own cognitive process'. 
It will be important that you provide young children the means to be supported in their manipulation of symbols and representations on the screen in a useful way. It is often said that the best method to develop ICT capability is to provide children with meaningful activities in a purposeful subject-related context (Kennewell et al., 2000; Bennett, 2007). Metacognition is strongly associated with this and many early childhood educators have applied this concept to develop effective ICT pedagogies.
When children use ICT to learn to communicate, collaborate and create – three very important aspects of their education - they begin to understand what life is about today by demonstrating the types of things we do ourselves in an ICT-integrated society. ICT is and will become much a part of their lives as it is ours today and in the future. Communication for young children is essentially important and practitioners can introduce them to other ways of communicating such as emails or blogging. Blogging itself, adds on the prospect of child collaboration and even creativity.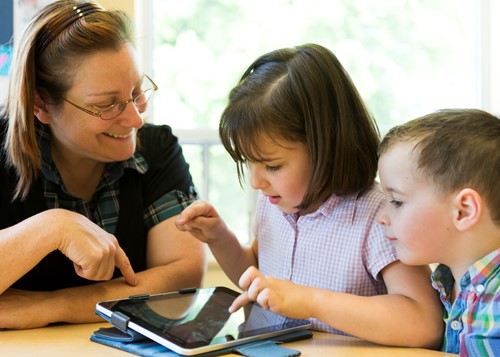 ICT Tools for Early Childhood Educators
There are a variety of tools that teachers can make use of in the early childhood classroom and given that these learning environments span up to Year 2, they cater for a range of learning experiences and ages.
Therefore, before choosing these tools you must ensure that they are developmentally appropriate so that they support learning of ALL ages.
ICT Tools for Communicating
Internet
Facebook
Snapchat
ICT Tools for Photo sharing
Photo sharing, online photo printing and book publishing sites are ways to communicate what is going on in the classroom.
Blurb
Snapfish
Walgreens
Shutterfly
Pinterest
Search and see which one is right for you
ICT tools for Sharing Video
Webcams can keep track of classroom pets, hatching chicks and even watching your garden grow. They also help to expand the classroom walls.
Skype, FaceTime and Google Plus
Video conference software
ICT tools for connecting to Home and Classroom
QR codes help parents get a view into what is happening.
How to use ICT Tools with Children in libraries and classrooms?
Mobile technology use in early childhood learning environments has really taken off over the years. It is now essential that you understand the best practices when using them with children in your care.
Follow these steps to ensure effective learning.
Preparation
Ensure that you carefully plan and prepare for these situations in order to maximise opportunities in learning.
Identify the educational goals of the Apps you wish the children to use.
Select them and then familiarise yourself with its features.
Apply evidence based ICT instructional teaching strategies.
Plan to record data and identify your methods of evaluation.
Room set up
Did you know that the organisation of the room can have an impact on the development of ICT capability?
One of the main barriers to ICT capability is access to ICT resources. If this was difficult, irregular or conditional on the completion of other activities, the application of ICT gained the status of something special.
Keep computers in a classroom that will ensure maximised opportunities for curriculum activity.
Keep room in the classroom for children to discuss activities, work together on computers and even to write on paper beside the computer.
This is in addition to leaving space for peripheral devices such as printers.
For App use, ICT tools and resources for early childhood teachers would include:
Smartphones or tablets.
Projector.
A VGA adapter (to connect the tablet or smartphone to the projector).
A microphone.
The Internet or Wi-Fi.
Planning
Planning is closely linked to assessment and when it comes to mobile technology use, planning with Apps in mind is no different.
There are in fact 11 Aspects of Planning for ICT integration which you need to consider.
With planning in relation to Apps, these projects can be co-designed, but you need to consider the children's and parent's information needs.
It is essential that if the project takes place in the library, that you engage with both children and parents in the implementation stage of the project.
Evaluation
Collecting data is important as it will help inform your future planning. Use your observations to assess capabilities in ICT through adult-child and peer-to-peer interactions.
Both qualitative and quantitative data can be gathered.
A good record to use is an Individual Profile sheet for each child.
FREE Early Childhood Education Ebook!
Sign up now and start your FREE email mini course! Plus receive this Early Childhood ebook FREE today!