By Michael Hilkemeijer
This is an excerpt from my online pd for early childhood teachers about "How to support play baseed learning in early childhood education with digital technology". Today, a key part of the early childhood pedagogy that is required by teachers is digital pedagogy and in this article, you will what it is in relation to digital play in the early years learning environment. You can join this course for just $360 AUD or become a member of our ICT in Education Teacher Academy for just $43 AUD per month (cancel anytime).
The use of ICT in early childhood education has been a strong focus in the past. However, now as new technologies involving new innovative resources emerge the use of ICT is slowly being replaced with the distinction between digital and non-digital. Yet, it is still important to embed new digital pedagogy.
What is Digital Pedagogy and why do you need it?
Digital technology has changed how and what we learn. It is more than a tool in the classroom and has shifted the focus towards more independent child-led inquiry modes of learning. Just exposing young children to digital technology will not develop their digital literacy nor does it make the learning effective. It is important for you to understand how to use digital technology effectively, understand the learning theories behind the practice and know how to select the right digital technology for the learning outcomes that you seek.
Digital pedagogy is a study of how to teach using digital technologies.
Furthermore, it is important that you remember that you do not need to have all the technical skills so that you have an effective digital pedagogy as it does not define it. It is about developing an attitude towards and aptitude with digital technology in early childhood education. It is about a willingness to use them in your early childhood learning environment effectively and understand how and why they should be used.
Another reason why you need a digital pedagogy is that most educators tend to be self-taught or peer-taught in relation to technology skills and tend to be limited to what is in their home and work environment. This technology is not typically up-to-date with what the students might use as well as what their teaching requires.
Finally, you need a digital pedagogy because you need to consider the needs of the parents, employers, and the wider community. They all expect you develop digitally literate children – who can use a variety of digital technologies and who have the disposition to construct digital solutions for problems with the knowledge and behaviours required beyond the 21st century.
These are the factors that drive digital pedagogy – social imperatives and pedagogical imperatives. Digital pedagogy will enable you to use digital technology effectively as it provides you with the ability to meet new digital technologies and be able to use them effectively in your early childhood learning environment.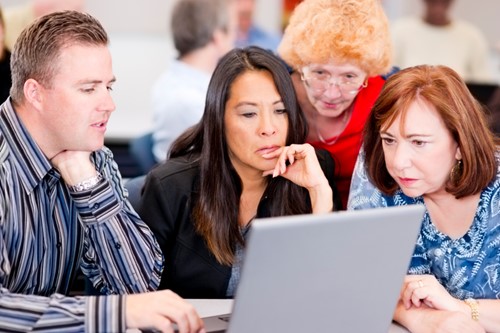 How to develop your digital pedagogy?
The coursework that you will experience in this online workshop for preschool teachers will not in itself develop your digital pedagogy because it is many things, but mostly it is an attitude and aptitude for the successful use of digital technology in early childhood education. This is what is hoped to be achieved through your participation in this online pd for early childhood teachers.
Think about the nature of digital technologies in terms of their fast-changing pace and how they quickly evolve. This constant evolution means that our online pd for early childhood teachers can't provide you with digital pedagogy. However, it does help you to develop an attitude and aptitude that leads you to engage with new digital technologies as they emerge and to imagine their potential for learning within the context in which it will be taught. Their educational applications.
Attitude is one of the hardest things for people to change or transition from and digital technologies often force us to adopt this position whether we like it or not. An example might be that you have decided on a particular program for the children to produce their work with, but a child in your class might suggest a different way or a different program, something that you might not be familiar with.
Scenario one – you are a technologically fearless teacher who would stop, listen, and explore that suggestion with the class.
Scenario two – you are a traditional 'expert' teacher who would resist that suggestion and stick to the idea that you had with the technology you know.
However, this is all about attitude and hopefully, by engaging with the material in this course you will see why that is so important.
Your digital aptitude will develop throughout this course as it will be grounded in theoretical understandings. This will involve you understanding the learning theories that are attached to digital pedagogy, the types of learning opportunities it affords and the early learning outcomes that are expected. It will mesh your pedagogical expertise with digital technologies.
What are the characteristics of digital pedagogy in early childhood?
"Digital pedagogy captures the special characteristics of how teachers use digital technologies for play, learning and development" (Fleer, 2017, p. 147). It captures both the children's perspectives and the teacher's perspective as a relational whole. Included in the pedagogy are the independent actions of each child and at the same time your own perspectives as a teacher about children's perspectives in relation to what you do. As a result, digital pedagogy must be theorised holistically in the early childhood learning environment.
The characteristics include the following and can be seen in relation to both the children's and teacher's perspectives in the following table. It is worth noting that the research found that only through following the children's perspective in the context of the teacher's pedagogy, it was possible to draw out these features of digital pedagogy.
Technological intersubjectivity – a shared understanding between teachers, children and technologies.
Distributed technologies – technologies are distributed across time and space.
Technologically framed narratives – technologies hold together ideas and content in the form of a conceptual whole.
Prior experiences infused in the technologies – technological activity is imbued with possibilities for connecting with and using prior experiences.
Virtual placeholders and Digital pivots – actions and content are captured in a digital form that can be used as a pivot for abstracting.
TPACK in ECE
The TPACK model is an important tool in early childhood teacher preparation and digital literacy because it attempts to address the complex, multifaceted, and situated nature of teacher knowledge that is comprised of content and pedagogy as well as the nature of technological knowledge. The Center for Digital Education builds on this model and identifies four key strategies for effective digital teacher preparation programs that give students a chance to learn and practice teaching in a supportive environment.
We have considered and adapted the following strategies in our online workshops for preschool teachers:
Balance technology, pedagogy, and content knowledge – the need for teachers to consider how technology tools, teaching methods, and content areas fit together to reach the teacher's goals for the children and for individual children.
Consider the environment that teachers will work in – the need for teachers to learn the basic principles of technology use and integration that can be applied to whatever early childhood learning environment they end up in, from the start of the art to just getting started.
Build classroom experiences into the program from the beginning – the need of future teachers to benefit from early exposure to real classrooms, teachers and children, and the opportunity to observe strategies for technology use and integration.
Choose the best technology tools for the job – the need for teachers to know how to select, use, integrate, and evaluate which technology tools are the more effective and appropriate for the individual child, the content area and the classroom context.
Online Workshop for Preschool Teachers - 'How to support play based learning in early childhood education with digital technology'
Boost your digital pedagogy in early childhood education now - $360 AUD