The Australian Curriculum has emphasised the importance integrating digital technology to use in the classroom throughout all key learning areas by ensuring that ICT capability is included in teaching practices.
In this article, you will learn about:
What is ICT capability?
AC ICT capability framework or Learning Continuum.
What an ICT capable student is?
ICT capability in Primary School
ICT capability in Early Childhood Education
What is ICT Capability?
The Australian Curriculum defines ICT capability as the integration of technology to use in the classroom. It states:
"….students develop Information and Communication Technology (ICT) capability as they learn to use ICT effectively and appropriately to access, create and communicate information and ideas, solve problems and work collaboratively in all learning areas at school and in their lives beyond school. ICT capability involves students learning to make the most of the digital technologies available to them, adapting to new ways of doing things as technologies evolve, and limiting the risks to themselves and others in a digital environment."
These skills are significant for students in a knowledge-based economy and will be developed through key learning areas as you integrate digital technology to use in the classroom.
The 5 components of ICT capability are:
Routines;
ICT techniques (skills);
Concepts;
Processes;
Higher order thinking skills.
LEARN ALSO ABOUT:
The difference between ICT and Digital Technology
ICT capability in Key Learning Areas 
View our range of online professional development courses for teachers now
While routines and ICT techniques may be easily understood, it is important to comprehend the significance of how conceptual understanding underpins the learning of ICT techniques.
This ultimately enables these ICT techniques to be transferrable across different learning areas.
Therefore, you should encourage students to reflect on the use of ICT techniques across contexts and situations.
Processes are a series of ICT techniques and learning processes require a substantial degree of personal autonomy on behalf of the student.
The processes described in the Australian Curriculum ICT capability represent a significant part of the knowledge, understanding, and skills for students.
Despite this, processes are not associated purely with ICT, but more with the way in which ICT interacts with problem-solving situations in other subject areas or in the real world.
Higher order thinking skills are essential in order to execute processes the student has to apply.
An ICT capable student is someone who has the disposition to construct ICT solutions to problem situations that are appropriate to the context and are based on the knowledge of the opportunities and limitations of the software and hardware involved.
In a study of schools in the UK, high levels of ICT capability in students demonstrated that they could:
Use ICT to support their learning in all subjects.
Use common ICT tools used in classroom teaching.
Take responsibility for their own learning, developing strategies to help them learn how to use unfamiliar ICT tools, and work collaboratively.
Use current hardware and software and understand its potential and limitations.
Understand that using ICT affects social processes.
(Crawford, 2011, p. 6)
What is required is an understanding of the ICT potential of situations.
Kennewell et al.(2000, p.38) states that:
"ICT capability requires not only technical knowledge and skills but an awareness of this knowledge base, so that effective choices can be made."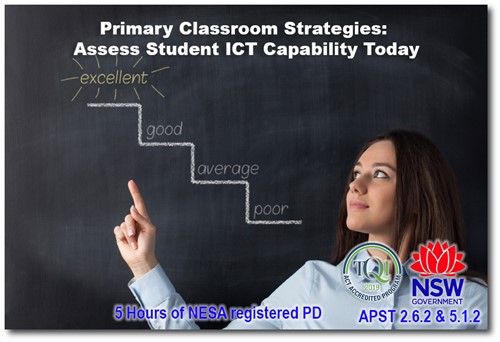 Teaching and Learning ICT Capability
It is important to understand that simple exposure to ICT tools and resources in the classroom is not sufficient in itself to ensure that learning progression occurs in either a key learning area or as a subject itself.
The best way to develop ICT capability is to embed it in meaningful activities in purposeful contexts such as in literacy learning.
As studies have already shown, the use of ICT in the classroom is in danger of being seen by students as a medium for fun and not a serious medium for learning.
It is through applying evidence-based ICT teaching strategies where changes will start to occur in the classroom.
A student must be able to find, and overcome, difficulties if learning is to occur.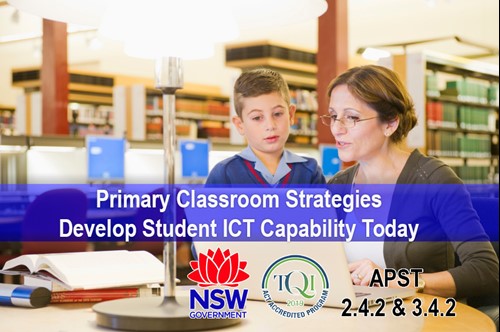 Early Years Learning Framework
Throughout the EYLF the use of digital technology to use in the classroom can be applied by early childhood teachers in kindergarten, preschool, and early years primary teachers.
Learning outcomes 4 and 5 make explicit links to the use of technology in early childhood education.
Young children begin their early education with varying degrees of ICT capability so it is imperative that the teaching and assessment of ICT capability be included as part of their early childhood education activities.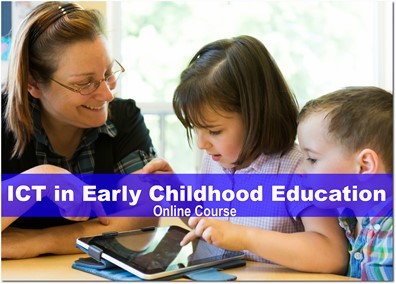 Learning Progression in Primary Education
Teachers in early childhood need to pass on accurate information about a child's ICT capability to primary teachers so to ensure that learning progression in the ICT capability framework occurs.
The framework or learning continuum consists of a number of levels from 1 to 4 in primary education and this makes it your responsibility as a primary teacher to make instructional decisions that will teach ICT capability in key learning areas as a requirement of the Australian Curriculum.
Additionally, learning progression is closely linked to the assessment of ICT capability by employing formative assessment strategies as key components of ICT capability are practical.