The world has recently woken up to the need to be online and be innovative in our work and lifestyle once again. It has funny how a global event can have such a powerful and monumental effect on us. For teachers particularly in primary school, it was and still is a time to be innovative in our teaching methods with online education. It should also serve as a good reminder to you, if you are one, of the importance of ensuring that throughout the primary school curriculum, that you practice innovative teaching methods in primary school that develop student ICT capability so that we have a workforce that is digitally ready for future events like this.
Here are the best innovative teaching methods for primary school teachers who want to achieve this. They are the strategies that you can use to maximise the effectiveness of children's use of ICT today. This is the reason why I call them innovative teaching strategies. They encompass ideas that go beyond just exposing children to technology in the classroom. 
The best innovative teaching strategies with technology are the ones that develop ICT capability as a consequence of challenging students' intellect, enabling them to make effective decision-making thus building on their higher order thinking skills.
Below is what I consider is an innovative education. These are all to do innovative teaching methods for primary school where it it is a necessity for teachers to plan opportunities in the curriculum to develop student ICT capability alongside context-driven learning.
Develop ICT capable students
As a teacher, it is important that you embed innovative teaching methods in a primary school in order to ensure progression and continuity in student ICT capability. Here are the steps that you need to take:
Develop an integrated approach to teaching ICT capability by planning the incorporation of ICT activities into the curriculum. Ensure that the student has the support they need to develop their ICT capability while providing them with the meaningful context that stimulates learning in the key learning areas such as literacy.
Build on their home experiences of ICT by making their ICT work interesting to them and structured in such a way that they are able to understand what they have to achieve unaided.
You can stimulate and structure their ICT learning by setting clear objectives as well as holding high expectations of the students in terms of their ICT capability.
As most ICT activities are practical, it will be important to monitor their work closely in order to determine the best moments to intervene and also to ensure that they don't stray away from the intended tasks.
Develop ICT capable teachers
If your school is to have any chance of improving students' ICT capability, then it needs to come from the teachers themselves. The innovative teaching methods for primary school teachers that our accredited online workshop for primary school teachers delivers are practical and immediately actionable. It is only through teachers joining online classes like these that they will develop an understanding and judgement about how to use ICT techniques appropriately. It is not always about knowing every ICT skill or software or hardware.
You need to understand that the level of your ICT capability directly impacts the way that you scaffold ICT learning for students alongside the main subject objectives.
Develop ICT capable classrooms
Of course, this is a combination of the top two teaching strategies for primary school with the addition of ICT resources. Yet, technology integration in the classroom is not about waiting for the next big technological development to come around and solve your ICT tools and resources problem.
It is in fact about imagining the potential of the 'here and now' of the available technology in the context in that it will be taught.
The best technology to develop ICT capable students is generic, content-free, and offers students full control and a high level of decision making on the part of the students themselves.
In addition, you need to provide help to the students so that they can link the ICT learning that they might have had in the computer room with the activities conducted in your classroom. Many schools are set up in a way to achieve this today by providing non-ICT activities in the computer room along with ICT resources in the classroom itself.
Sometimes, the most innovative teaching methods in primary school are at times when teachers think of ways to use technology in the classroom in ways that the students are able to transfer their knowledge and ICT techniques across the curriculum.
Being an innovative teacher is about imagining the potential for learning with the technology that is already available in your classroom like a smartphone, iPad, laptop, and expanding your horizons in terms of what the software can do for your students.
You don't have to have the latest technological devices to be seen as innovative, you just have to think outside the box with you have got because sometimes, the best teaching strategies for primary school technology integration can simply be achieved with one computer in the classroom.
To embed innovative teaching strategies for primary school teachers at your school, click the button below, and learn more about our accredited online workshop for primary school teachers now.
ICT Teaching Strategies for Primary School
Online Workshop for Primar School Teachers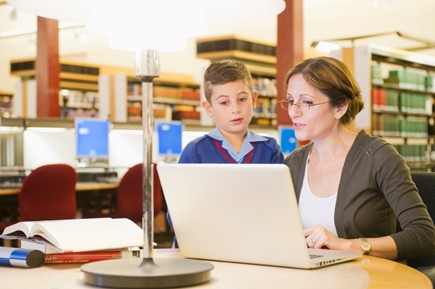 The best teaching methods for primary school when it comes to integrating ICT in the classroom alongside subject learning are the ones that support the development of ICT capability.
ICT capability is not just the exposure and use of students to ICT tools and resources, it also consists of innovative teaching strategies for teachers in primary school to implement so that they promote conceptual understanding and the ability of students to make the best decisions.
They are innovative teaching strategies as they promote progression and continuity in primary school and in the Australian Curriculum, learning progression in the ICT capability Learning Continuum is important.
Many teachers who have participated in this online workshop for primary school teachers and have applied these innovative teaching strategies with technology have said:
"This course has been beneficial. I have learned more about how to integrate ICT in the classroom and how to support the students who struggle in this area. The readings have been particularly useful and it has been great to see other professionals and their use of ICT in the classroom." Kerrie 
"I have thoroughly enjoyed this course. I have learned the importance of ICT in all schools. This course has enhanced my ideas of classroom practice by giving me confidence in knowing that I was on the right track." Louise
"I will definitely employ these ideas. Great tips!" Andrew 
It is our belief that they are the best teaching methods for primary school as it achieves the learning goals that teachers have for their students. That is, to support the development of ICT capability.
Completing this online workshop for primary school teachers will contribute to 4 hours of NESA and TQI PD addressing 2.6.2 and 3.4.2 of Australian Professional Standards for Teachers towards maintaining Proficient Teacher Accreditation in NSW, Qld, Vic and ACT.
Innovative education in primary schools is about the effective integration of ICT into subject learning. You should always aim to support the children in your care to ultimately reach the stage where the technology that they are using becomes sufficiently transparent to the point that they are almost unaware of its existence. 
Learn to make the instructional decisions today by embedding our innovative teaching methods for primary school now.