How to Boost Literacy in Early Childhood with ICT
How to Boost Literacy in Early Childhood with ICT
How to Boost Literacy in Early Childhood with ICT
Literacy is an area of learning where the use of ICT can greatly enhance. These days, traditional methods can be complimented with a wide variety of experiences. The emerging technology that pervades our lives has also had an impact on literacy itself in a strict sense as it dissolves with coming in of the new literacies that embraces media and communications.
In the 21st century, both teachers and children are expected to thrive in an online community and network. Mobile learning (m-learning) has now taken over e-learning and devices such as tablets and smartphones are now commonplace in society. Children are expected to learn outside of the classroom more. It raises the question "how these initiatives combine so that the potential of ICT is fully utilised to support young children's literacy?"
Real-world experiences in education is essential to help children prepare for the future. Early childhood teachers need to adequately consider the factors that move children into literacy and the changing nature of literacy as ICT influences practices.
Why boost literacy with ICT in early childhood education and care?
There are four reasons why you should use ICT to develop literacy in early childhood education. These are:
ICT is a tool that many children are familiar with;
ICT provides motivation for children to learn to read and write;
ICT can aid in teaching and learning as the research evidence suggests;
It is no longer enough to teach children traditional text. They need to become familiar with a range of text that adults use today.
Scaffolding Literacy with ICT
Studies have indicated that without effective scaffolding ICT will not have an impact on literacy learning in early childhood education. Common practices included instructing children on the use of a program or allowing them to work independently unless there were technical problems.
Despite this, you don't have to go looking for different approaches to teach both as you can use the same approach to teach both of them. These include:
Whole class brief on the context and activity;
Detailed explanation to each group when they were ready to work on the activity;
Careful choice of pairs to work on the computer;
A review of key points with the group afterwards.
Whilst these work best in primary education, it can also be applied in early childhood to serve the purpose of the continuity of teaching practices which aids in student understanding and progression.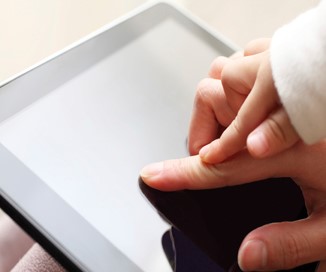 Can ICT help children to read?
Yes it can if you ICT in the right way. Talking books are the best way to achieve this for the following reasons:
Increases children's word reading accuracy both in and out of the context of the story;
Improves their understanding of the stories;
Supports them by offering them access to the meaning of the stories and the way sentences work.
It is important that you discriminate between the useful and the less useful ones. Research has found that the most useful ones combine multimedia with interactive additions that actually support literacy within the story. Here animations are used to support the story.
This particular software has the following benefits for young children:
Gives them an overview of the story prior to reading it;
Supports children's independent reading through sounding out unrecognised words;
Making the features of narrative explicit;
Encouraging collaborative reading in front of a public page.
How else can ICT help develop literacy in early childhood?
Computers and printers can help children make signs, banners or posters;
Help weave together words and pictures. For example, putting captions on the end of photos helps to develop children's written language skills;
ICT supports children's storytelling by allowing them to dictate words that go with their pictures. They could also record their voices.
The benefits can be realized within the literacy curriculum and in most of children learning activities. ICT can help children observe, fix, memorize, describe and share their impressions with other people, and to find answers to their questions.
Your role as an early childhood teacher in guiding and assisting children's learning with ICT is therefore critical, both for literacy and for other areas of the curriculum.
You have the important of supporting early literacy through joint activity around the computer. Exposure to new technologies in the classroom will not prepare children adequately for the new literacies they require, they have to be integrated effectively into classroom practice.