The Importance of Professional Development for Teachers
The Importance of Professional Development for Teachers
The Importance of Professional Development for Teachers
In the 21st century as educators from early childhood to secondary schools continue to ensure that children are prepared to thrive and survive in an ever-changing society the need and importance of professional development of teachers become clearer as people continue look for better ways to live their lives.
The importance of staff development in education goes beyond just acquiring knowledge and skills. It also does not have anything to do with adding to your certificates to portfolios. Schools today play a key role in what is known as the knowledge society and for teachers, it comes to being a personal path toward greater professional integrity and human growth.
Other professional development benefits for teachers may include:
Evolving a strong sense of themselves as teachers and as people;
A display of self-confidence and openness in professional relationships with adults as they do with children;
Ensuring quality learning;
Making an impact on student learning.
SOON TO BE RELEASED - CLICK TO SUBSCRIBE FOR YOUR COPY TODAY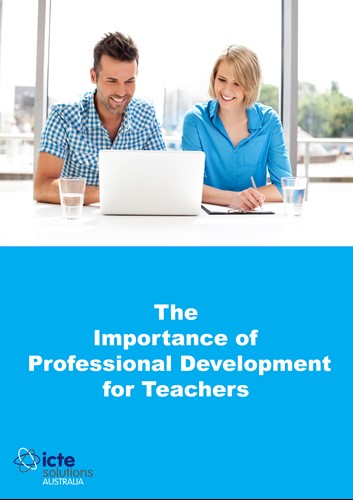 Why Schools must Change
The true need for professional development of teachers is that society is constantly changing and one of the biggest changes in society of the decades is the development of new and emerging technology. For teachers, this makes their practices even more dynamic than it is already as society changes, technology changes, circumstances change and so must they.
The importance of professional development of teachers in ICT integration throughout all sectors of education has globally continued to gain momentum and significance. So why is professional development important for teachers in ICT integration?
Early Childhood Education
The importance of teacher professional development in the area of ICT competencies is today publicly acknowledged and supported in most countries like Australia and New Zealand. For early childhood teachers and carers, the importance of teacher training extends to building their capacity by advancing their skills in pedagogy, collaboration, leadership and innovative school development using ICT.
In a statement by UNESCO (2010), the importance of workshops for teachers in early childhood education addressed the fact that with new technologies comes new pedagogies and that the successful integration of ICT into the classroom will depend on your ability to structure the learning environment appropriately in a way that merges new technology with new pedagogy. Such a statement clearly highlights the importance of professional learning for teachers in early childhood education and care.
Further studies have also stressed and highlighted the need for professional development of teachers in ECE when focusing on the opportunities that ICT presents to both child and teacher in developing ICT capabilities. The role of teachers in developing ICT capability in ECE is significant as the idea of children beginning to develop capabilities in ICT and ICT literacy in learning activities gains momentum.
The importance of teacher training was highlighted in building teacher capacities in a manner that would ensure that they gain an understanding of the role and potential of ICT for supporting young children's learning. This study conducted by the New Zealand government (2004) emphasised the importance of workshops for teachers in facilitating a reciprocal and responsive relationship with children.
References
Edutopia. (2008). Why Is Teacher Development Important? Because Students Deserve the Best. Retrieved September 17, 2015 from <http://www.edutopia.org/teacher-development-introduction>
Glattenhorn, A. (1987). Cooperative Professional Development: Peer Centered Options for Teacher Growth. Educational Leadership, (3)45, 31-35
Marzano, R. J. (2003). What Works in School: Translating Research into Action. Alexandria, VA: Association for Supervision and Curriculum Development
Mizell, H. (2010). Why Professional Development Matters. Leaning Forward