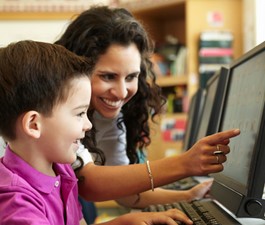 Harness the Potential of Technology in Early Childhood Education Today
"I really enjoyed this course! It was very informative and well researched.  It gave detailed descriptions regarding all areas outlined in the objectives.  The videos made the learning seem more interactive! The tasks were very beneficial and applicable to my future teaching practices!"
"I enjoyed the course as it was something I was interested in. I am glad there were videos as I find it hard to sit and read the text the whole time. When I asked for help I was able to have my question answered. The resources/ articles were awesome I will be keeping them to help for the future. "
- Akala
"This course has boosted my confidence and I look forward to implementing the techniques learned when I return to the classroom. I feel more enabled to confidently implement ICT in my future lesson planning."
- Penny
In an online and digital world, young children today are beginning their early childhood education with varying degrees of ICT capability and ICT literacy. This trend will no doubt increase as the world continues to awaken to the need for digital technology in society and the exposure of young children to technology in their lives. Therefore, young children can develop ICT capability and ICT literacy as part of their early childhood education experiences.
Free Professional Development Resources for Early Childhood Educators
Every ECE workshop participant receives free professional development resources for early childhood educators.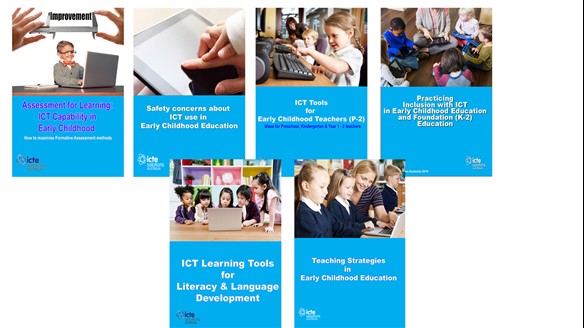 What is ICT Capability in Early Childhood?
ICT capability is the ability to use ICT independently, appropriately and creatively and to understand ICT in its social context.
It comprises of more than the ability to use ICT techniques. An ICT capable child, has conceptual understanding of the ICT techniques and the ability to carry out routines, processes and higher order thinking skills.
Unlocking the Benefits of Technology in ECE
This online preschool workshop for teachers, aims at unlocking the benefits of technology in early childhood education through supporting you, the early childhood teacher, with evidence based digital pedagogy.
Skills for Early Childhood teacher include:
Analysing the situation - effective planning depends on a thorough analysis of the situation at the outset;
Maximise formative assessments strategies in ICT activities, tasks and projects;
Select developmentally appropriate ICT tools and resources for learning;
Employ evidence-based ICT teaching strategies and scaffolding ECE that develop ICT capability;
Facilitate the progression of capabilities in ICT in the learning environment;
Integrate ICT effectively in STEM projects;
Embed safe and healthy practices with technology;
Reflect on your teaching and learning with ICT.
Who joins our professional development for early childhood educators?
Pre-service teachers in Early Childhood and Primary.
Early Childhood Education and Care principals.
Early Childhood teachers which include preschool teachers, kindergarten teachers, and Primary early years teachers Foundation to Year 2.
Early Childhood Education and Care centres which choose to follow the road to the integration of ICT in its programs and activities.
Early Childhood Education and care centres which decide to continue in this process – doing it more thoroughly and intensely as it has been done until now,
maybe engaging new ideas, new partnerships, or broadening its goals and ICT tools.
This preschool workshop online addresses the following issues:
Access to technological resources;
Use of scaffolding to support technology in early childhood education and care;
Early childhood teacher focus on just ICT skills and techniques;
Intellectually challenging children with technology and;
Learning progression in ICT literacy and ICT capability.
Receive a Certificate of Completion.
30 day money back guarantee


Completing this online preschool workshop course for teachers in Early Childhood Education and Care will contribute to 5 hours of TQI and NESA registered PD addressing 2.6.2, 4.5.2 and 5.1.2 of Australian Professional Standards for Teachers towards maintaining Proficient teacher accreditation in NSW, Vic, Qld and ACT.
Join the class of 2020 today