NESA ICT Leadership Online Workshop
NESA ICT Leadership Online Workshop
NESA ICT Leadership Online Workshop
Digital leadership in education in today's schools is increasingly becoming significant as more and more classrooms become equipped with learning technologies for teaching and learning. Teaching and learning with ICT in a primary school, in particular, has gained emphasis on the national curriculum placing the majority of learning progression in ICT capability with the primary school teacher.
This is why primary schools require effective ICT leadership because the quality of children's work when using learning technologies such as computers, depends on the skills of the classroom teacher.
Yet, as the primary school teacher is concerned mainly with the development of the whole child, they cannot be an expert in everything. The changing nature of digital technology such as ICT in the classroom requires leadership that will take this responsibility.
It is important that you remember that the most important judgement about the worth of your school will be the changes it brings about in its students over time. Not just in attitude and behaviour, but in the knowledge and learning of the children through being at your school.
During this teacher leadership course in ICT, you will be able to build your capacity as an educational leader with key skills and strategies such as:
Developing personal skills – improve your personal effectiveness;
Improving your communication skills – strengthen your influence over your colleagues;
Making meetings more effective – boost the message in technology integration that you want to get across;
Promoting a lasting change at your school – consider the change equation at your school;
Act as a resource for your colleagues – motivate, cajole and persuade staff to work together in ICT integration;
Running an effective in-service day – be trained in operating and conducting an in-service PD day for colleagues;
Evaluating your effectiveness and more.
Our digital leadership course for teachers will improve the attainment of student ICT capability and prepare them for secondary education curriculum and thus for an online and digital world.
As an effective digital leader, you will be able to link policy to practice at your primary school. Apply the strategies you have learned in the teacher leadership development course to generate the right attitudes and practices concerning ICT in the school.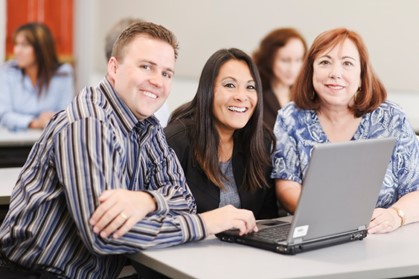 5 Ways that you can improve your effectiveness as a leader
Be aware of developments in technology/ICT itself.
Be aware of published research and professional advice on ICT teaching.
Identify teaching staff development needs and providers.
Provide or facilitate inservice day training where ICT is appropriate.
Monitor the frequency and range of students' active use of ICT across the curriculum and report to senior management.
Our ICT education leadership professional development online will be the solution you are seeking to gain further expertise and knowledge in leadership.
Take away from the course with accreditation as a Highly Accomplished teacher:
2.6.3 – Model high level teaching knowledge and skills and work with colleagues to use current ICT to improve their teaching practice and to make content relevant and meaningful.
3.4.3 – Assist colleagues to create, select and use a wide range of resources, including ICT, to engage students in their learning.
Completing the teacher leadership course will contribute to 7 hrs NESA PD and 5 hrs TQI PD addressing the above Australian Professional Standard for Teachers.