How to Promote a more Advanced Developed child with ICT
How to Promote a more Advanced Developed child with ICT
How to Promote a more Advanced Developed child with ICT
Today, it is highly probable that ICT will continue to be a significant presence in children's learning and development environments throughout their schooling and into their adult lives.
Early Childhood education is the first part of child's learning journey before they begin school.
Many education authorities around the world believe that ICT can help children develop their competencies in the early years.
It is for this reason that early childhood teachers need to promote a more advanced developed child before they start school.
If you are principal of an Early Childhood Education Centre who has just decided to initiate the process of ICT integration into learn and play…..
OR
If you are principal who wants to boost that already started transition, who wants it to go further, become more efficient, intensive and productive, new ideas, new tools and goals.
Then your first step is to develop ICT Capability in your Early Childhood Education Centre.
This is involves:
Supporting children's ICT capability and;
Supporting practitioner's ICT capability.
Yet to be an ICT capable early childhood teacher, it is not just about acquiring skills, but developing understanding and judgement about how to use those skills appropriately.
For Early Childhood teachers, ICT capability is the same as that for children and emphasises the metacognitive abilities with ICT. They need to know that that know the ICT potential of things. To have the disposition to construction ICT solutions to problems that relevant to the context and is based on the opportunities and limitations of the ICT around them.
Research also suggests the need for ICT capable people who are a part of children's lives to model these dispositions.
Back to the first idea of supporting children's ICT capability…
There is strong evidence that suggests that the level of ICT capability a child will develop is limited to the level of that of the early childhood teacher!
So it makes sense to make sure that your early childhood staff are ICT capable.
For children to be effective lifelong learners, they need literate in the communication modes of their culture and be able to make sense of texts. Recognising the way that ICT can shape this information is an important part of this process.
Developing the potential of early childhood teachers in ICT capability is the first part of the strategy UNESCO (2010) recommends.
It recognises that you need familiarise yourself with your government's ICT framework. In this instance the Early Years Learning Framework. However, early childhood teachers should also be aware the role that the Australian Primary Curriculum in the progression of ICT capability from Foundation to Level 4 (Year 6).
Then following this is the opportunity to develop ICT competency for early childhood teachers. As a principal, this involves you planning and supervising ICT professional development.
There are in fact three stages of an education path for ECTs suggested: Discovering ICT, Learning with ICT and Integrating with ICT (UNESCO, 2010).
Integrating with ICT involves many strands but includes that of Pedagogy in ICT and Integrating ICT into ECE info. It is what our accredited online course focuses on.
Following key recommendations its objectives include:
Early Childhood Pedagogy in ICT
To help early childhood teachers to plan and monitor the development of children with ICT;
To help early childhood teachers to exploit ICT in support of most or all teaching and developmental goals;
To facilitate the understanding of ICT in modern early childhood education.
INTEGRATING ICT INTO ECE INFO
Enabling early childhood teachers to think of possible improvements of the environment of the ECE centre;
Discussing various scenarios of working with ICT and managing a group of children and;
Selecting the developmentally appropriate ICT tools and resources.
STAY SAFE AND HEALTH WITH ICT
Provide key information in relation to eSafety, digital citizenship and staying safe on the Internet;
Gain a good idea of how children use ICT at home, know how to analyse it and what kind of advice to provide to parents.
Why enrol with us?
As the principal of an Early Childhood Education Centre, you should enrol with us because we believe in the principles of effective PD in ICT for early childhood teachers.
That it should support early childhood teachers to develop an understanding of ICT that connects with their existing early childhood education philosophy and pedagogy views;
That it incorporates teachers' own aspirations, skills, knowledge, and understanding into the learning context. It provides opportunities for teachers to learn and explore new ways of working in their own early childhood education setting;
That it stimulates early childhood teachers to reflect on their views and ideas about children's learning and development, and to analyse and question how things are done in early childhood education and;
That it emphasises collaborative knowledge-building, and practitioners sharing their situated learning experiences with ICT with one another. It provides support networks to help practitioners to be active researchers in their own early childhood education setting, and to access current research and expertise in ICT.
                                                                                       (Bolstad, 2004)
Earn Accreditation in Early Childhood Education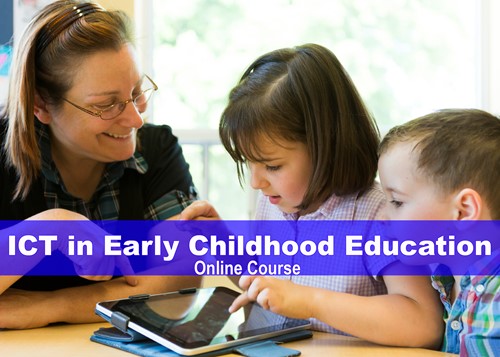 Completing this course will contribute to 5 hours of TQI PD addressing 2.6.2, 3.2.2 and 5.1.2 of Australian Professional Standards for Teachers towards maintaining Proficient teacher accreditation.
For less than a bag of groceries ($95), GAIN THE EXPERTISE YOU NEED  in order to Promote a more advanced child with ICT at your Early Childhood Education Centre today.