Formative Assessment Strategies
Formative Assessment Strategies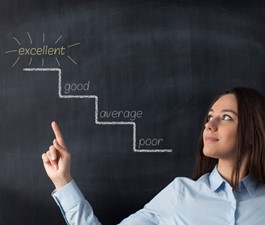 Formative Assessment Strategies: Determine Capabilities in ICT in Learning Areas
Course Facilitator: Michael Hilkemeijer (read my profile)
In the words of Dylan William (2015,p9), " formative assessment is not just the latest fad in education. For any teacher, examining the relationship between "What did I do as a teacher?" and "What did my students learn?" is always the most powerful focus for reflecting on your practice...."
The use of technology in the classroom is inextricably associated with practical outcomes in meaningful subject related contexts. This is the best way to develop ICT capability and ICT literacy in the national curriculum.
The principles which underpin good assessment apply equally to the integration of ICT across the Primary key learning areas.
"A great course with lots of information about embedding ICT and assessing students' ICT capability in primary schools. "
- Kwong
Who enrols in this online teacher workshop?
Primary/Elementary teachers.
Early years teachers.
Teacher aides.
Head teachers
Digital technology leaders.
It is important for your approach to assessment to fit in with the teaching approach. In order for you as a Primary school teacher to gain a valid judgement of learning progress of ICT capability and to give students timely feedback, it is important to integrate formative assessment with teaching and learning, rather than rely on summative evaluation.
Workshop Impact on Student Learning Progression
NESA and TQI encourages workshop participants to evaluate the effect these workshop theories have on student learning. 
"I now have a better understanding of what the students can do, so, therefore can plan and cater for their needs more efficiently. I am giving student their needs more efficiently. I am giving students the opportunity to work beyond their skills and demonstrate their extensive skills."
"Yes, I am more open to what I can do with my students in relation to ICT practices."
"Yes I do. My students will now be able to demonstrate their ICT capability across (a) routines/skills (b)techniques (c) concepts and (d) higher order skills."

"This was a great course because I now feel more confident that I was on the right track with my knowledge of ICT in the classroom. I feel better prepared to assist my students to achieve their goals within the ICT component of the curriculum."
Course Overview
You will learn how formative assessment strategies to determine ICT capability as a requirement of the curriculum by applying current instructional principles, research and appropriate assessment practices to the uses of ICT in your classroom.
In addition, I will give you the expertise you need to make informed decisions to help you unlock barriers to establishing a meaningful learning environment. 
By enrolling in this course, you will be able to:
Learn about integrating ICT and ICT capability development in the National Curriculum;
Plan and identify opportunities for assessment;
Determine progression in the National Curriculum Learning Continuum;
Establish a meaningful learning environment in the Early Years;
Gather strong empirical evidence of attainment;
Share learning outcomes with parents and colleagues and;
Make informed decisions on assessment strategies for your school.

Completing this course will contribute 5 hours of NESA registered PD addressing 2.6.2 and 5.1.2 from the APST for Teachers towards maintaining Proficient Teacher accreditation in NSW.

"I consider myself to be highly confident in ICT, however, through this comprehensive course, I learnt things that I never knew about. I honestly feel so much more empowered as a primary educator when teaching and assessing student ICT capability."
- Amanda


Enrol now in this Formative Assessment Professional Development Online Workshop.
JOIN THE CLASS NOW