Technology integration is a key element of the Australian Curriculum as it is embedded throughout key learning areas. Curriculums such as English benefit immensely from having students learn the subject context by using the technology in the classroom. As schools move through the 21st century many have embraced STEM in education which integrates technology throughout science, maths, and engineering seamlessly. Coincidentally, integrating technology in the national curriculum is recognised as ICT capability.
LEARN ALSO ABOUT:
Educational Leadership for Technology Integration
Teacher incentives to using Technology in the Classroom
Unlocking technology integration in the classroom
Technology integration in the classroom can come in the use of various ICT tools and resources. Commonly used ICT tools include:
Laptops;
Desktops;
Tablet computers such as iPads;
Smartphones;
Digital cameras;
Software applications – only the ones that are content-free and intellectually challenging;
Social media platforms and;
Internet and web browsing.
In an early article, I go through the best of these ICT tools in the classroom in relation to their purpose.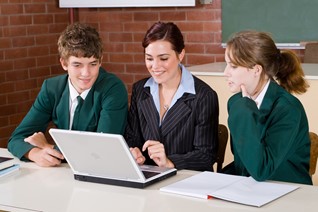 Successfully integrating technology in the classroom means that the use of these ICT tools is transparent in the background in such a way that the student does not even know they are learning the context while using ICT capabilities.
It also means then that technology used must support curriculum goals and be used as a tool for learning.
"Effective integration of technology is achieved when students are able to select technology tools to help them obtain information in a timely manner, analyze and synthesize the information, and present it professionally. The technology should become an integral part of how the classroom functions -- as accessible as all other classroom tools." - National Educational Technology Standards for Students, International Society for Technology in Education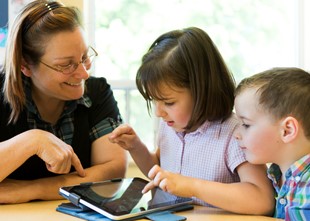 Integrating Technology in Early Childhood Education and Care
The integration of technology in the classroom of young children is important for two main reasons.
Young children should find out about and identify the uses of technology in their everyday lives.
Enable them to recognise the notion of ICT products as tools designed for a particular purpose when required.
LEARN ALSO ABOUT:
The Role of the Teacher in a Technology-rich Learning Environment
10 Ways to Boost Tech Integration in Early Childhood Education
Ways to use technology in subject learning
ICT has the potential to support teaching and learning throughout the curriculum. Here are some examples of technology integration in the classroom:
ICT in the teaching of Literacy and English – using ICT for whole-class teaching by accessing a digital projector and combining the use of MS PowerPoint; providing students to writing tools such as word processors or desktop publishing programs.
ICT in the teaching and learning of Mathematics and Numeracy – there are a number of ICT tools that can be successfully integrated into these lessons. ICT is effective to support only when it helps you to demonstrate and explain mathematical ideas and where it helps your students develop their mathematical knowledge. For example, spreadsheets can be set up a number of machines or help solve problems where repeating calculations can help find the answer.
ICT in the teaching and learning of science – ICT can make a far more significant contribution to teaching and learning in science than most people think. It can be used to measure and record using spreadsheets and databases. Digital cameras can also be used to record still images of observations. These are important ICT skills in science learning.
There are many opportunities for technology integration across the curriculum. Word processing is the most common form of ICT and it is fundamental for the learning of literacy through key learning areas.
Desktop publishing can be used by yourself and students to create classroom resources as it allows for the manipulation of graphical elements and images on a page.
Graphics packages can also be used and you don't have to spend a lot of money for some just to draw and manipulate pictures. MS Paint is a generic program which is readily available.
Role of the Teacher integrating technology in the classroom
With the rate of technological development occurring these days, many children are quite tech-savvy. As a teacher then, you need to have a process in place that will ensure that you are able to build on these ICT experiences.
As the majority of ICT activities are practical it makes a lot of sense to embed formative assessment strategies in order to not only establish a starting point for ICT learning, but also to effectively plan for learning progression.
The Australian Curriculum emphasises the expectation that teachers should also be able to teach ICT capability effectively in key learning areas.
As literacy and ICT in primary schools is a key focus, you can accomplish the learning of these 21st century skills with ease.
Conclusion
I am of the firm belief that technology integration in the classroom for any primary school teacher should be about making sure that you enable students to reach the stage where the technology they use in the classroom becomes sufficiently transparent that they hardly notice its existence. This is the ultimate aim of developing student ICT capability. Technology integration in the classroom should be about developing student ICT capability that can only be done in meaningful, context-driven activities and literacy-technology integration is a prime example of how it can be achieved in primary education.
Furthermore, technology integration is not about waiting for the next big technological development to come around and solve your problems of technology to use in the classroom. It is about the here and now of the available technology. It is about you as the teacher, imagining the potential for learning withing the context it will be taught. For this reason, you don't have to know everything about the technology to use in the classroom. Become familiar with one and think how the students can benefit from its use in the subject learning. 
That is what technology integration is about to me.