Technology integration is a key element of the Australian Curriculum as it is embedded throughout key learning areas. Curriculums such as English benefit immensely from having students learn the subject context by using the technology in the classroom. As schools move through the 21st century many have embraced STEM in education which integrates technology throughout science, maths, and engineering seamlessly. Coincidentally, integrating technology in the national curriculum is recognised as ICT capability.
LEARN ALSO ABOUT:
Educational Leadership for Technology Integration
Teacher incentives to using Technology in the Classroom
Unlocking technology integration in the classroom
Technology integration in the classroom can come in the use of various ICT tools and resources. Commonly used ICT tools include:
Laptops;
Desktops;
Tablet computers such as iPads;
Smartphones;
Digital cameras;
Software applications – only the ones that are content-free and intellectually challenging;
Social media platforms and;
Internet and web browsing.
In an early article, I go through the best of these ICT tools in the classroom in relation to their purpose.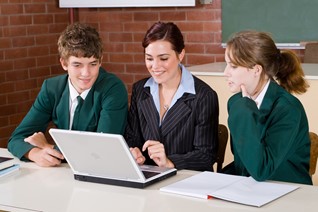 Successfully integrating technology in the classroom means that the use of these ICT tools is transparent in the background in such a way that the student does not even know they are learning the context while using ICT capabilities.
It also means then that technology used must support curriculum goals and be used as a tool for learning.
"Effective integration of technology is achieved when students are able to select technology tools to help them obtain information in a timely manner, analyze and synthesize the information, and present it professionally. The technology should become an integral part of how the classroom functions -- as accessible as all other classroom tools." - National Educational Technology Standards for Students, International Society for Technology in Education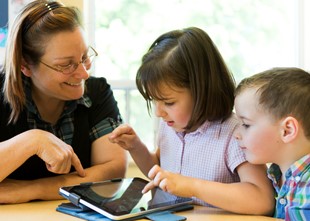 Integrating Technology in Early Childhood Education and Care
The integration of technology in the classroom of young children is important for two main reasons.
Young children should find out about and identify the uses of technology in their everyday lives.
Enable them to recognise the notion of ICT products as tools designed for a particular purpose when required.
LEARN ALSO ABOUT:
The Role of the Teacher in a Technology-rich Learning Environment
10 Ways to Boost Tech Integration in Early Childhood Education
Ways to use technology in subject learning
ICT has the potential to support teaching and learning throughout the curriculum. Here are some examples of technology integration in the classroom:
ICT in the teaching of Literacy and English – using ICT for whole-class teaching by accessing a digital projector and combining the use of MS PowerPoint; providing students to writing tools such as word processors or desktop publishing programs.
ICT in the teaching and learning of Mathematics and Numeracy – there are a number of ICT tools that can be successfully integrated into these lessons. ICT is effective to support only when it helps you to demonstrate and explain mathematical ideas and where it helps your students develop their mathematical knowledge. For example, spreadsheets can be set up a number of machines or help solve problems where repeating calculations can help find the answer.
ICT in the teaching and learning of science – ICT can make a far more significant contribution to teaching and learning in science than most people think. It can be used to measure and record using spreadsheets and databases. Digital cameras can also be used to record still images of observations. These are important ICT skills in science learning.
There are many opportunities for technology integration across the curriculum. Word processing is the most common form of ICT and it is fundamental for the learning of literacy through key learning areas.
Desktop publishing can be used by yourself and students to create classroom resources as it allows for the manipulation of graphical elements and images on a page.
Graphics packages can also be used and you don't have to spend a lot of money for some just to draw and manipulate pictures. MS Paint is a generic program which is readily available.
Role of the Teacher integrating technology in the classroom
With the rate of technological development occurring these days, many children are quite tech-savvy. As a teacher then, you need to have a process in place that will ensure that you are able to build on these ICT experiences.
As the majority of ICT activities are practical it makes a lot of sense to embed formative assessment strategies in order to not only establish a starting point for ICT learning, but also to effectively plan for learning progression.
The Australian Curriculum emphasises the expectation that teachers should also be able to teach ICT capability effectively in key learning areas.
As literacy and ICT in primary schools is a key focus, you can accomplish the learning of these 21st century skills with ease.
Conclusion
I am of the firm belief that technology integration in the classroom for any primary school teacher should be about making sure that you enable students to reach the stage where the technology they use in the classroom becomes sufficiently transparent that they hardly notice its existence. This is the ultimate aim of developing student ICT capability. Technology integration in the classroom should be about developing student ICT capability that can only be done in meaningful, context-driven activities and literacy-technology integration is a prime example of how it can be achieved in primary education.
Furthermore, technology integration is not about waiting for the next big technological development to come around and solve your problems of technology to use in the classroom. It is about the here and now of the available technology. It is about you as the teacher, imagining the potential for learning withing the context it will be taught. For this reason, you don't have to know everything about the technology to use in the classroom. Become familiar with one and think how the students can benefit from its use in the subject learning. 
That is what technology integration is about to me.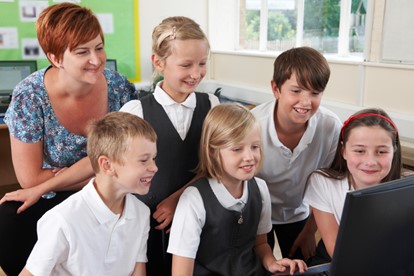 How to Integrate Tech Today
Successful technology integration for meaningful classroom use is more than just exposing students to technology for the sake of it. It is more than just showing them some ICT skills which can be the norm for some teachers.
Technology integration for meaningful classroom use occurs when students develop ICT capability alongside subject learning. That is, when the use of technology in the classroom becomes 'transparent' that the students hardly notice that they are using it all to achieve the subject learning outcomes that you have set for them.
It also changes the dynamics of the classroom and encourages student-centred learning opportunities such as doing ICT-assisted project-based learning.
How are you using technology with your students today? Do you allow them the opportunity to employ technology use in the classroom every day? Do you have a variety of ICT tools used in classroom teaching?
If your answer is 'No', is it because of your lack of access to technology? Have you been given access to professional development for teachers using technology in the classroom?
It may be of interest for you to know, but studies have found (UNESCO, 2010) that examples of technology integration in the classroom have indicated that it can begin with just one computer, one laptop, one digital camera – just one ICT tool used in classroom teaching.
So why is technology integration important? This is quite a significant question and one which I have covered in more detail earlier in another article where I listed at least 20 reasons. However, to break it down to what I consider the most important:
Develops student ICT capability that ensures that they will become proficient users of ICT in a technologically dominated society.
It engages and motivates them in an awesome way that it drives learning.
Enhances the learning of key learning areas such as literacy. Literacy with ICT is so beneficial that it has been proven to have boosted literacy capabilities tremendously.
Going through these points will help clarify technology integration supports learning in education.
Getting Started
It should really all start with meaningful technology integration in early learning environments. This is because the foundations for ICT capability should be laid in the use of technology in early childhood education learning activities.
Although children may be surrounded by technology at home, it is irresponsible and dangerous to assume that they know how to use it. They may be the digital natives, however, like many of us they tend to take technology for granted. Most children still need guidance to help use ICT tools in the classroom effectively for learning and collaboration.
Integrating technology across the Curriculum Key learning Areas
The most effective way to develop a student's ICT capability is to provide them with meaningful activities, embedded in purposeful subject-related contexts. Here is a good example of technology integration in the classroom:
Instead of teaching children how to use a database, a knowledge of database principles and processes and the ICT techniques required to enter and manipulate data, can be taught through using a database to help children learn something useful about the subject.
If you are looking for good examples of technology integration in the classroom, this is it, and like I said before, this can be achieved with just one computer.
If you do only have one computer in the room, you could:
Use the IWB and data projector if you have one of these.
Assign one student to be the class scribe and to take notes for the rest of the class.
Begin a class blog where everyone can collaborate.
You can learn more examples of technology integration in the classroom here.
Creating a Professional Development Plan
It has been proven in research that the key to effective technology integration in the classroom is ongoing support given to teachers in professional development for teachers using technology in the classroom.
These days, online PD courses for teachers are becoming more popular as they save on costs and time. You can conduct it at your own pace and while it is different to face to face workshops, you may find yourself to be more motivated to ensure that you apply the theories learned in your classroom.
There are also more opportunities to join online PD courses for teachers as they are more available.
In our own online workshops for teachers in Primary school, we focus on delivering the foundations to technology integration in the classroom. We believe that if you are to achieve this, then you first need to take into account the current level of student ICT capability. Students are not termed the 'digital natives' for no reason!
Formative Assessment Strategies in Primary Schools is about helping you to appreciate the capabilities of students in ICT not only when they first enter your classroom, but throughout the year so that your planning for the effective integration of ICT tools in the classroom. It takes the view of Bennett (2007) that if you ARE to plan for learning progression in ICT capability then you need to have an appreciation of where they are, where they ought to be and where they might be heading next. You need to determine the starting point for children when planning technology integration in the classroom so that you can give accurate directions that will enable them to plot a course.
Given this data, your next step should be to make sound instructional decisions. One of our most popular workshops for teachers is the online PD course for primary teachers Evidence Based ICT Teaching Strategies for Primary School.