The importance of creativity in early childhood education is documented well in the Early Years Learning Framework. It covers both Learning Outcome 4 and 5 and plays an important role in childhood learning and development.
Children's play enhances dispositions such as creativity in learning environments.
What is Creativity in Early Childhood Education? Defining creativity is not an easy task in this field. However, there are strong links to a child's ability to problem-solve and to be innovative in their thinking.
Creativity is about being unique and discovering the new and making new connections. So in the mind of a child, much of what they do during a day is pretty much that. It can be defined as creative because every experience is a new one, another learning curve and it all comes to them as they play.
It is for this reason why it is important for you as an early childhood teacher that you get to know the children in your care well enough that you begin to recognise a child's creative acts which may come in the form of various things such as thought or spoken language, role-play, mark making, physical movement, making and building (Price, 2009).
Something which you should notice when being more attentive to the cognitive processes of the children in your care.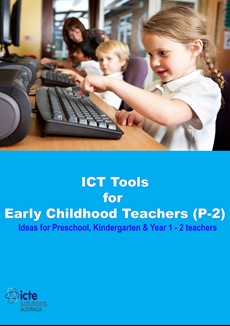 Examples of Technology in Early Childhood Education that promote creativity
Digital cameras on stand-alone and mobile devices.
Digital video cameras on mobile phones, stand-alone devices, tablet computers like iPads.
Scanners.
Webcams.
Art software such MS Paint.
Programmable toys such as bee bots.
Smart boards.
Overhead projectors
Role-play toys such as defunct mobile phones or keyboards.
Music and sound recording and listening devices.
Stop motion video software.
Multi-touch devices.
DJ Mix Kids for recording their remixes of nursery rhymes.
Digital images from the use of digital cameras.
MS PowerPoint.
Interactive Whiteboards
Promoting Creativity in Early Childhood Education with ICT
In order for you to develop creativity in the early childhood learning environment with ICT tools it is essential that you remember that you allow for creativity to flow from the children themselves.
It is essential that you incorporate ICT tools into your pedagogy in early childhood. However, according to Price (2009, p. 43) the following attributes need to be given to children:
Time to be creative, to express themselves and to develop their creative skills.
Freedom to be creative when they want to be.
Support in developing their creativity and skills.
Choices of a range of creative media.
Inspiration, a starting point to get them going.
It is important that you:
Be proactive in your interactions with young children.
Keep asking the 'what if…?'
Integrate computer based simulations and adventure games across the curriculum.
Adopt a process based and open-ended approach
Teacher Knowledge of ICT tools
It is essential that if children are to be creative in their use of technology in early childhood education that early childhood teachers become familiar with ICT tools themselves to explore possibilities and to become confident users of ICT.
Being familiar with a program will help you identify the circumstances when children are ready to move onto a new feature or to use the software for a more demanding purpose.
Be knowledgeable about one program – this is more important than to have an acquaintance with a large number of programs.
Have a clear defined purpose for the task to sharpen the focus of your interventions.
Nurturing Creativity in Early Childhood with Technology
These are a mix of ideas given by Price (2009):
Take photos of the children's creative play and use them to exchange ideas and share meanings.
Support children in developing their own use of a digital camera and encourage them to reflect on the photographs.
Observe children's playful use of video cameras and build on these.
Video children's play as characters from storybooks.
Encourage children to record the process of activity using a webcam.
The model uses of the software yourself. For example, make a repeat pattern and print out for wrapping paper.
Clown faces – take a photo of a face and paint on top.
Tape white chalk to the back of a bee bot and draw using the bee bot on a large sheet of blank paper.
Be creative in your provision of everyday technology. Add defunct mobile phones to pockets in children's dress-up clothes for example.