Technology integration in the classroom is fast becoming a significant part of national curriculums as governments work towards preparing students for a digital future.
The technology integrated society which we all live in plays a strong role in the policies that governments set.
Take for example the Australian Government. When the new curriculum came out, it recognised vital capabilities in the 21st century such as literacy, numeracy, and the digital world, ICT capability.
As we focus specifically on technology integration strategies I will discuss ICT capability.
ICT capability is permeated throughout the key learning areas as the integration of digital technologies. You can read more about this here.
I will tell you that it has a lot more to do than ICT techniques.
The reason why you need the following strategies for teaching with technology flow on from this though and include:
Young children enter your classroom with varying degrees of ICT capability or ICT literacy.
ICT is in danger of being seen by many children as the only medium for fun and not a serious medium for learning, due to the fact that we all take technology for granted.
We have seen the last one happen already with television being a familiar technology in children's lives. Exposure to ICT is not enough to develop ICT capability, you need evidence based strategies for teaching with technology.
View our range of Online Professional Development Courses for Teachers now and learn high impact strategies for teaching with technology from Early Childhood to Primary Education today.
Top Strategies to Develop Proficient users in ICT
To ensure that children develop the notion of ICT products as tools for a specific purpose such as learning these strategies for teaching with technology include:
Begin building the foundation of ICT capability and ICT literacy in early childhood education activities
This involves you asking parents and/or carers at the outset before their child begins learning with you about technology home experiences.
This sets the foundation for your initial planning and from here you can build on this throughout the year.
Once you have embedded teaching strategies in early years for technology integration into your planning and early childhood education activities, hone in on your observational skills in order to document in detail explicit descriptions of children using technology at your school or centre.
We recommend these strategies for teaching with technology in preschool, kindergarten, and early years of primary teaching:
Conduct an analysis of the situation because effective teaching with technology depends on effective planning which depends on your ability to thoroughly conduct an analysis of the situation.
Maximise our formative assessment strategies for kindergarten, preschool, and early years primary as it will continue to inform your planning of each young child's learning progression in ICT capability.
Select developmentally appropriate technology to use in the classroom and the ones that will ensure that ICT capability and ICT literacy develop.
Make instructional decisions to do with pedagogy in ICT derived from ICT capable classrooms and learning environments. Learning from other's experiences will give you peace of mind in terms of impact on learning.
Provide effective scaffold and support to technology in early childhood education.
Learn more about these strategies for teaching with technology in early childhood education.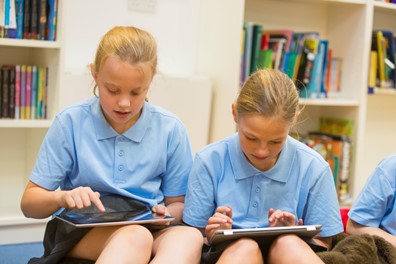 Teaching Literacy with ICT
Remember how I said that ICT capability is best developed in meaningful context-driven activities? Well, in primary education this is easily done with key learning areas such as literacy learning.
So I developed this online workshop to help you to embed strategies for teaching with technology in English lessons.
Out of all the key learning areas or general capabilities in the national curriculum, ICT is best used in literacy learning and development.
ICT has much to offer literacy learning in primary education, but here what you really need to know.
The extent to which you will use ICT effectively in your literacy lessons will depend on a large extent on these two factors:
Your own level of ICT capability as a teacher and;
The level of knowledge that you have in literacy teaching.
Learning these strategies for teaching with technology in literacy lessons builds on your capacity as a literacy teacher and allows you to determine your TPACK needs in the lesson itself.
Each of these teaching strategies with technology achieves these goals in the following ways:
Analyse the situation – as I mentioned earlier, you need to do this from the outset.
Build your capacity as a literacy teacher – for each of the literacy software we recommend, you learn in detail what you need to know about in terms of ICT techniques, literacy potential, and classroom integration strategies.
Then once you have structured literacy with ICT activities you embed formative assessment strategies to assess the practical components.
From here, you can employ strategies for teaching with technology in literacy lessons so that the children in your care benefit from the new literacies brought on by new technological developments.
These teaching strategies for literacy with ICT is what you need to prepare your students for an ICT-integrated, knowledge society. The knowledge that comes from being ICT proficient and being able to access, evaluate, and create information. In other words ICT literacy.
These two online teacher workshops give you the opportunity to gain the expertise you need in relation to strategies for teaching with technology. This is these online courses specialise in and you get the opportunity to apply the theory learned at a self-paced time that suits you.
To learn about our strategies for teaching with technology, click the button below now or view our range of online professional development courses for teachers now.