The use of technology in Early Childhood Education Care centres is slowly increasing as preschool and kindergarten teachers learn more about its benefits and the rise of tech-savvy children entering their learning environments.
Technology is becoming more embedded and ubiquitous in children's lives that it is impossible for the ECE industry to ignore. The benefits which it brings to our social lives can also be carried through into our school life too.
What technology is being used in learning environments?
The process of integrating technology into the learning environment can begin with one computer, one digital camera or one single programmable toy.
Computers is one of the most common ICT tools to get this process started and digital cameras can come quite cheap in many places. The combination of the two make a powerful learning tool for children as they can record their experiences and then use software such as PowerPoint to create digital products with.
For this reason, we shouldn't discard the fact that software is part of this technology and so programs such as word processors for starters can be great as they are found everywhere and this means that children are familiar with it and they begin to see it used as a ICT tool for learning.
However, word processor can be found in others like desktop publishing as well.
You don't have to spend big to get great value for your children to use. Generic products such as basic drawing and painting programs like MS Paint or more recently, Paint 3D can be motivating and easy for even those people who struggle with technology.
Combine this with other technology becoming more common like interactive whiteboards and data projectors and early childhood teachers have easy to use ICT tools in early childhood education and care that do great things with children.
Most of this technology is in the digital form and implies a working and functioning characteristic. However, one technology which is overlooked by many preschool and kindergarten teachers in the industry and could be the most motivating and exciting for children, is that what they makes for themselves. By simply planning a technology lesson where you have whole class discussions, community walks and reflection you can inspire children to make their own.
This type of technology can be used in role play activities and can help children's imagination and creativity.
Then there are those technology which the community may find redundant and may not be of use any more. The rate of technological development is astounding that none of us can keep up with it so imagine all the unused mobile phones with digital cameras, older version of tablet computers and desktop computers, keyboards etc. the list can go on and on. All you have to do is make a call out to your community to donate any unused ICT devices and you have a great range of technological, be it not-working technology, to inspire creativity and imagination with children. Most importantly, to talk to them and demonstrate how they can be used as tool.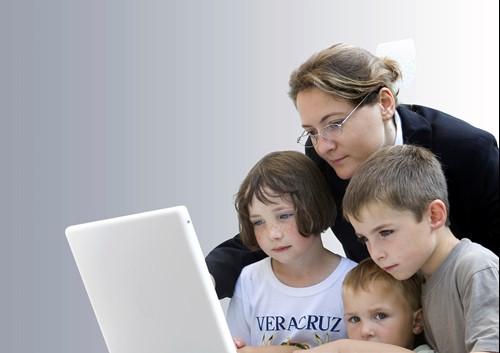 What are the benefits? Why use technology in early childhood education and care?
Already in the last section I touched on what may be some of the benefits of technology in early childhood education and care. Above all, the main benefit would be that of promoting technology as an ICT tool to be used for a specific purpose.
This is essential because of the ubiquitous nature of technology in children's lives that everyone and not just children, take technology for granted.
It must be your goal as an early childhood teacher in preschool or kindergarten not to let this societal trend continue in children's education.
Other benefits stem from simple programs such as word processors as it provides many opportunities for developing literacy and language in early childhood education and care.
Then we look at the nature of ICT itself being motivating and encouraging for children to use. You also can't overlook the fact that the nature of technology simply works for the development of communication and collaboration skills. Children find it easy to gather around a computer to talk.
Going deeper what about the searching for information to find out more about a child's interest through the use of the Internet.
There are also many teaching strategies that develop metacognition in children that accompany these sorts of activities.
When children use things such as mice for their computer work it helps develop motor skills and keyboard use also adds to this equation.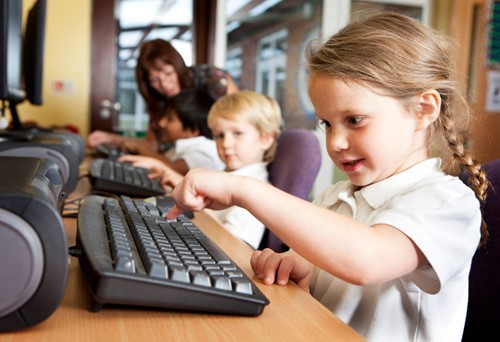 Conclusion
There are so many choices of technology for preschool and kindergarten teachers in early childhood education and care to choose from that it is imperative not to forget and become complacent about the use of technology in early childhood education. Ubiquity means that you need to take advantage of its presence and use effective teaching strategies in early childhood that will develop metacognition and promote the view that ICT can be used as a tool. By employing intentional teaching strategies in early childhood that would achieve this, you will be able to help children to become full and capable participants in their environment.