Planning for the integration of technology ensures that ICT/technology is viewed as a tool to support and enhance teaching and learning.
When ICT is used imaginatively in the curriculum and is threaded through all EYLF goals, what is taught and learned is further developed and the effectiveness of the learning process is increased. The following are some of the most effective technology teaching strategies for preschool teachers.
Preschool teacher technology teaching strategies
Analyse the situation. Effective teaching depends on effective planning and this depends on a thorough analysis of the situation at the outset. You need to be asking questions when preparing to integrate technology. As young children begin their education with you, it is essential that you establish a relationship with parents and/or carers and learn about the children's ICT home experiences.
Embed formative assessment in preschool. Good tech observation will benefit planning for technology integration as well as with arming you with making judgements about the conceptual and procedural technological knowledge of the children. Don't make judgements on young children's technology behaviour such as praising their use.
Make instructional decisions about technology teaching strategies. As young children enter preschool with varying amounts of ICT capability, their ICT capability can progress. Within your classroom, implement teacher-tested strategies that will enable the development of ICT capability and ICT literacy such as planning and seeking to develop all components of ICT capability. Exposure is not sufficient to develop it. Discuss with the children what they are doing at the process level for example.
Understand the role of Technology in STEM in preschool. You need to examine how technology can aid inquiry learning in preschool. What about ICT-assisted project-based learning in preschool? Have you considered the benefits?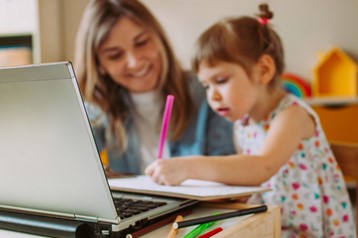 Optimise Technology in Early Childhood Education Today - Online Workshops for Preschool teachers
In an ever-increasing online and digital world, our young children are continually being exposed to digital technologies that include ICT, at a very early age. The consequences of this that they, like the people in their lives, begin to take technology for granted. Effective online professional development courses for teachers in preschool and kindergarten and even early Primary, need to educate teachers in facilitating the development of ICT capability in early childhood education activities.
It is through making instructional decisions that involve technology teaching strategies for preschoolers such as the ones above that you will be able to make an impact on child ICT learning. Preschool technology has to be supported with such strategies that will ensure learning progression in ICT capability in the EYLF that will lead to a more connected Primary Curriculum.
As with all our online professional development courses for teachers, this online workshop for preschool teachers is accredited by NESA and TQI. It will give you peace of mind to be assured that these technology teaching strategies for preschoolers are aligned with the Australian Professional Standards for Teachers. Guaranteed teacher quality researched based theories.
You will be able to learn these technology teaching strategies at your own pace and in your own time. No travel and low cost. 
Afterwards, practice these teaching strategies for preschoolers as you learn them on the go and then come back to reflect with other colleagues in the workshop on your learning experiences.
So join other preschool teachers in our professional development courses for teachers in preschool and kindergarten.
Completing this online workshop will contribute to 5 hours of NESA and TQI PD addressing 2.6.2, 4.5.2 and 5.1.2 of APST towards maintaining Proficient Teacher Accreditation in NSW, Qld, Vic and ACT.